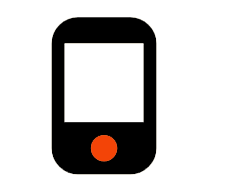 PHONE
(909) 988-3400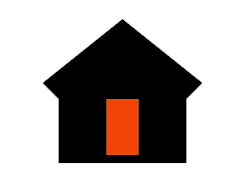 ADDRESS
541 E. Main St.
Ontario, CA 91761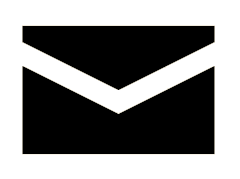 E-MAIL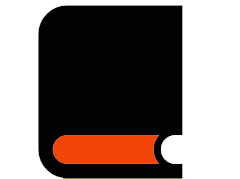 PREVIOUS ISSUE
---
---
Lion Premium Grills Newsletter – No. 106, July 2022

---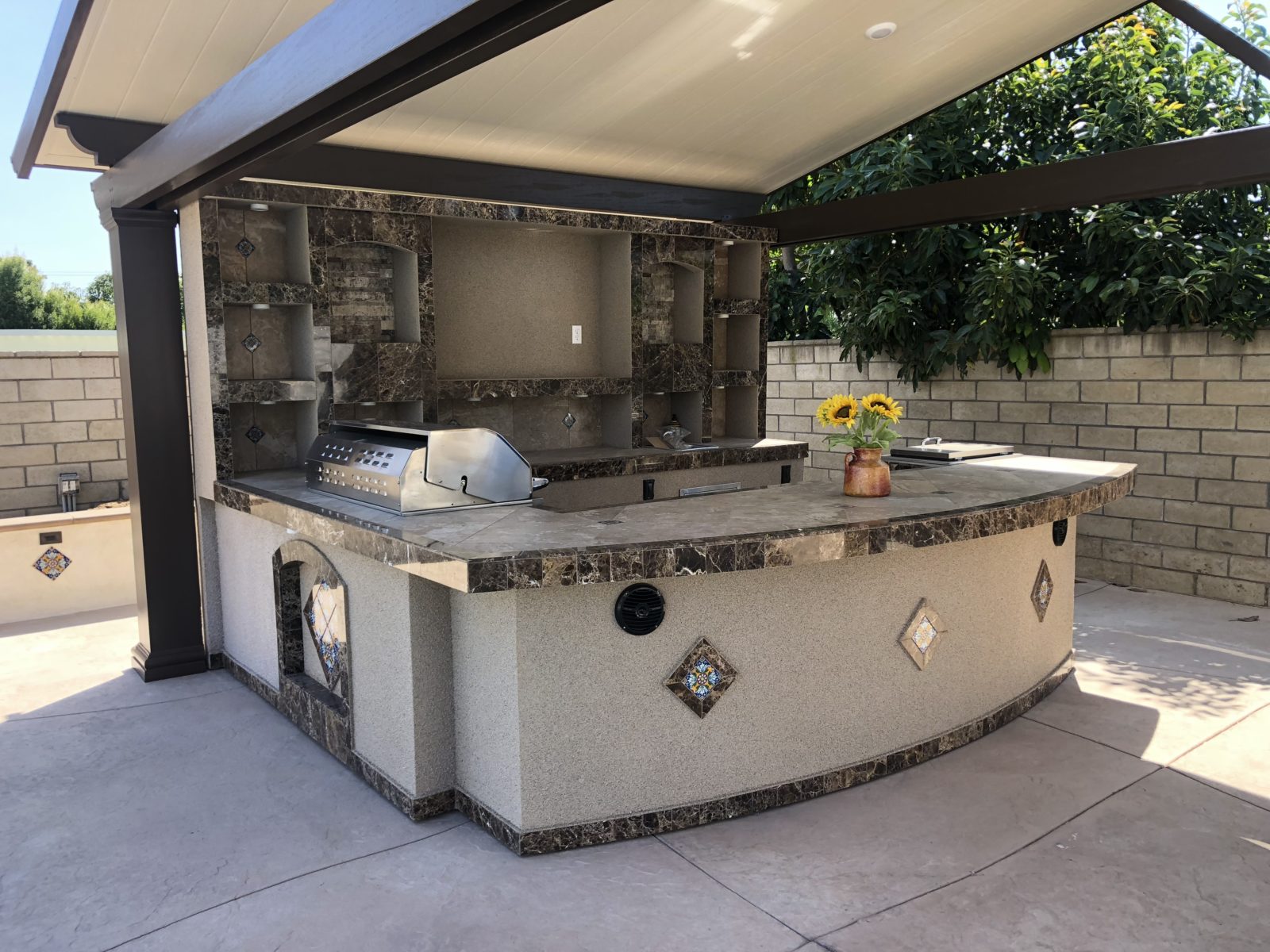 ---
____
Greetings and welcome to Lion Premium Grill's monthly newsletter! This is our July 2022 issue which marks the 106th edition of our newsletter. It's incredible that July is already here. Lion Premium Grills hopes to help you take advantage of this great summer weather, by having you covered in all respects when it comes to outdoor entertainment — from our luxury stainless steel gas grill line to our assortment of side burners, bbq islands, bar centers, and more. If you're looking for something on a larger scale we have you covered with our range of luxurious outdoor kitchens and islands; if you need portability but still want a premium grilling unit we also have you covered with our stainless steel grill carts. We only strive to offer the highest quality products across our entire line. Below you'll find details on what we have lined up for this month's issue. We hope you enjoy and thank you again for taking the time to visit!
---
We have some really great features lined up for this month's issue. First off, we have a classic clip of Texas Style Cuisine reviewing our 32″ L750000 bbq grill! We have shared Texas Style Cuisine recipes many times so discovering this review was fun! Next up we have an in-depth look at our 32″ L75000 grill; we break down all of the components and features that come with the grill, complete with images. We also have a very short side burner tutorial that could prove useful if you need to see it in action. Following that we go into detail on the benefits of 16 gauge 304 grade stainless steel which is the type of steel that we use to manufacture our grills and accessories. Closing out this month's issue is a fantastic lemon grilled shrimp recipe. As always, we hope you find this issue informative and enjoyable to peruse. Thank you again from all of us at Lion Premium Grills! We always appreciate the support!

---
---
Lion Premium Grills – Classic Review of the L75000 Grill, Texas Style!

We have shared some fantastic videos from Chef Johnny at Texas Style BBQ & Cuisine where he uses our grill to cook up some delicious looking bbq recipes. Well, this time we have unearthed a classic video of when Chef Johnny first purchased and gives his actual review of our 32″ L75000 grill. We hope you enjoy this review as much as we did!
---
---
This is the Best Grill I Have Ever Owned


"Replaced my old 30″ grill with the Lion 32″ natural gas grill. This is the best grill I have ever owned, and I have owned many. First of all, the quality of this grill is outstanding, it is truly substantial. The sheet metal feels really solid and the craftsmanship is equal to and surpasses the higher end grills. One of the top considerations for me was total cost of ownership. Replacement parts for this grill are typically 1/2 or 1/3 of the major brands. So far it has required very little maintenance. It cooks Filet Mignon better and faster than my previous grills. Chicken also comes out more evenly cooked, more juicy and tasty. Temperature is different with each grill and with the Lion I have had to experiment to understand the settings. I have found that once you experiment, you will find that you can get the grill to hold virtually any temperature. I can run the rotisserie at 375F steady which is perfect for cooking whole chickens. Overall this is a great grill for the price."


Allen Drennan




San Diego, CA




32″ L75000 Grill – Amazon.com
Lion Premium Grills – A Closer Look Inside
---
Let's take a closer look at the interior components and workings of our luxurious gas BBQ grills. In this instance we're going to breakdown our L75000 32″ gas grill in a step-by-step examination of each individual component. It should make for a fun and informative look at the interior anatomy of our grills. Please enjoy the following feature!
---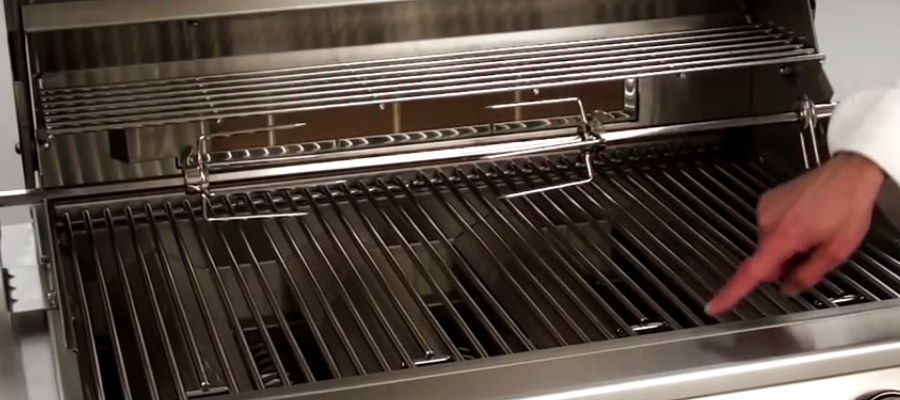 Upon opening up the double lined grill hood with polished seams this is the first image you'll be greeted with. The grill area for the 32″ L75000 is 30 inches by 20 inches which is a substantial amount of grilling space. It's a perfect amount of cooking area for parties and can sustain a robust amount of food at any one time (Cooking 15 to 20 burgers simultaneously is easy to achieve on this grill just to give you an example).
---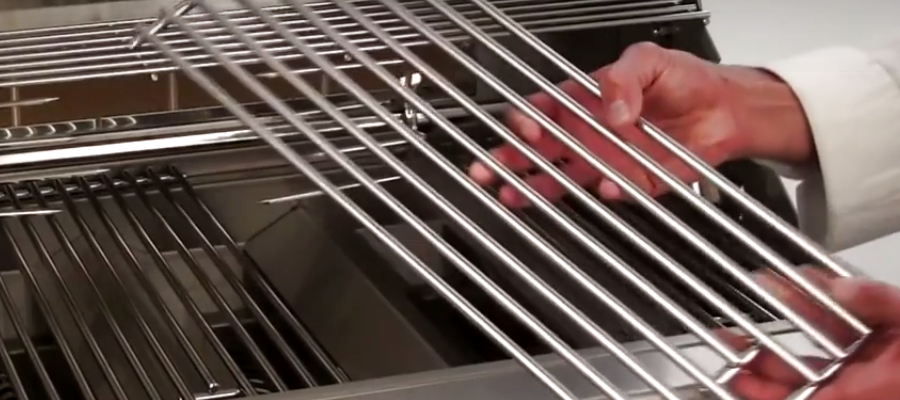 The above image showcases the initial component of the grilling area which are the four cooking grids. The grids are comprised of nine vertical rods that are crafted from high grade stainless steel. The benefits of using quality stainless steel for grilling purpose are bountiful; our grade of steel is resistant to warping, bowing, and denting as well as providing for increased durability and rust resistance. The "heftiness" of our grates when held showcase the high quality of the product. The grates are made to provide optimal heat retention and even heating, which enhances the overall grilling experience.
---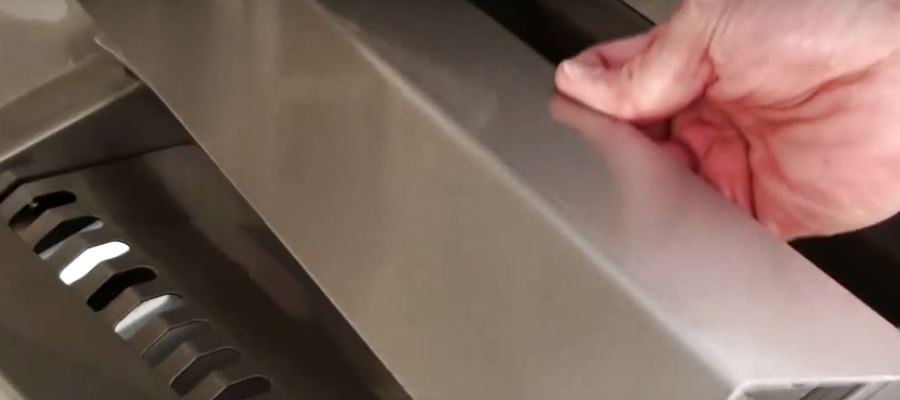 Directly below the cooking grids are four flame tamers which are also constructed from stainless steel. The flame tamers are located above the cast stainless steel burners. The flame tamers function to help diffuse and spread the heat in an even fashion. This is to ensure that the food that is being grilled does so in an even manner. Uneven cooking, unwanted charring and burning are the result of a lack of flame tamer. These tamers are made from 16 gauge stainless steel and they also function to minimize any heat flare-ups emitted from the burners themselves.
---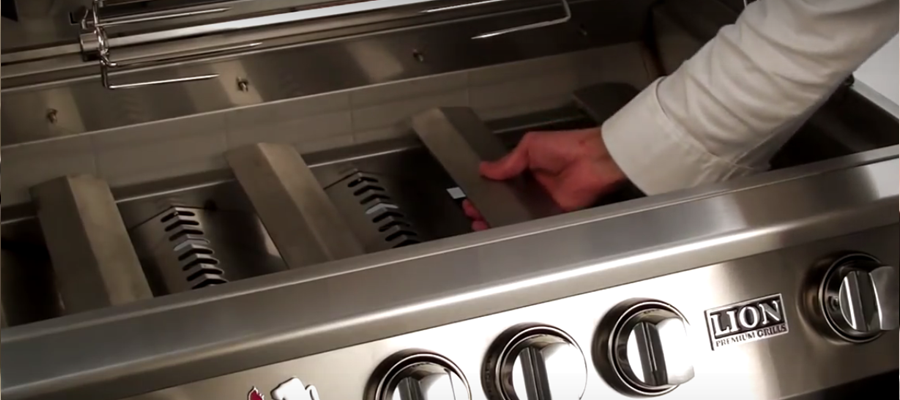 In this image we can see what lays just under the flame tamers– the four cast stainless steel burners. As stated, these burners are made of heavy gauge stainless steel — comprised of roughly 10% nickel and 18% chromium. Our cast stainless steel burners are extremely durable and the high grade of the steel used means that these will last much longer than the usual, lower grades of stainless steel typically used for the burners on many other grills on the market today.
---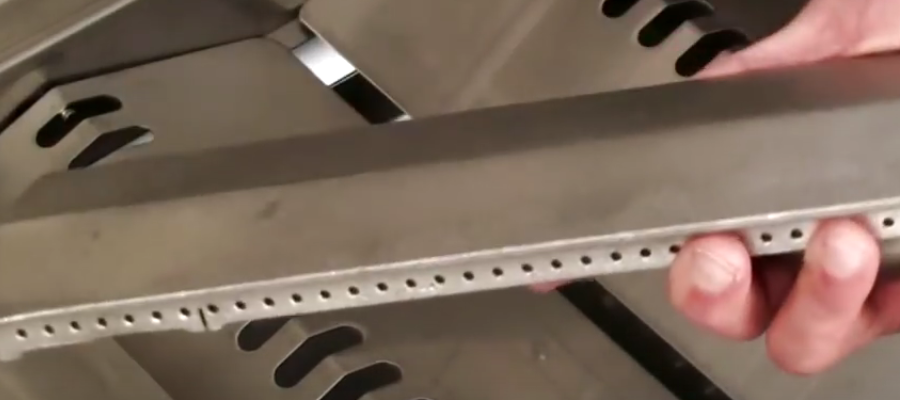 Here's a close-up of the cast stainless steel burner. When held, you can definitely feel that the density and weight of the burner is quite substantial. Our burners also emit a formidable amount of heat, with each individual burner outputting 15,000 total BTUs. Each burner is crafted to our exact specifications to meet the exacting and high standards that we hold when it comes to the overall quality of our gas BBQ burners.
---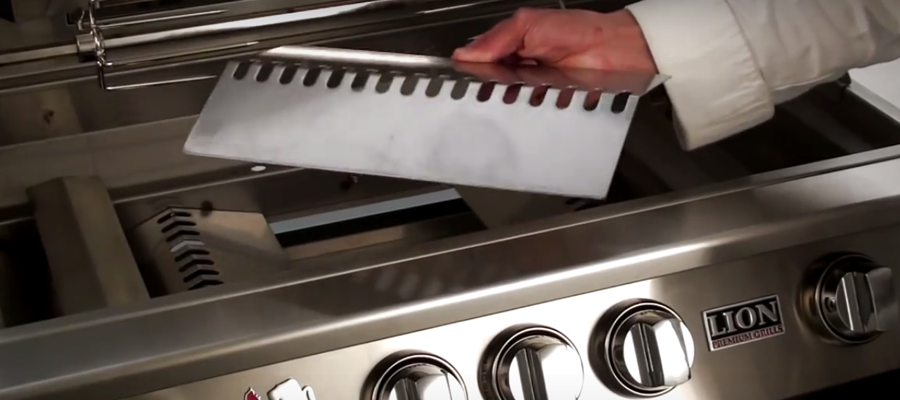 Below the cast stainless steel burners are three removable heat diffusers. The heat diffusers are constructed from premium stainless steel. The burners put out a tremendous amount of heat and these diffusers help to absorb/collect that heat and then to evenly distribute said heat. These, much like the aforementioned flame tamers, serve to provide a smooth grilling experience by ensuring that food grills evenly.
---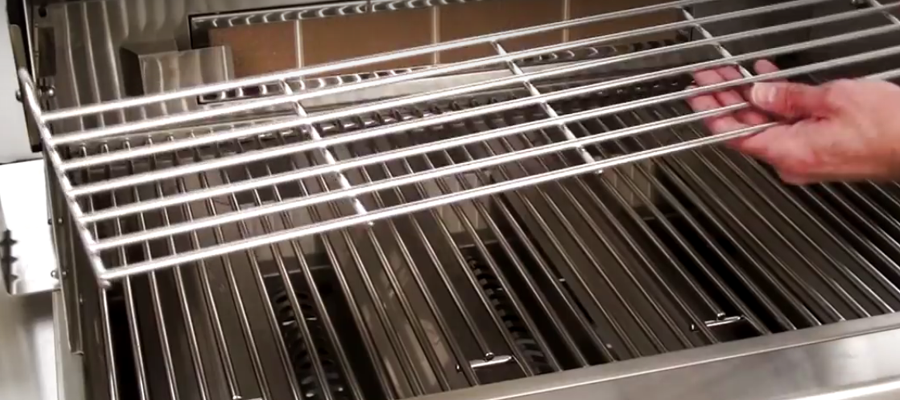 Moving upwards from the cooking area there's another essential element; the removable warming rack. This component can be extremely useful, especially when you're cooking multiple items on the grill that need vary grill times. The warming rack can be used when you need to remove food from the direct heat but still need to keep it warm/or cooked slowly with indirect heat. The warming rack is also made from high grade stainless steel. As we stated, it is ideal for those who are interested in slow cooking.
---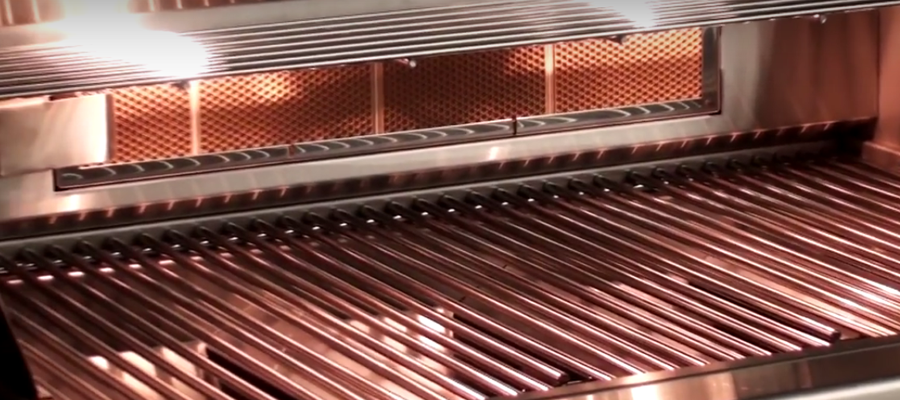 The above picture showcases the dual interior lights when switched on. Turning on these lights — which are essential when you need to entertain guests and grill during the evening — is a cinch. On the front panel of the grill there is a push button clearly labeled that easily switches the interior work lights on and off. It's a wonderful feature that is very functional but also adds an added depth, visually speaking. It's the little details and features that always stand out and this is no exception.
---
---
Only the Best – Why We Use 16 Gauge Stainless Steel

---
Our grills and products at Lion Premium Grills are constructed from 16 gauge 304 stainless steel. What are the benefits to using this grade of stainless steel and why do we use it in our manufacturing process? Before we delve into that, let's first go over what stainless steel is and why it's used in our process.
Simply put, stainless steel is an alloy of chromium, nickel, and iron. The combination of these various metals and elements creates a whole that is greater than the sum of its parts. It is called stainless due to the fact that the properties of this metal are rust resistant. Chromium is known for its hardness and is what makes stainless steel highly resistant to corrosion and discoloration. Nickel is a high luster metal that is also known for its high corrosion resistance. Austenite is a nonmagnetic solid solution of carbon in iron that is used in making corrosion-resistant steel. Stainless steel by definition resists corrosion but not all stainless steel is created equal; in fact, the level of corrosion resistance varies and is dependent on various factors in the manufacturing process such as temperature, exposure to oxygen, and the chemical composition of the metal. Slight variations in the chemical composition can create huge variations in the quality of the stainless steel.
The gauge describes the thickness of the stainless steel itself. The lower the gauge, the thicker and heavier the stainless steel is. A heavier gauge can prevent warping, bowing, and denting of the metal. Heavier is not always better though as sometimes this prevents the welding and forming of said stainless steel during manufacturing. The 16 gauge stainless steel we use is perfect as it maintains heaviness and durability, but also allows us to shape the steel during manufacturing for our grills and products. It is perfect for the high quality we demand.
304 is the grade of the stainless steel we use. It is comprised of at least 8% nickel and is used for its ability to provide an extremely high level of corrosion resistance as well as the ability to maintain the capacity of the metal to be welded, shaped and formed during the manufacturing process. This is highly important for design purposes as well as durability and quality.
Other grills may prove to be susceptible to rust, damage and corrosion due to cost cutting corners that other manufacturers may take. The grills will just not last. In contrast, we use only the highest quality of gauge and grade to maintain the highest standards possible for our luxury grills and products. Quality of construction is of the utmost importance at Lion Premium Grills and the methods and quality of stainless steel we use is the basis for these standards and why we use 16 gauge 304 stainless steel!
"This grill is an awesome addition to our backyard experience. It is easy to assemble and use. It came with a wonderful cover that fits like a glove! We love this grill!"
Lacey Gibson - www.amazon.com

About Lacey Gibson - www.amazon.com
---
Lion Premium Grills Featured Recipe: Lemon Garlic Grilled Shrimp



---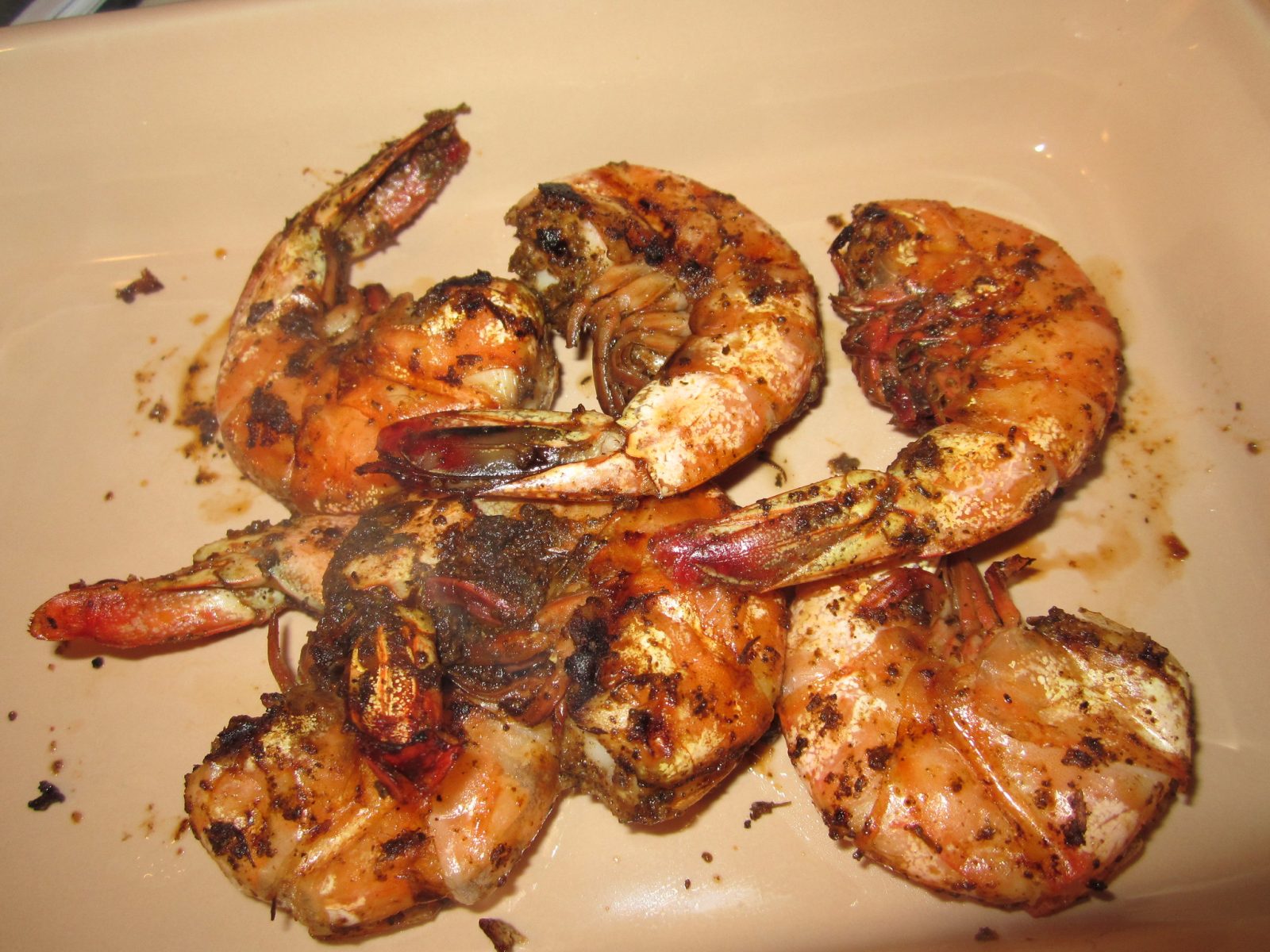 For our July 2022 edition we have another fantastic grilled seafood recipe. We are going to shine a spotlight on a dish that is absolutely amazing as well as being quite easy to prepare. This lemon butter grilled shrimp recipe comes from famed chef, tv personality, and restauranteur Bobby Flay. Check out the recipe below for instructions.
Preparation Time – 20 minutes

Cooking Time – 5 minutes
INGREDIENTS
12 jumbo shrimp, peeled and deveined
1/2 cup canola oil
10 cloves garlic
1/4 teaspoon crushed red pepper flakes
1 teaspoon ground fennel seed
Salt and freshly ground black pepper
1 stick unsalted butter
1 large lemon, zested and juiced
1 tablespoon chopped tarragon leaves
2 teaspoons chopped fresh thyme leaves, plus sprigs for garnish
1/4 cup chopped fresh Italian parsley leaves, plus extra for garnish
DIRECTIONS
Put the shrimp in a large baking dish. Combine the canola oil, garlic, red pepper flakes and fennel seed in a small food processor and process until the garlic is somewhat paste-like. Pour this mixture over the shrimp and let them marinate for 30 minutes.
Light your Lion grill to high heat. Strain the shrimp from the marinade and season them with salt and black pepper, to taste. Grill the shrimp on both sides until they are slightly charred and just cooked through, about 2 minutes per side. (Chef's note: They can be left slightly undercooked since they will cook longer in the butter sauce.) Transfer the shrimp to a plate. Melt the butter in a large saute pan set over the grates of the grill. Add the lemon zest, lemon juice, tarragon and thyme leaves and cook for 30 seconds. Add the shrimp and cook, tossing once, about 1 minute. Finish with the parsley and adjust the seasonings, if necessary. Transfer the shrimp to a serving platter and garnish with thyme and parsley.
---
---
---
---
---