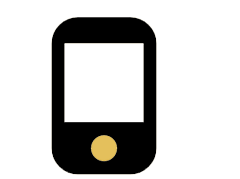 PHONE
(909) 988-3400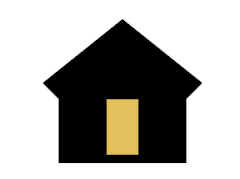 ADDRESS
541 E. Main St.
Ontario, CA 91761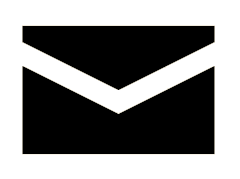 E-MAIL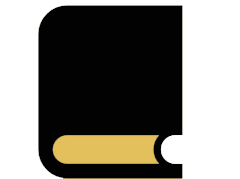 PREVIOUS ISSUE
---
---
Lion Premium Grills Newsletter – No. 107, August 2022

---
 ___
Welcome to the August issue of our monthly newsletter! We've hit our 107th edition and we hope you'll continue to visit us if you're a returning visitor or that you'll enjoy your stay if this is your first time checking in with us. We hope you've enjoyed your summer season thus far and will continue to as we head into those beautiful fall months! It's honestly incredible that we are already in August; this past year seemed to fly by quickly. This is still prime grilling season — it's still the perfect time to enjoy those warm summer nights outside with the family and friends — so fire up that grill! We have a great issue lined up for this month, which we'll detail below. Thank you again for taking the time to visit us!
---
Following is a quick breakdown of the content we have lined up for this issue. Kicking things off this month, we are featuring a full blown breakdown of the L60000 32″ grill model which is the most recent addition to our line-up! We go over everything about this grill so we hope you can find the detailed information we provided useful.  This month's issue also features a short guide on how to up your grill game by cooking up the perfect steak on your Lion premium gas grill.  We also have a great series of photos of a beautiful backyard set-up that features a bevy of our premium grill products and accessories. Rounding things out we have some tips and tricks on the best way to maintain your Lion grill and how to keep it in tip-top shape for the next grilling season. We really hope you enjoy this month's issue! Thank you for the support!
____
---
---
---
Lion Premium Grills – Spotlight On Our L60000 BBQ Grill!



This year we introduced a brand new member to our original grill line-up — the 32″ L60000 gas bbq grill! If you're interested in finding out more about this particular model please continue to read our in-depth look at the L60000.
---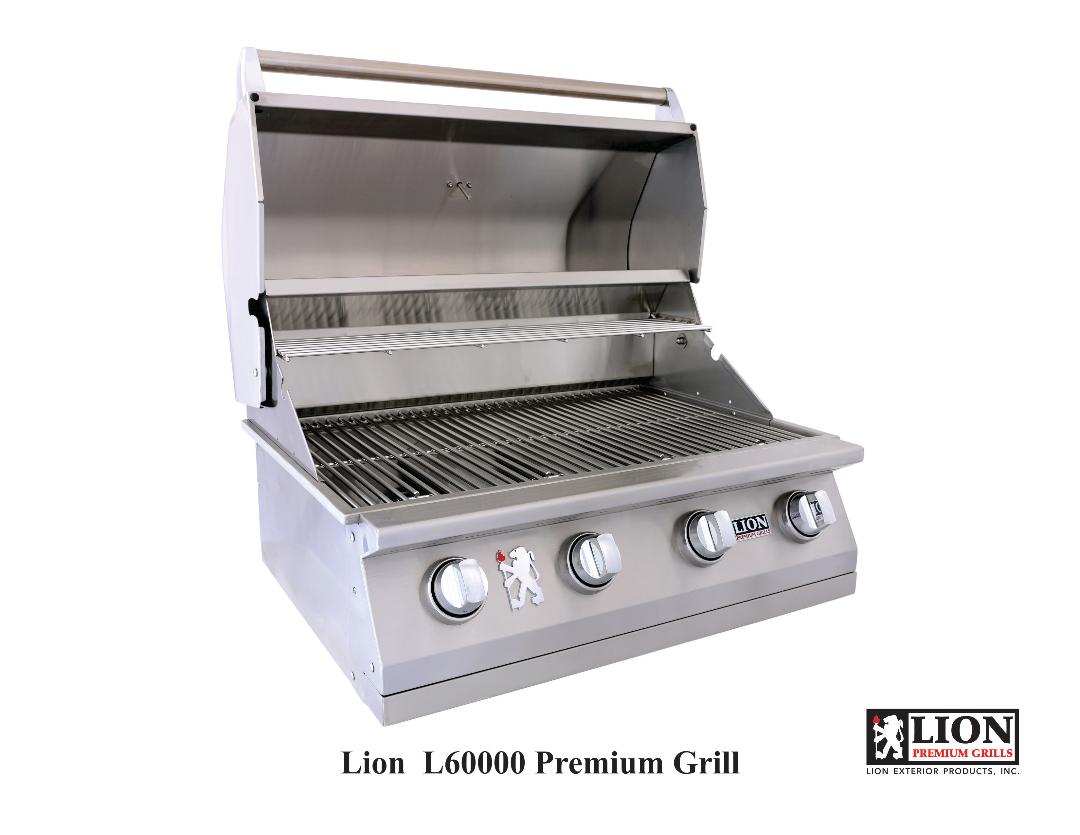 Let's start at the top. Our grills feature an XL temperature gauge which is mounted on the front lid; as the name states, it's extra large for ease of use and readability. It's lined with polished stainless steel and it registers temperatures in both Fahrenheit and Celsius. The front lid of the grill also comes equipped with our polished stainless steel XL full length handle. Opening your L60000 grill hood is a breeze and our eye catching handle not only looks beautiful but it's also constructed from high quality stainless steel.
The grill hood is dual layered and like the rest of the grill is comprised of 16 gauge 304 grade stainless steel which is rust proof and highly durable in addition to being one of the highest grades of stainless steel available commercially. You can feel the hardiness and density and the high quality of construction upon examination. The inside of the hood comes equipped with polyurethane grommets which provide protection against the hood scraping the inside of the grill lip; these grommets are comprised of highly resilient polyurethane which adds additional impact and abrasion resistance.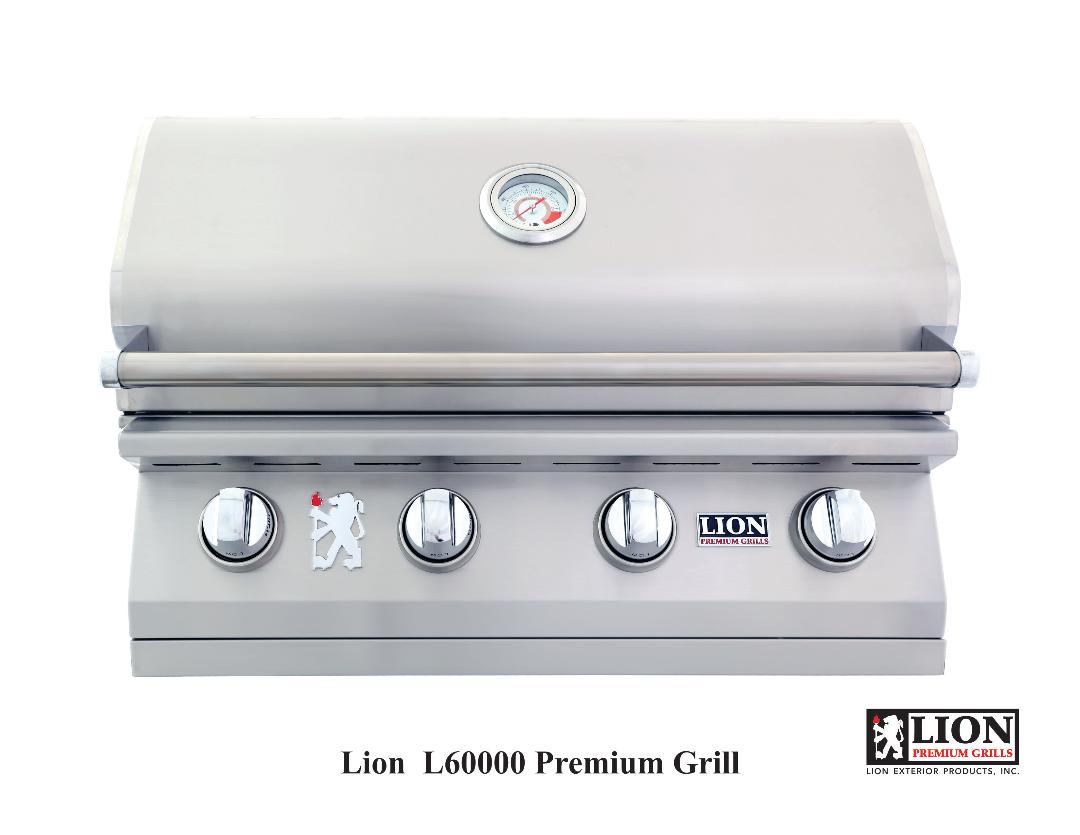 The interior of the grill  comes equipped with a warming rack which is fully adjustable. Our stainless steel smoker box is sitting on the grill grates; this handy device allows you to infuse your food with a multitude of new options and flavors. Basically, you can fill the smoker box with wood chips, etc. and add that wood smoked flavor to whatever you happen to be grilling, the options are almost endless. Our griddle plate — which for this model is sold separately — is also set on the grill itself; this item expands your grilling possibilities by allowing you to cook eggs, bacon, and a huge variety of other items directly on your grill. This two accessories can prove to be essential to anyone's cooking arsenal!
The control panel features full sized XL knobs, and a full size drip tray. Push and turn knobs work beautifully to actually ignite your grill burners; they're also designed with user functionality in mind. The full size drip tray is also very easy to pull out of the grill and also set back into place. As has been mentioned before, our grill is constructed from 16 gauge 304 grade stainless steel which makes our grills the heaviest in their class, bar none. Below you'll find a handy information sheet that further breaks down the specifications and features of the L60000.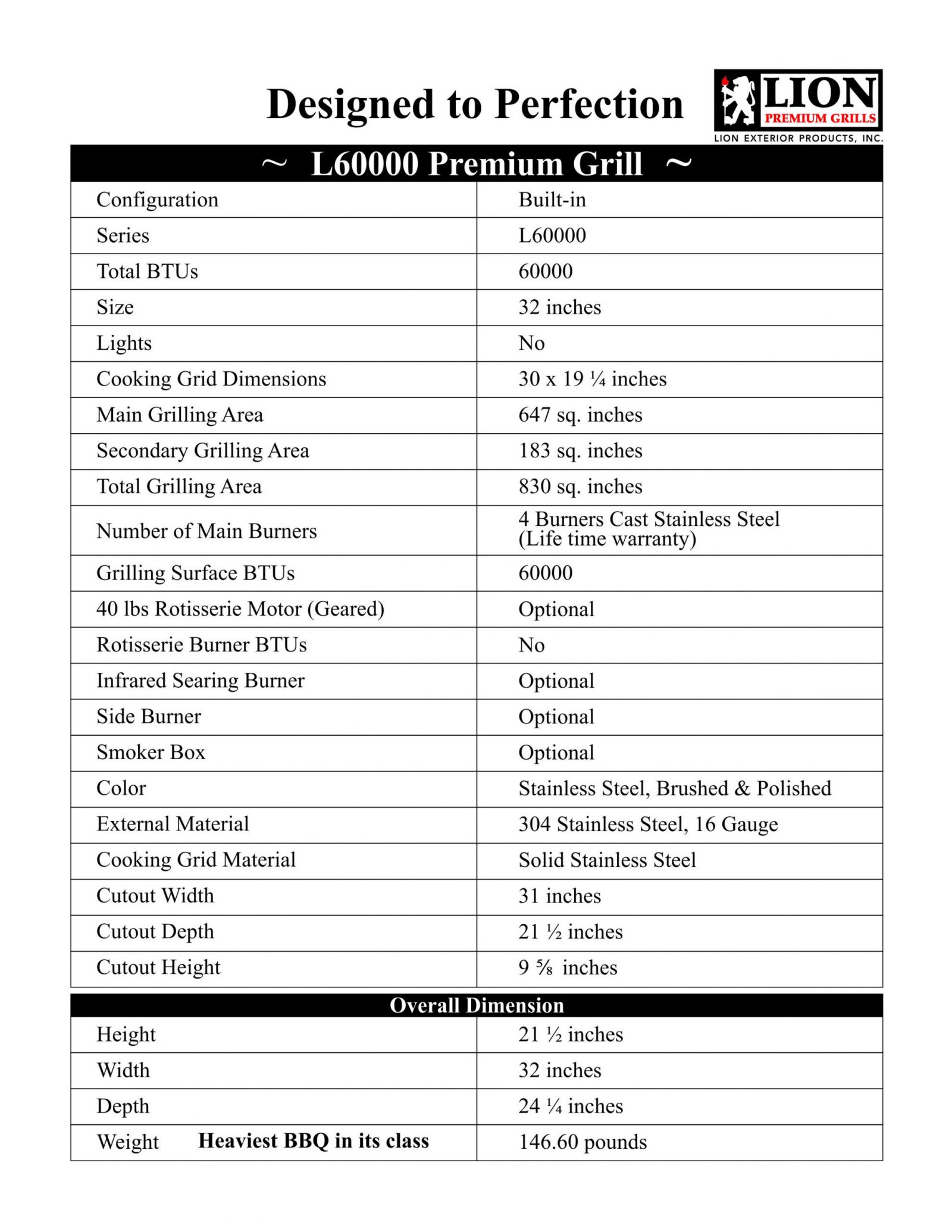 ____________________________________________________________________________________
---
Lion Premium Grills – Enhance Your Backyard Experience!

Here's a great collection of photos of a beautiful outdoor kitchen & patio area featuring our Lion premium grill products! This is definitely somewhere we'd like to be anytime of the year! We hope you enjoy these images and can possibly take some inspiration from them!
---
---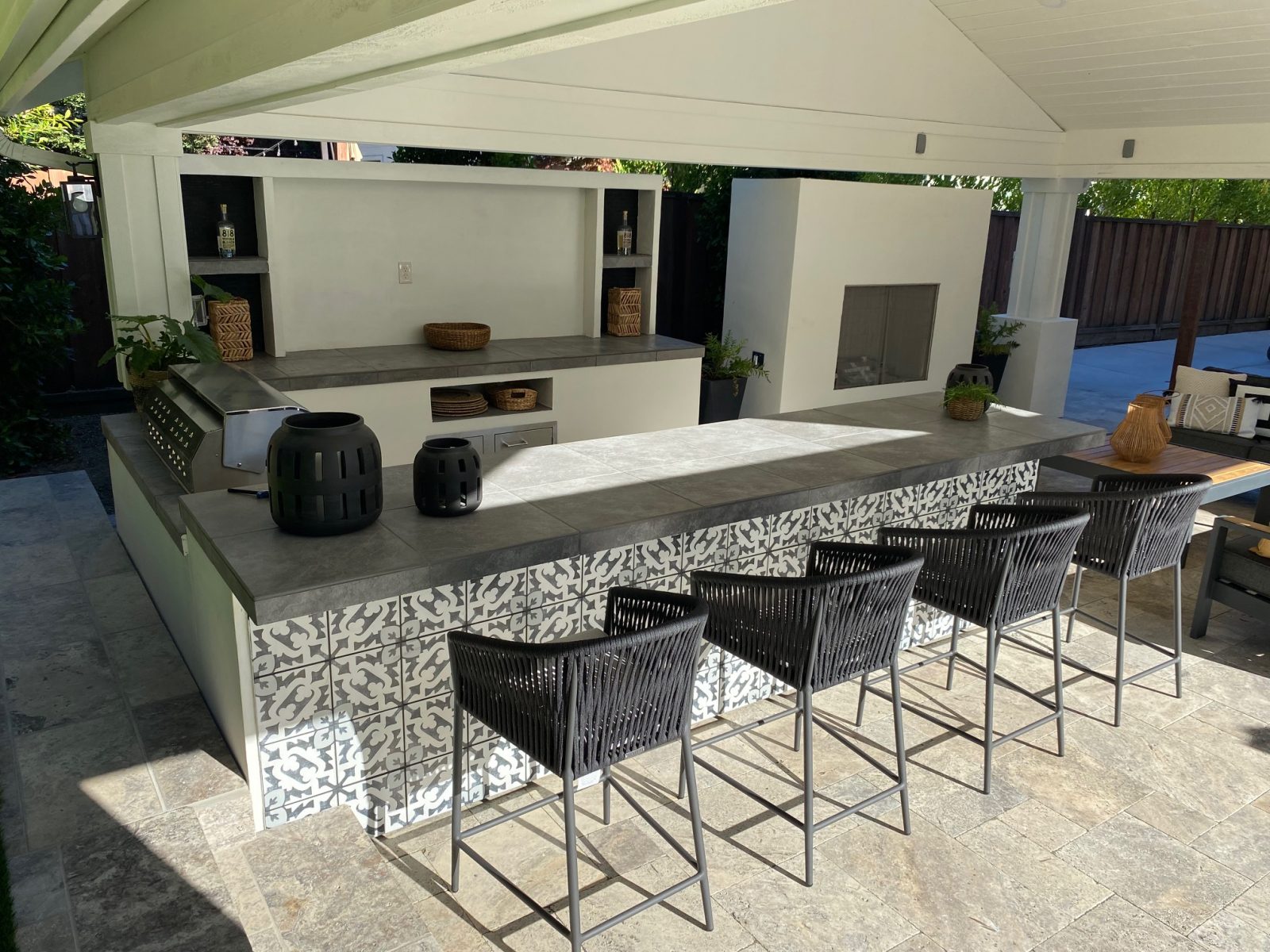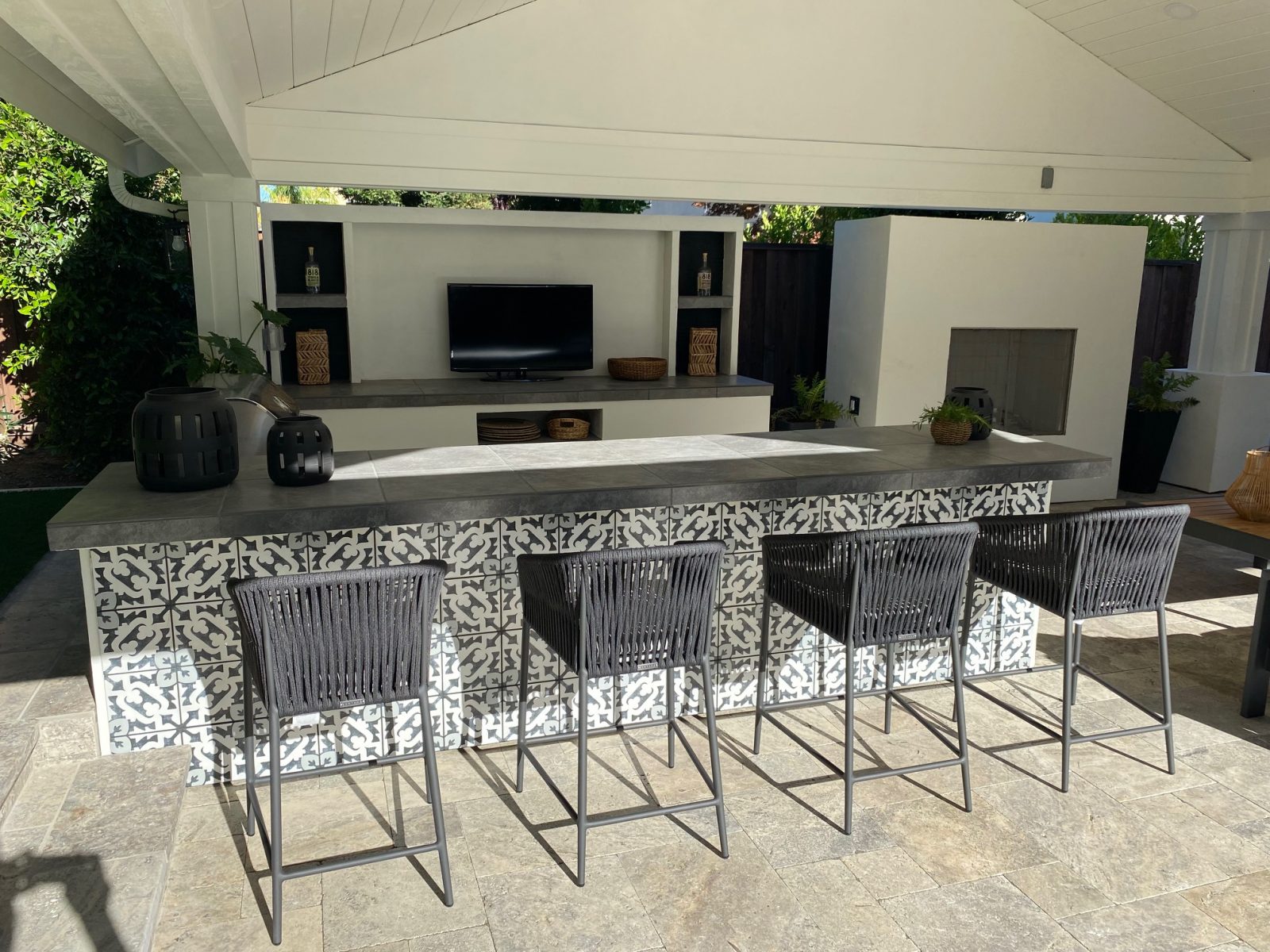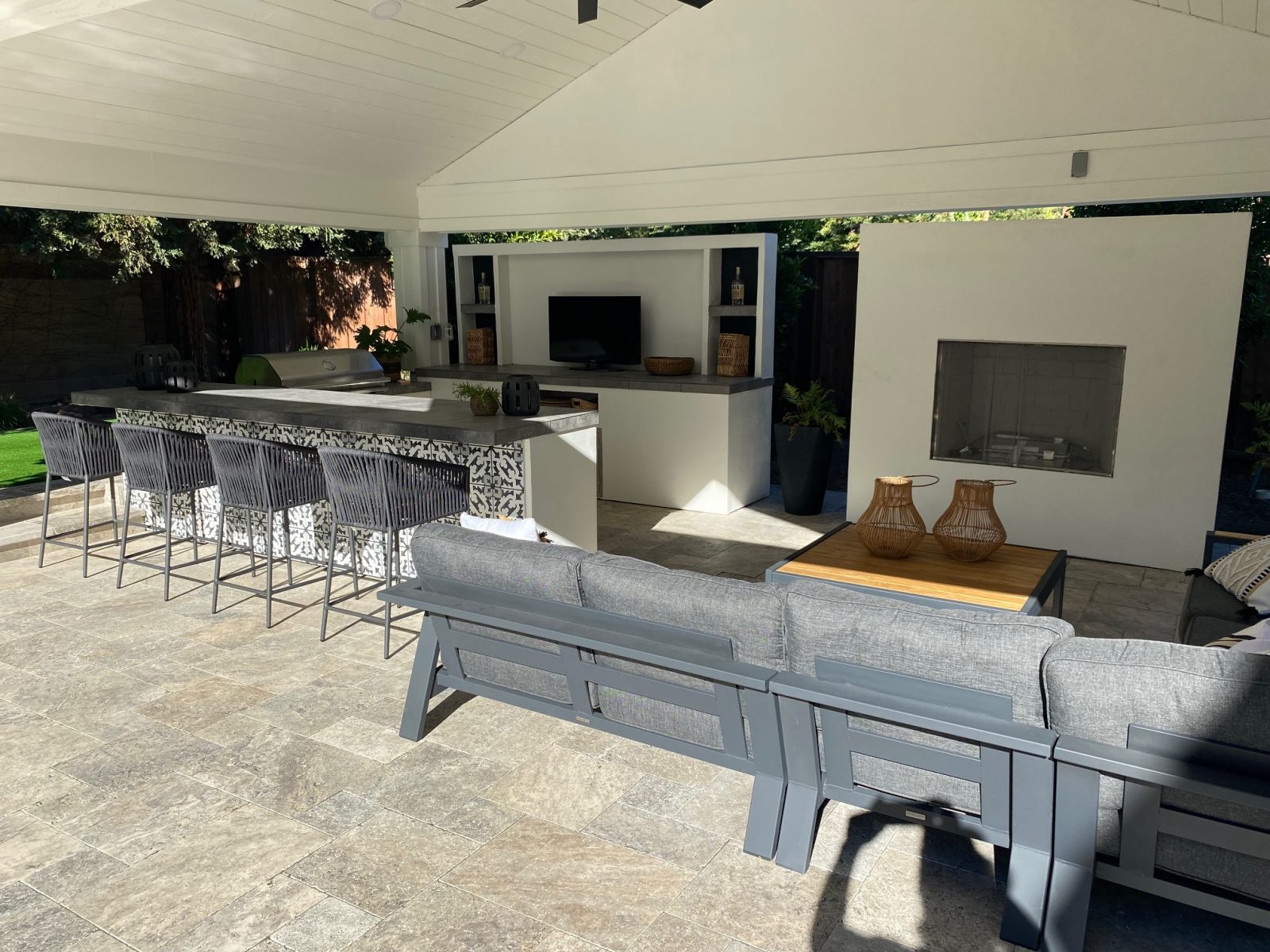 ---
---
Impressive!
"I have been nothing but impressed with this large and solidly built gas grill. The heat is quite even throughout the surface with only a slightly higher cooking temp at the very back of the burners. The rotisserie works extremely well and I have cooked several 12-15 lb turkeys on it with a result that is perfectly moist and tender. I recently started using the solid grill surface included in the kit and love it. It is great for bacon, sausage and seafood which may fall through the normal grill grates. Don't know why this isn't a standard for all grills."

-Review by M. Lopez – Tucson, AZ – BBQGuys – 40″ L90000 Stainless Steel BBQ Grill
---
---
---
Lion Premium Grills – Tips on Maintaining Your Grill Parts

---
It's a given that keeping a well maintained gas BBQ grill and cleaning it regularly will keep it in tip top condition for years to come. One of our goals was to also ensure that any type of clean-up, whether it be the grids or the burners, was quick and relatively easy. We would like to provide some quick tips for maintaining a beautiful BBQ grill.
Cleaning Your Lion BBQ Grill Burners

Before you start it is ESSENTIAL that you make sure that the fuel line to the grill is disconnected. Please also make sure that any of the control knobs on the grill for any of the individual burners are off! This is EXTREMELY IMPORTANT and must be followed to ensure your safety and security when cleaning any of the grill burners. In this case, accidents can be avoided, just please take the proper precautions. Once this is complete, the process can begin. Remove the cooking grids and extract the burners carefully from the orifice they're set in. We recommend using a wire brush to clean the burners off. Slosh off all of the caked food matter, oils, grease, etc. that coat the outer layer of the burner with the brush; try to clean up/out any of the flame ports on the burners as some most likely will be clogged which reduces burner performance. If the burner looks to be damaged do not continue to use it; you will need to order a new one. If everything is fine, place the clean burner back into place and re-attach the gas valve orifices.
Cleaning Your Lion BBQ Flame Tamers

Cleaning the flame tamer is a cinch; it does not need to be cleaned after every usage of the grill, just please regularly check to see if the tamers need to be cleaned. When it's time to clean, the process is really easy. Remove the cooking grids and take out the flame tamers from their original position. Prepare your wire brush along with a solution made of soup and warm water. Soften the various residue and caked on gunk with the brush; you may scrub vigorously. Once finished, please all the flame tamer to dry completely before placing it back into position in the grill.
Cleaning Your Lion BBQ Cooking Grids

It is recommended that you clean your cooking grids very regularly; it's preferential to do so after a few usages of the grill. Make sure that the cooking grids have had time to cool off. Once they have you can gently remove them from the grill itself. You can submerge them in a soap and warm water solution and gently use a warm wash cloth to clean off any particles or residue that remains.
---
---
---
---
Lion Premium Grills – Cooking the Perfect Steak



---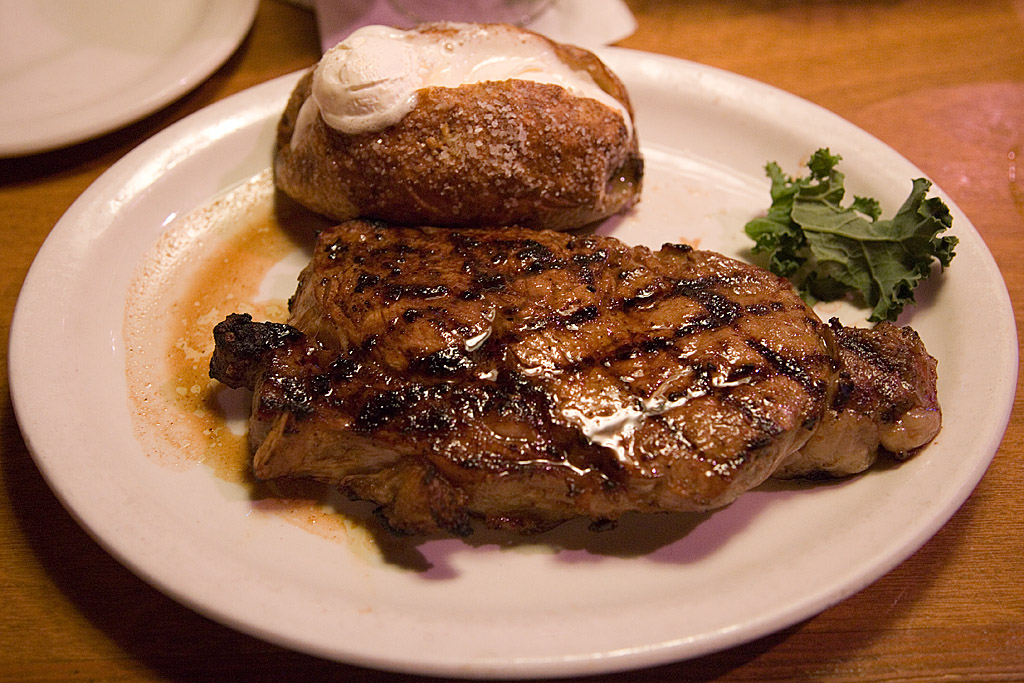 Never has the old adage of easy to learn, difficult to master ever been more accurate than when it comes to grilling that perfect steak. Achieving the perfect sear, cooking it to the desired wellness, etc. are all things that define perfection. Check out these tips below and you'll be on your way to producing a perfectly seared medium rare New York Strip steak.

---
Cooking the Perfect Steak

It's an age old question — "How long should I cook this if I want it medium-rare?" (or well, or medium-well, and so on). Heat levels can be variable so here are some easy ways to monitor the "wellness" of your steak based on appearance.

If you want your steak well done do the following. Grill the meat on one side substantially; you'll know when it is time to turn the steak when you've seen that plenty of liquid and juices from the meat have surfaced. Once this has happened it's time to turn the steak and brown the other side. It will have a brown, carmelized crust appearance and it will be firm to the touch. Be careful not to totally overcook the steak or risk completely drying it out.
For medium and medium well, you'll want to grill the steak on one side. Once you see that droplets of juice begin to accumulate on the surface of the steak turn and brown the other side. It will be ready when it is not completely firm to the touch but when it has some slight resistance when pressed. Make sure it is not completely firm as that signals that the steak has been cooked completely through.
If you want your steak to be cooked medium rare then you'll want to wait until you see tiny blood droplets surface. Turn and brown. The steak will be ready to consume when the steak is not firm in the least to the touch. Rather it should have plenty of "give" when pressed. It will have a "juicy" appearance when the steak is at the preferred level of wellness.
If you want your steak rare then try grill the meat at a high temperature. You want your steak to be seared on the outside but maintain the rare and juicy state of the center of the steak. Cook to desired wellness. The steak should be soft when tested for firmness.
---