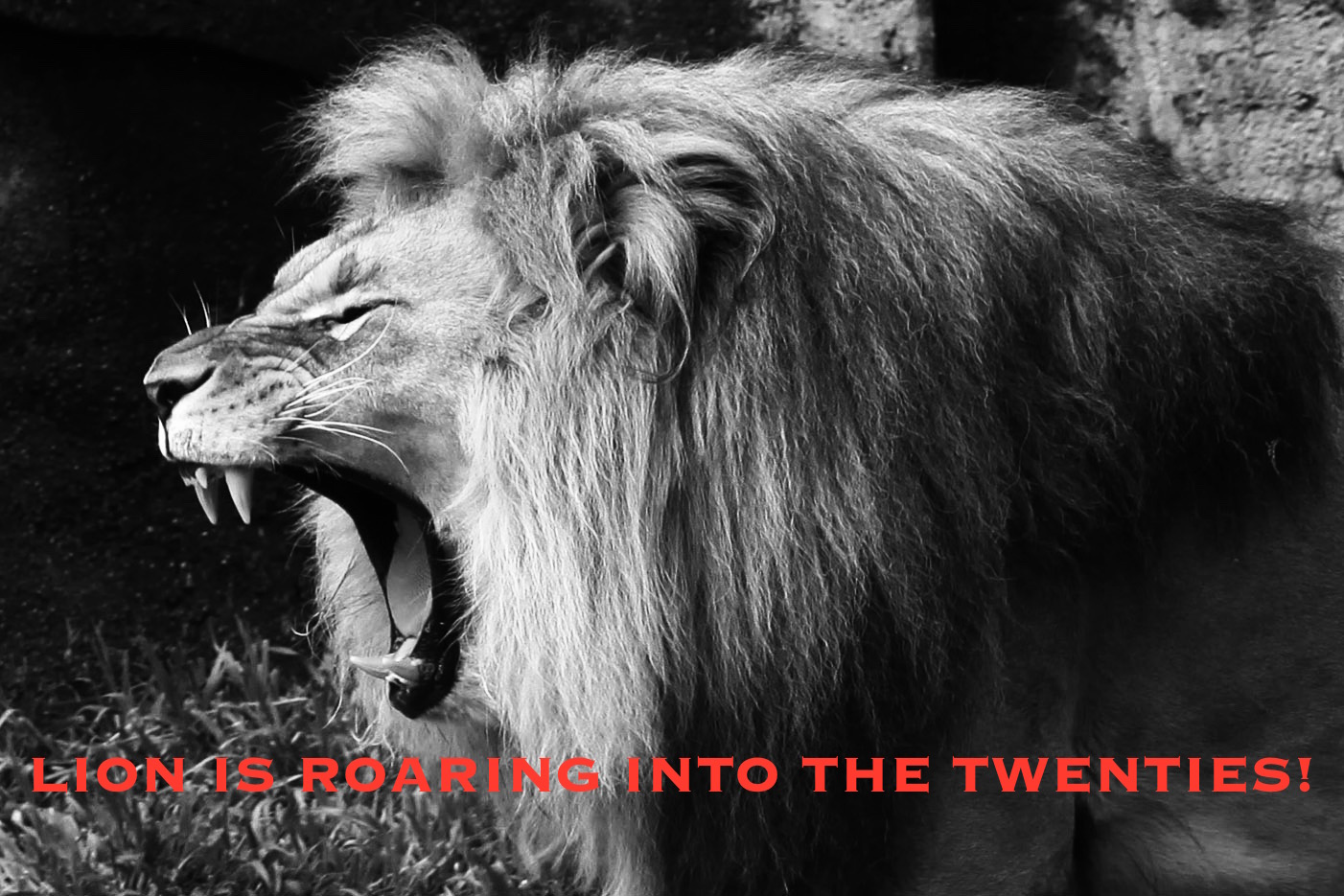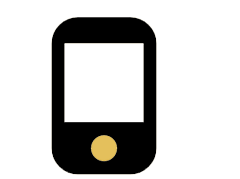 PHONE
(909) 988-3400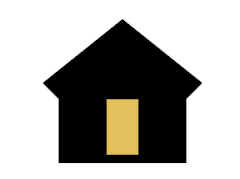 ADDRESS
541 E. Main St.
Ontario, CA 91761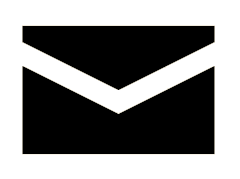 E-MAIL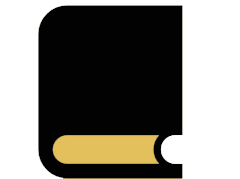 PREVIOUS ISSUE
---
---
Lion Premium Grills Newsletter – No. 76, January 2020

---
---
___

Happy New Year from all of us at Lion Premium Grills! We have officially hit a brand new decade! We would like to welcome you to our January 2020 issue. It's hard to believe but this is the 76th edition of our monthly newsletter. If this is your first time visiting us, thank you! If you're a return visitor we'd also like to thank you for your continued support and interest in our line of products! We've hit a brand new year — and a new decade — and that brings with it quite a bit of excitement. Grill season is again approaching and prepping for outdoor projects, renovations, updates, etc. is typically about to hit its stride as people plan for the spring and summer months. We have a great issue lined up to ring in the 2020's which we'll detail just below!
---
As we stated above, we have quite an issue lined up  which we hope you find both informative as well as entertaining. Kicking things off, we have an in-depth analysis of our signature 40″ L90000 premium bbq grill. Following that we have a great video courtesy of Texas Style Cuisine which has Johnny Stewart grilling up some mouthwatering seared strip steaks on our L90000 grill. We also have a detailed breakdown of the importance of BTUs as well as some tips and tricks to enhance your grilling experience. Closing things out for the month is a delicious recipe for grilled salmon skewers; this is an office favorite as it's quick and easy to make as well as absolutely delicious. We'd like to thank you again for taking the time to check out our newsletter!
---
---
---
---
Lion Premium Grills – A Closer Look at Our L90000 BBQ Grill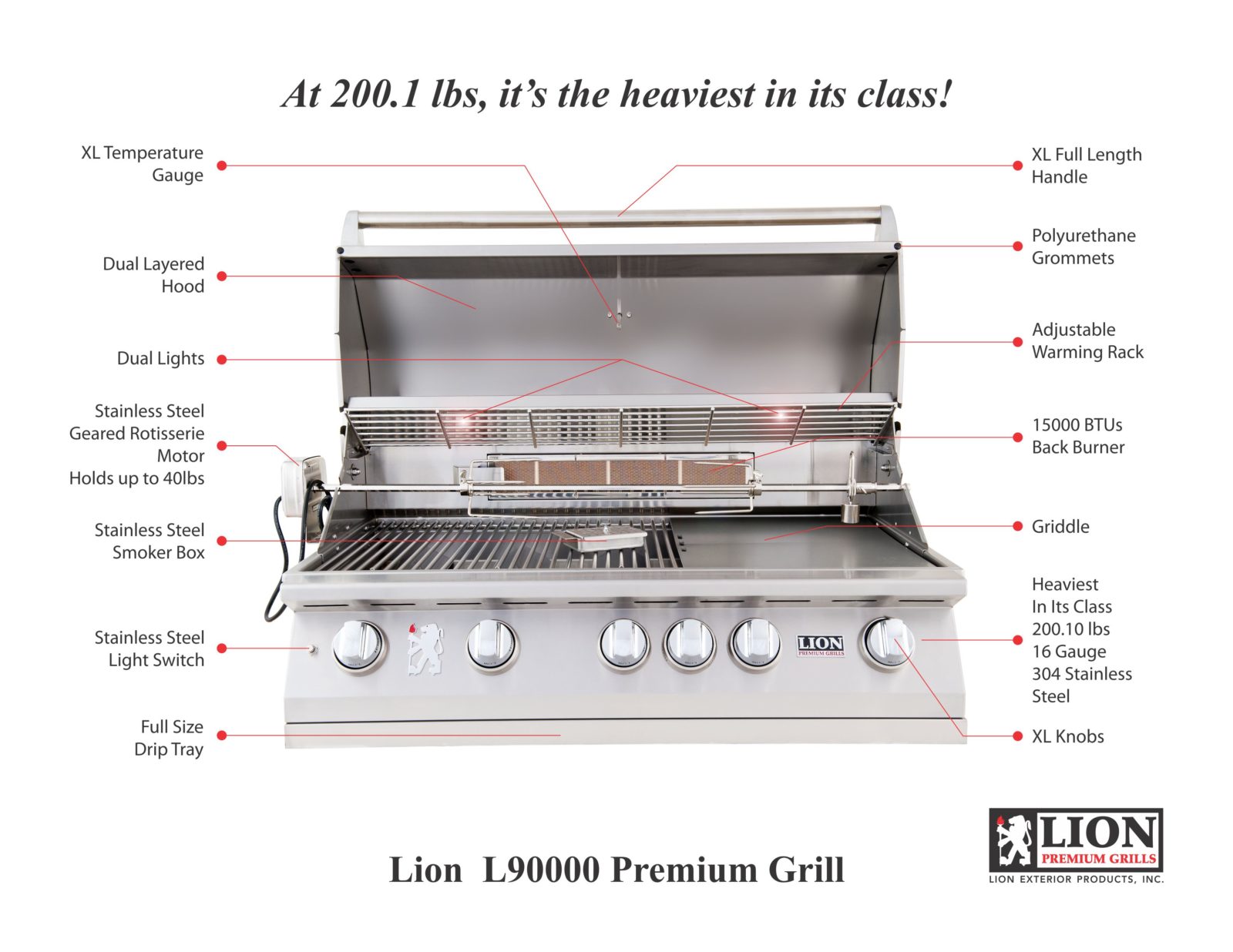 ---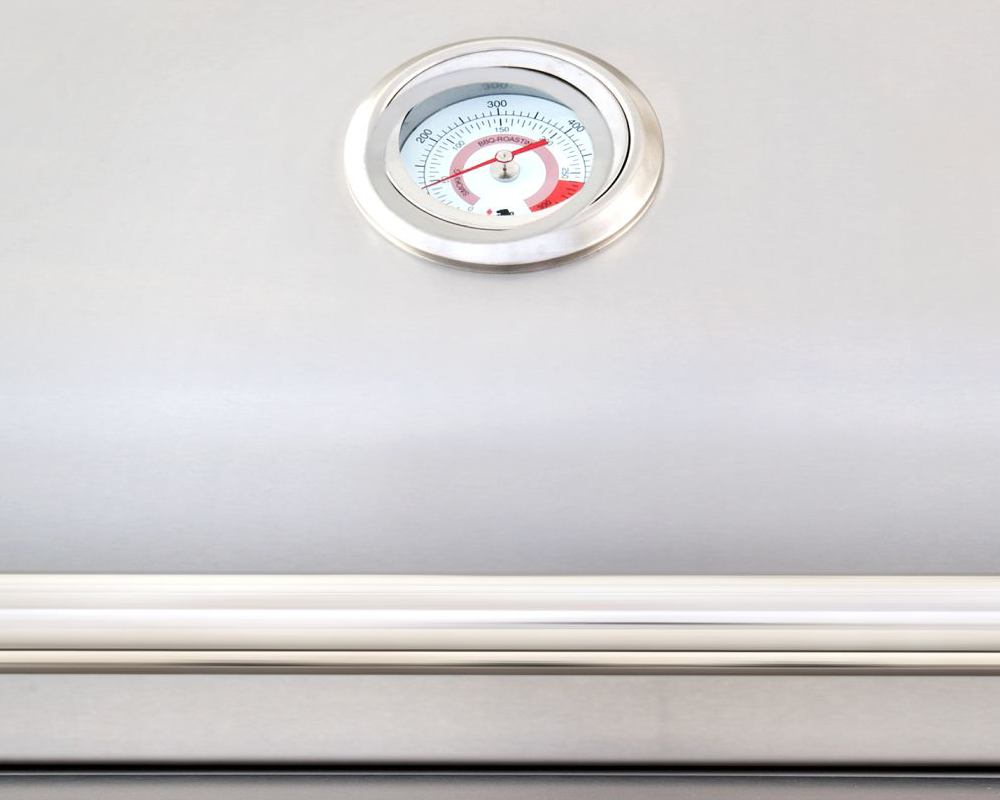 Our grills feature an XL temperature gauge which is mounted on the front lid; as the name states, it's extra large for ease of use and readability. It's lined with polished stainless steel and it registers temperatures in both Fahrenheit and Celsius. The front lid of the grill also comes equipped with our polished stainless steel XL full length handle. Opening your grill hood is a breeze and our eye catching handle not only looks beautiful but it's also constructed from high quality stainless steel.
The grill hood is dual layered and like the rest of the grill is comprised of 16 gauge 304 grade stainless steel which is rust proof and highly durable in addition to being one of the highest grades of stainless steel available commercially. You can feel the hardiness and density and the high quality of construction upon examination. The inside of the hood comes equipped with polyurethane grommets which provide protection against the hood scraping the inside of the grill lip; these grommets are comprised of highly resilient polyurethane which adds additional impact and abrasion resistance.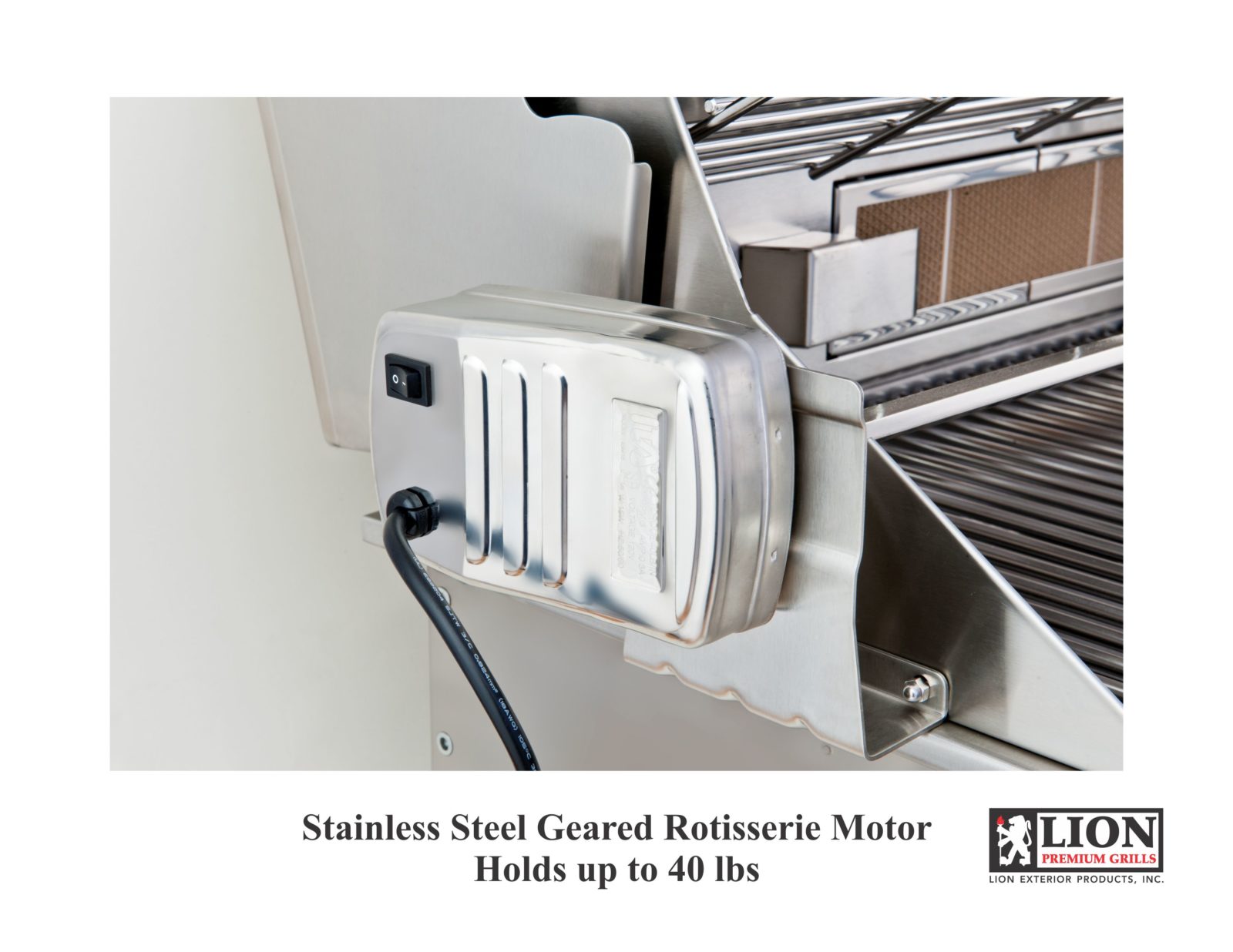 The interior of the grill has dual lighting which makes grilling during the evening a breeze by allowing the user to maintain the proper amount of illumination during anytime. The inside of the grill also comes equipped with a warming rack which is fully adjustable and perfect for keeping any variety of food warmed by way of the infrared back burner that also comes standard with our Lion grills. The back burner is crafted from ceramic and outputs 15,000 total BTUs making it the perfect tool for slow roasting or cooking. Parallel to the back burner is our rotisserie kit and mounted rotisserie motor. The rotisserie motor is stainless steel geared and has the ability to hold and rotate up to 40 lbs. Rotisserie chicken, prime rib, etc. are perfect for this! The five cast stainless steel burners output a total of 15,000 BTUs each, which puts the grill at a total of 90,000 BTUs (including the rotisserie back burner).
Our stainless steel smoker box is sitting on the grill grates; this handy device allows you to infuse your food with a multitude of new options and flavors. Basically, you can fill the smoker box with wood chips, etc. and add that wood smoked flavor to whatever you happen to be grilling, the options are almost endless. The griddle plate is also set on the grill itself; this item also expands your grilling possibilities by allowing you to cook eggs, bacon, and a huge variety of other items directly on your grill. This two accessories can prove to be essential to anyone's cooking arsenal and best of all, they come included with our grills!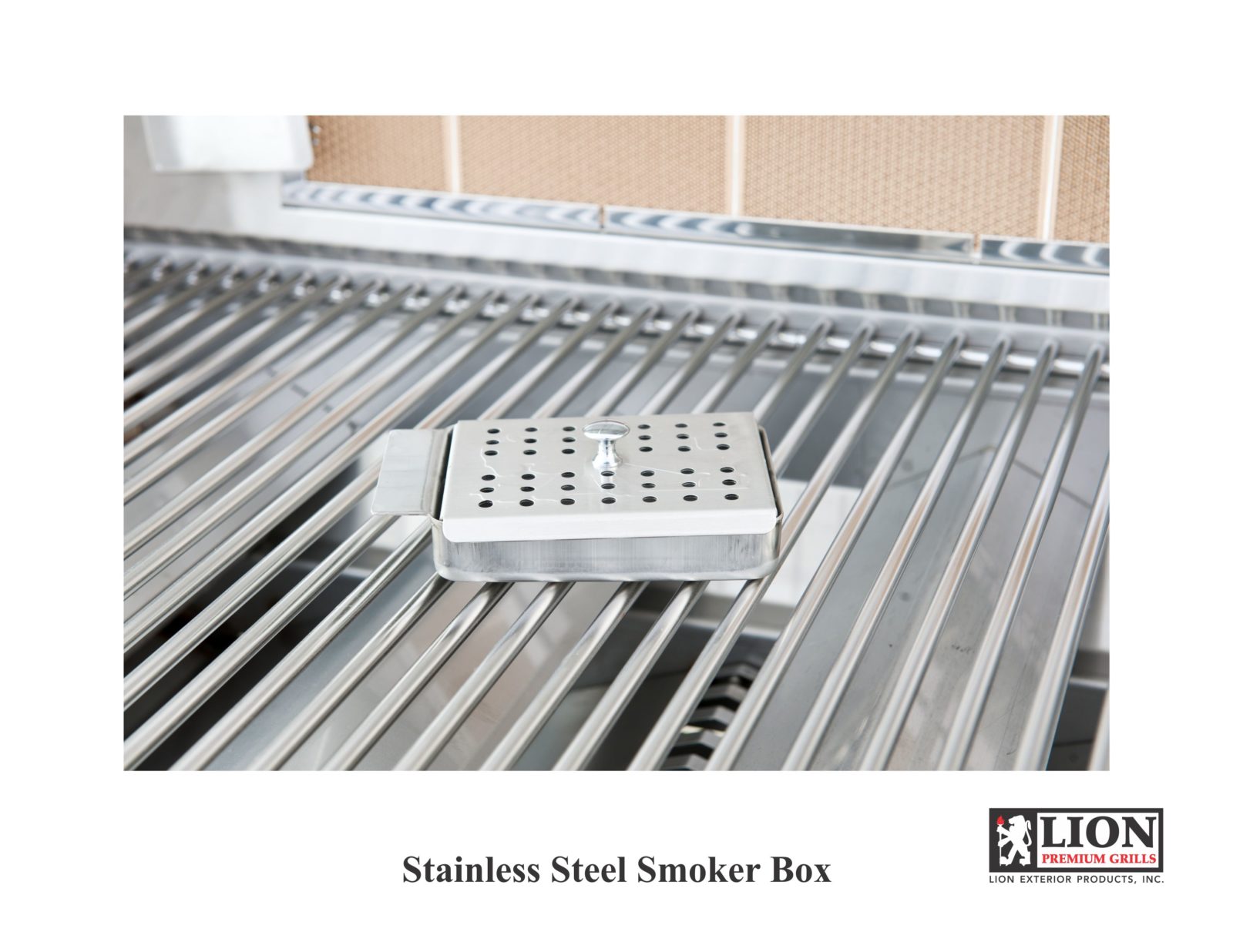 The control panel features a stainless steel light switch, full sized XL knobs, and a full size drip tray. Push and turn knobs work beautifully to actually ignite your grill burners; they're also designed with user functionality in mind. The full size drip tray is also very easy to pull out of the grill and also set back into place. As has been mentioned before, our grill is constructed from 16 gauge 304 grade stainless steel which makes our grills the heaviest in their class, bar none.
In this initial shot you can get a great look at how impressive a custom outdoor kitchen / BBQ island complete with grill and accessories really is when showcased in an actual backyard setting. The BBQ island comes complete with a beautiful backsplash and a rock base crafted with a Smokie California charcoal / slate gray finish. It's a great shot that is really effective at reflecting the proportionality of our products relative to the size of someone's backyard. The stainless steel shimmer of our grill, sink, and side burner contrast beautifully with the dark gray colors that comprise the base and luxurious granite countertop of the island.
---
Lion Premium Grills – Seared Strip Steaks with Texas Style Cuisine!

---
We have a great video of Johnny Stewart from Texas Style Cuisine grilling some beautiful steaks on our L90000 40″ grill! We found this video — as well as all of Johnny's content — to be very informative and enjoyable to watch. Johnny Stewart definitely knows his way around a grill and we thank him for featuring our grill on his series of videos!
---
Lion Premium Grills: Enhance Your Grilling Experience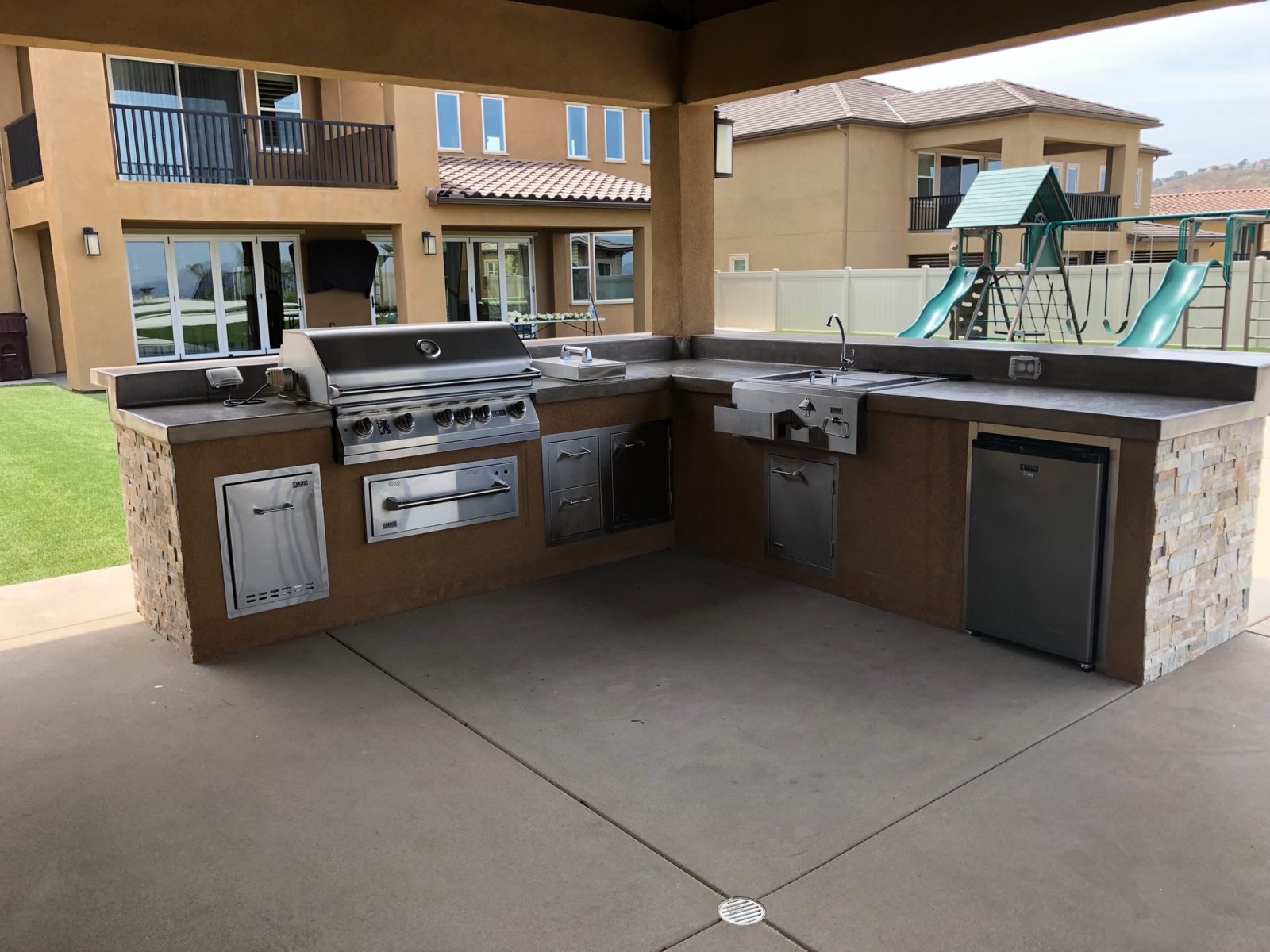 ---
Having the best tools at your disposal is essential when it comes to the grilling experience. We feel we make the best grills and outdoor products so that criteria is met. It is still always very useful though to obtain some general tips and tricks to make your actual experience on the grill a more enjoyable one (and it will increase your overall grilling skills and base of knowledge). These little tips will come in extremely handy when it comes to really maximizing all of the ways you can improve on your craft. We hope you take these tricks and apply them the next time you decide to grill up some chicken (brine it for the best chicken you've ever tasted) or attempt to steam the perfect piece of Chilean Sea Bass.
---
Brined Poultry Makes for Fantastic Grilling


The process of brining chicken or turkey is really very simple but it makes a world of difference when it cooks to tenderness and flavor. It's completely worth the time and effort, and once you try this method you'll be hard pressed to go back to not brining. Bring some salt water and sugar to a boil and mix completely. Add any aromatics, spices or herbs to the mix and let cool completely. Once the liquid is completely cool, add your poultry, stick it in the refrigerator and let it rest for anywhere from a handful of hours to a few days (the longer it goes, the more intense the flavors become). That's it! Be prepared for some incredible grilled chicken!

Pack and Steam Your Fish


Steaming your desired cut of fish is an incredible way to go when grilling fish; the fish remains moist and you can steam with any variety of herbs,aromatics, and enhancers that you could ever want. Slices of lemon, sprigs of thyme, etc. are all perfect for this. The process is simple as well;  wrap your fish in a foil packet that has been oiled and filled with your other ingredients. Place on the grill for roughly 8 to 10 minutes. There are many amazing ways to cook fish but this method seems underrated in our eyes.
Use Seasoning and Sauces with Restraint

Be careful to not overdo it with the marinades, rubs, and sauces. It's all personal preference of course, but the powerful flavor of grilled or smoked meat can be obscured instead of subtly enhanced. Flavorful cuts of steak like ribeye or porterhouse may only need salt and oil as seasoning. Be careful to not add BBQ sauce too early while your meat is still on the grill for instance. If you sauce it before the last few minutes on the grill, the intense heat will scorch the bbq sauce and negatively impact the overall flavor of your ribs.
---
Lion Premium Grills – BTU Breakdown



---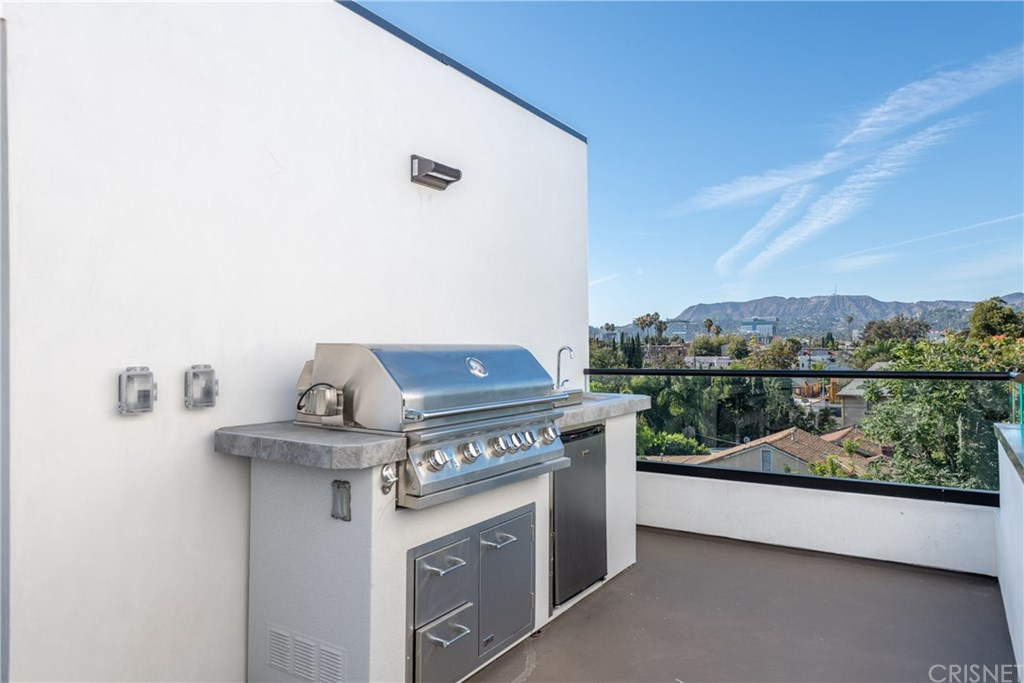 For this month's issue we're going to break down the ever vital BTU (British Thermal Unit): how it applies to grilling and the importance it plays when it comes to utilizing any type of gas grill. We hope you find this informative and useful now or in the future. 
What is a BTU?
A BTU is an abbreviation for British Thermal Unit; as it applies to grilling it basically measures the total heat output generated by the grill itself and which is defined by the total amount of fuel consumed by the hour.
How is this important?
When it comes to grilling the total amount of BTUs generated will generally tell you the power level of the grill to a certain extent. For instance, our Lion grills are built with only the highest quality of stainless steel (16 gauge 304 grade) and are the heaviest in their class; the grill just feels extremely solid. What this means is that our grill will retain heat. Each individual burner on our Lion BBQ grills generates 15,000 BTUs and our infrared rotisserie back burner outputs an additional 15,000 BTUs. This accounts for our 32″ 4-burner L75000 model pushing out 75,000 total BTUs (w/ the back burner included) and our 40″ 5-burner L90000 model generates 90,000 total BTUs. This is extremely powerful and additional heat generation can be added with our searing burner.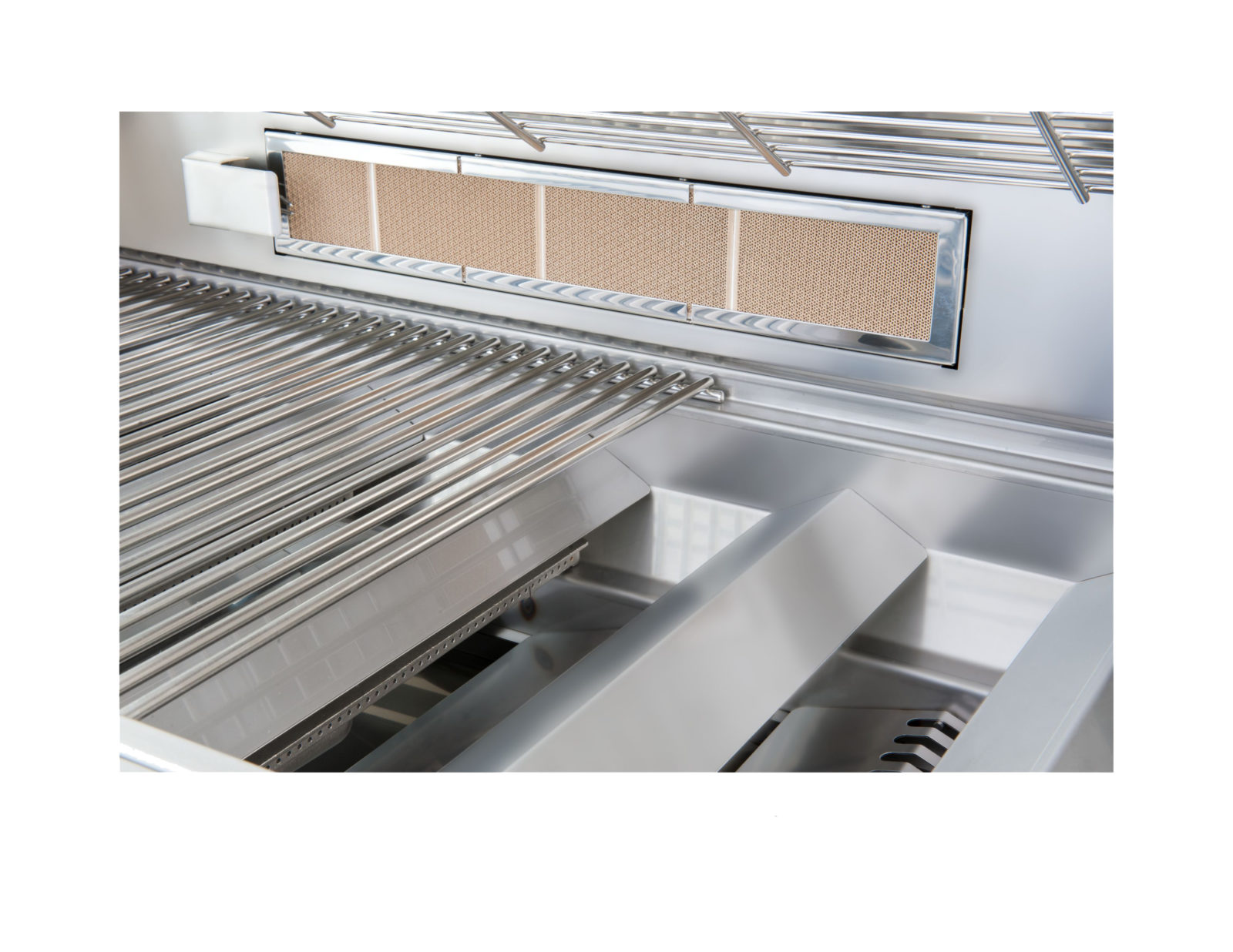 In Conclusion
So, what this all boils down to is that our grill is extremely efficient with heat retention which means that when combined with the overall power steaks, etc. can be effectively "seared" in a professional manner. The grill will heat up very quickly where as one with lower power will take longer to preheat; when it comes to actually cooking a perfect sear can be achieved with higher heat in contrast to one with lower BTU generation. Our grills are dense and heavy duty and built to retain the proper amount of heat (adjustable to the level that an individual desires) in addition to outputting a substantial amount of overall BTUs. When combined, you have a very impressive piece of equipment that covers all bases — grilling power, sustainability, and build quality.
---
---
Lion Premium Grills Featured Recipe: Mediterranean Lemon Salmon Skewers
---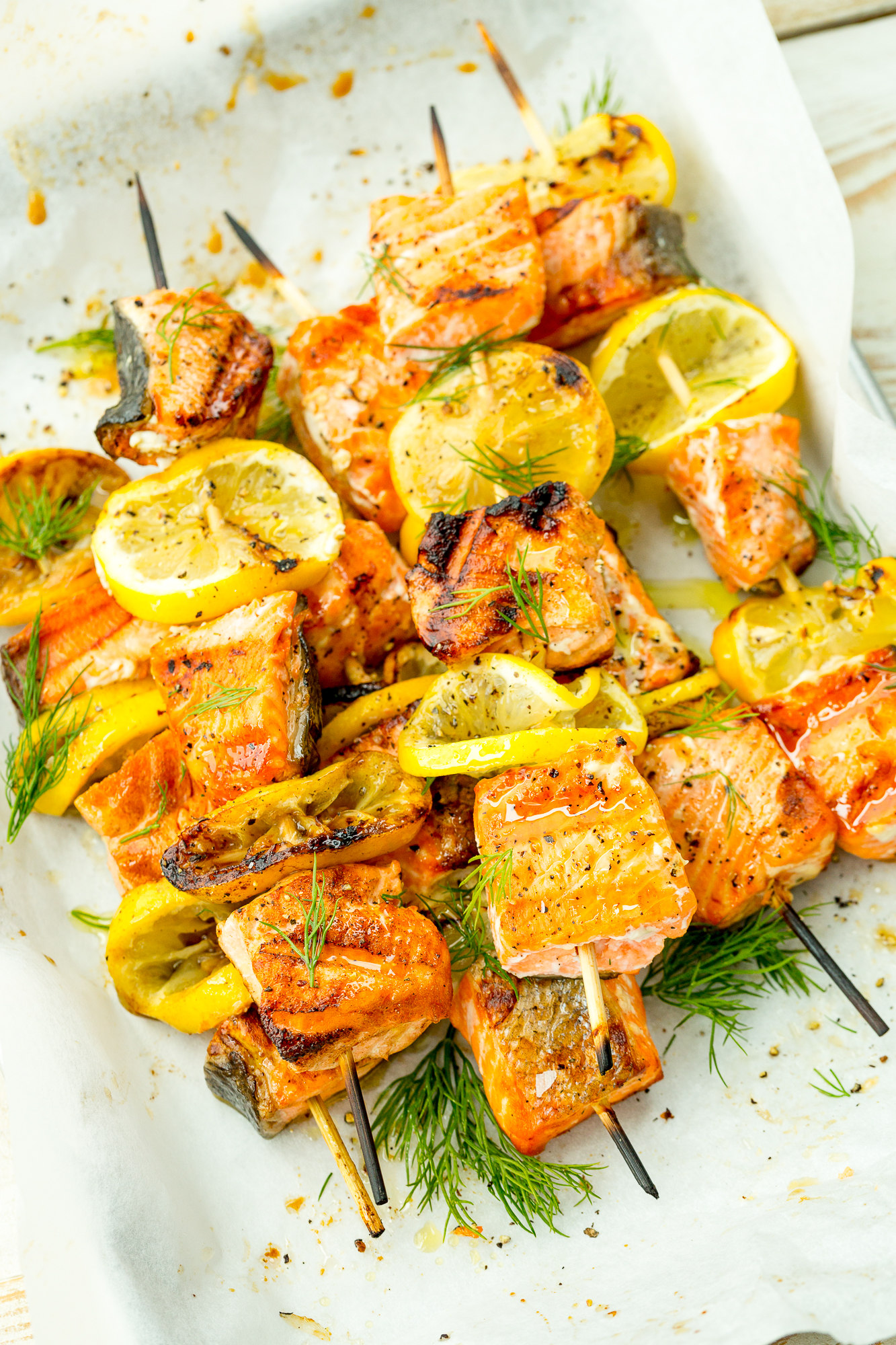 Hello and welcome to our monthly featured recipe. For our January 2020 edition we have a quick, easy, and simple recipe for you that is unbelievably delicious. This is most likely the easiest recipe we've had featured in our newsletter thus far — Mediterranean style salmon and lemon skewers. The flavor profile is off the charts but balanced. This is a favorite at Lion Premium Grills, especially when you consider how easy it is to prepare. This recipe is versatile and great for any number of occasions, from outdoor dinner parties to just a weekday meal for the family. We hope you enjoy this one!
INGREDIENTS
1 lb. salmon filets
3 lemons (sliced)
Extra-virgin olive oil, for brushing
Kosher salt
Freshly ground black pepper
Torn fresh dill
DIRECTIONS
First off, prepare your grill; clean any remaining  residue from previous cooking sessions and heat it to high. Let it heat for roughly 10 minutes. Now prep your food. Take your salmon and cut it into 2″ pieces; take your lemons and thinly slice them as well. Skewer your cubed salmon and lemon slices. Now take your olive oil and lightly brush your skewered food. Lightly salt and pepper your fish as well. You can use any other additional seasoning that you desire, but this should be perfect for this very simple and delicious recipe.
Your grill should be ready at this point. Take your salmon and lemon skewers and grill them on your hot grill, turning each skewer once, 6 to 8 minutes. Once they're ready, remove the skewers and garnish them with dill. Add any additional salt or pepper to taste; drizzle with more extra virgin olive oil if you prefer. Serve.
---