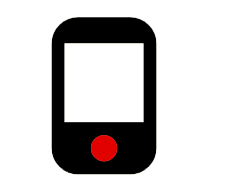 PHONE
(909) 988-3400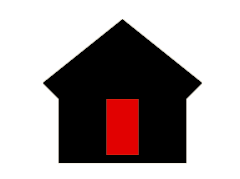 ADDRESS
541 E. Main St.
Ontario, CA 91761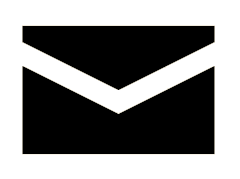 E-MAIL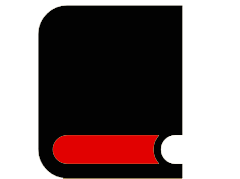 PREVIOUS ISSUE
---
---
Lion Premium Grills Newsletter – No. 108, September 2022

---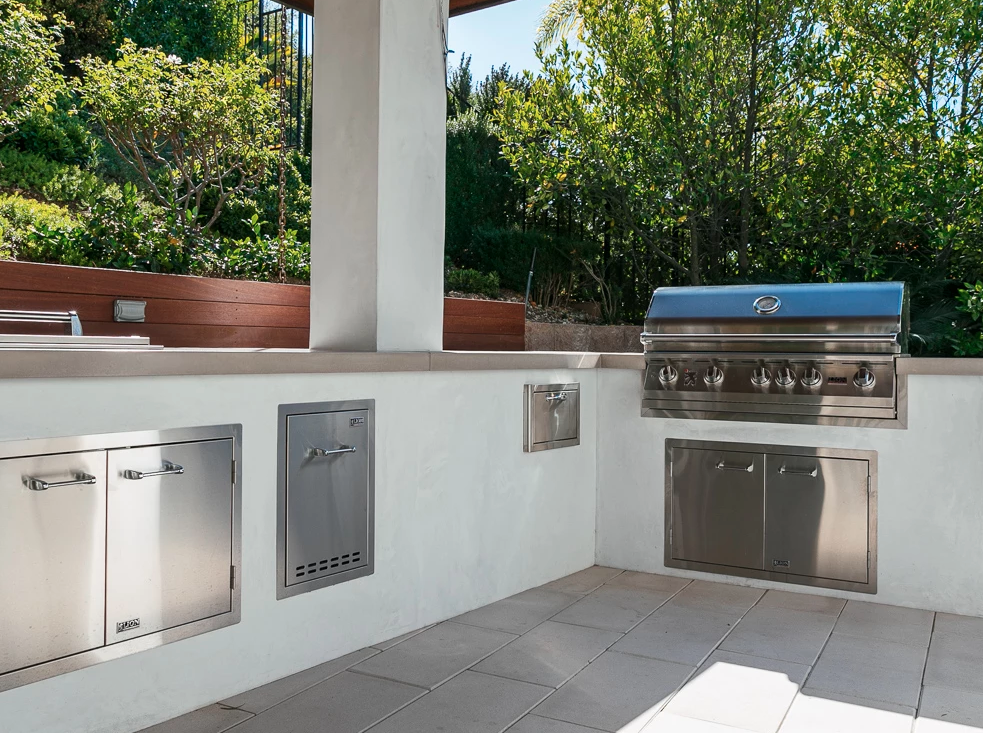 ---
____
Welcome to the 108th issue and September edition of the Lion Monthly Newsletter! Thank you for taking the time to visit our website and newsletter; we hope you find this month's issue enjoyable. The summer season is drawing to a close and now we're about to hit fall — and football — season which starts now in September!  With that said, September is still a fantastic time to grill — the weather is still primed for being outside. This is the absolute perfect time to utilize your outdoor Lion grill to the fullest, whether that be just grilling for your family and enjoying a Sunday afternoon or hosting a large viewing party with friends and family.We pride ourselves in the quality of our products and we only use high grade material such as 16 gauge 304 grade stainless steel. Below you'll find a brief overview of the contents of this issue. We hope you find your stay enjoyable!
---
Here's what we have lined up for this month's issue. Starting things off, we have an overview of our stainless steel cooking grates; we break down the quality and then compare them to other common types of grates on the market. We describe what makes our grates stand out from the rest. We also have an in-depth analysis of our 40″ L90000 BBQ grill. It breaks down all of the grill's bells and whistles and we think it provides a ton of useful information. After this feature is a link to a fantastic article describing why you'll love a Lion Premium Grill! Closing things out is our featured recipe — this month we're showcasing a wonderful grilled halibut recipe. We hope you find this month's issue informative; thank you again for taking the time to check out our products!
---
Lion Premium Grills –  What Makes Our Cooking Grates Stand Out?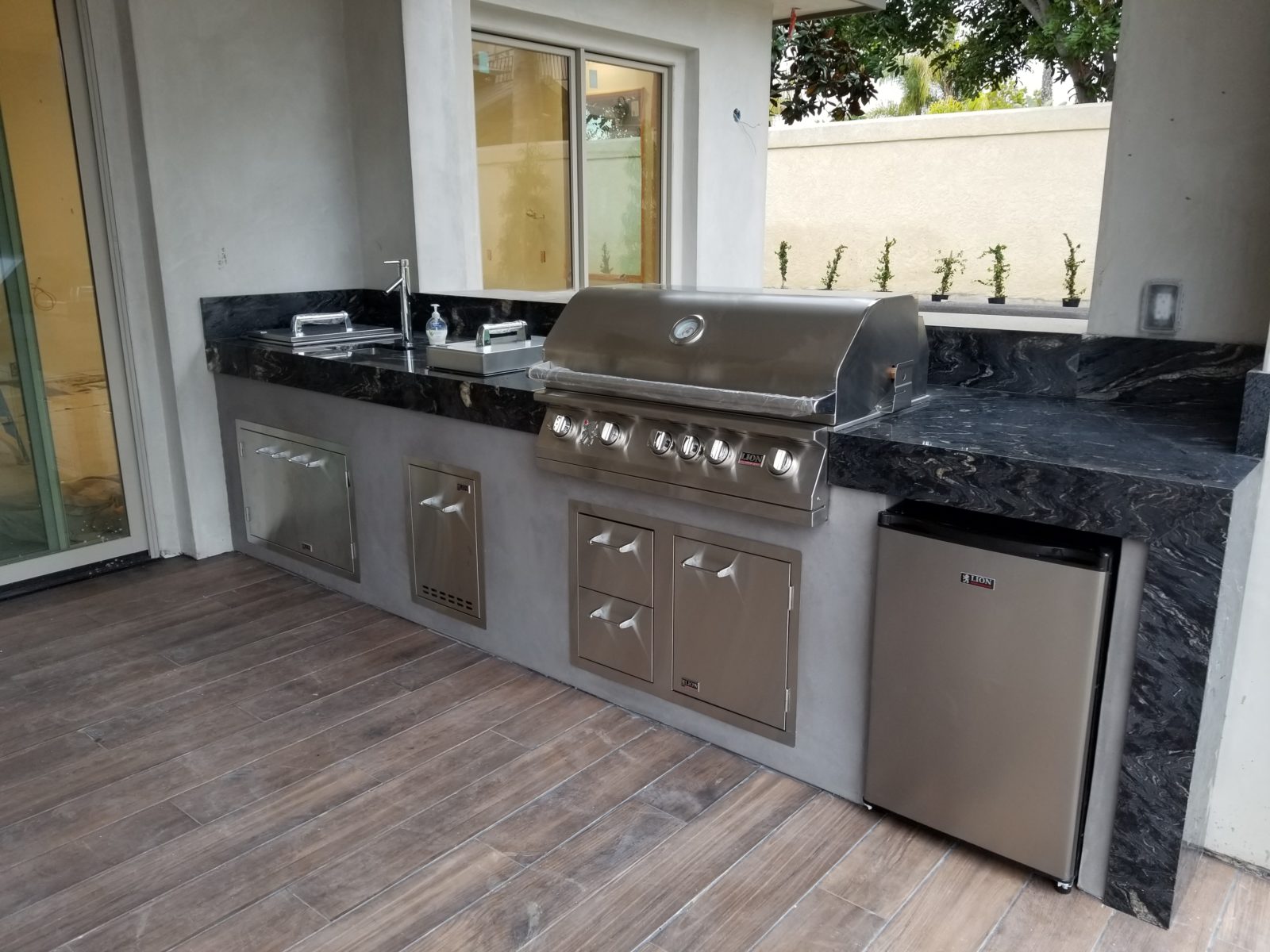 Cooking Grids: Types of Grids

It may not immediately spring to mind as one of the more important components of a BBQ grill, but the cooking grids are vital items. Some may think that it's not really a big deal when it comes to the quality of the composition of the cooking grids themselves, but that's not true in the least. You need high quality grids unless you want to encounter problems with rust, rods bending and warping, food sticking to the grids, and more. Grids tend to be made from many of the same materials as burners and other BBQ components; at Lion we use our high grade 304 stainless steel which is the best on the market bar none.
304 Stainless Steel Cooking Grids
As with all of our other accessories and components, we use 304 grade stainless steel for the creation of our steel rod cooking grids. 304 stainless steel is the best commercial grade steel and has always proven to rise above the rest when it comes to the overall quality and durability it possesses. Other grades of stainless steel are lighter, not as durable, and tend to corrode and rust easier. Our 304 grade is the opposite of that; it's sturdy, heavy duty, resistant to rust, and heavy gauge. You can feel the quality by just holding our grids and feeling the weight of the item. Stainless steel grids have great longevity and can withstand all types of weather conditions. Our grids are also very easy to clean and maintain. The qualities are numerous, which is why we feel our 304 Stainless Steel Cooking Grids are the best you'll find.
Compare Other Popular Types of Cooking Grids Below:
---
Cast Iron

Cast Iron is very heavy duty, making it extremely durable. Cast iron grids will be able to maintain great heat and are generally excellent for all manner of grilling. The main problem is that cast iron is difficult to maintain and needs to be oiled and cleaned on a constant basis. It is also susceptible to rust, which is not what you want from the very product you will be grilling your food on. Good, but the downsides of cast iron for an outdoor grill outweigh any benefits. We feel that stainless steel just performs at a higher rate while also being much more durable and easier to maintain.
Chrome

When you're searching for cooking grids, chrome coated is one to definitely stay away from. Chrome coated grids will no doubt be the cheapest, but that also means that the quality is very low-grade. These grids will be cheaply and quickly made; they are usually cheap metal that is covered with a chrome coating. These rust rapidly as the coating wears off very fast exposing the metal beneath to the elements. The price point is low and the quality is the same. It is recommended that the consumer stay away from these as the "value" gained is quickly lost as these grids expire quite quickly.
Porcelain Coated

Not as low quality as the chrome coated grates, but not much better either. Porcelain coated grids suffer from the same problems as the chrome grids, which is that the coating tends to chip and wear off, leaving the steel beneath to rust rapidly once it comes into contact with the elements. Another downside to porcelain coated grids is that the porcelain will chip easily if it comes into contact with any metal grilling tools. You must use grilling tools with caution as a few chips will quickly lead to a rust encrusted cooking grid. Low quality and not recommended.
---
Lion Premium Grills – An In-Depth Look at Our 40″ L90000 BBQ Grill
---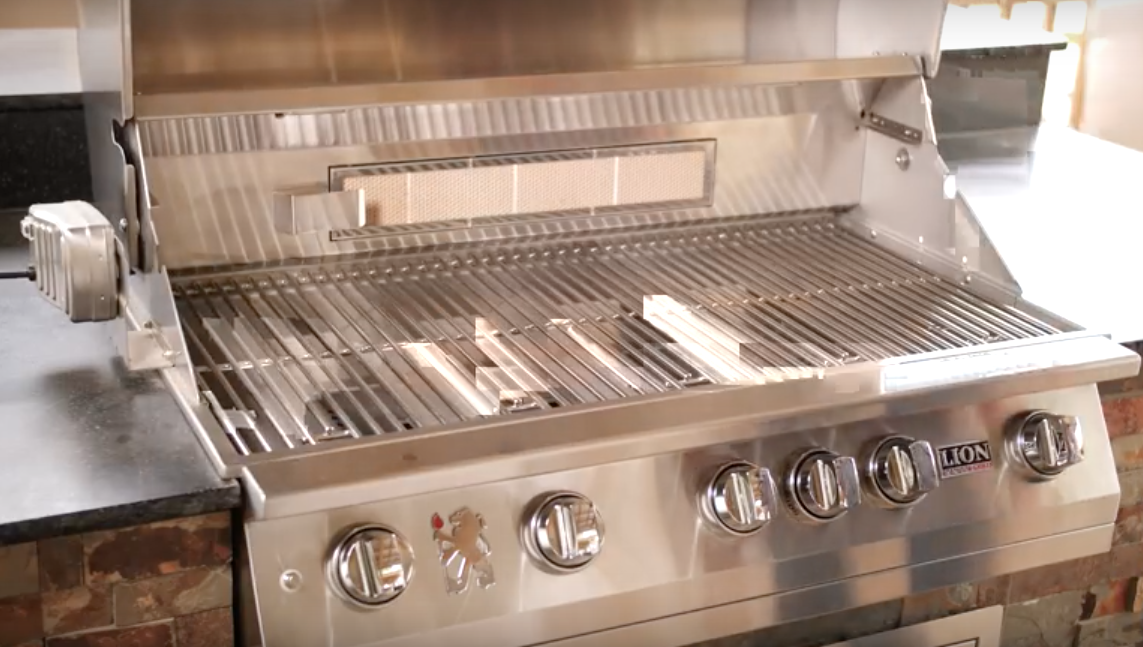 Our grills feature an XL temperature gauge which is mounted on the front lid; as the name states, it's extra large for ease of use and readability. It's lined with polished stainless steel and it registers temperatures in both Fahrenheit and Celsius. The front lid of the grill also comes equipped with our polished stainless steel XL full length handle. Opening your grill hood is a breeze and our eye catching handle not only looks beautiful but it's also constructed from high quality stainless steel.
The grill hood is dual layered and like the rest of the grill is comprised of 16 gauge 304 grade stainless steel which is rust proof and highly durable in addition to being one of the highest grades of stainless steel available commercially. You can feel the hardiness and density and the high quality of construction upon examination. The inside of the hood comes equipped with polyurethane grommets which provide protection against the hood scraping the inside of the grill lip; these grommets are comprised of highly resilient polyurethane which adds additional impact and abrasion resistance.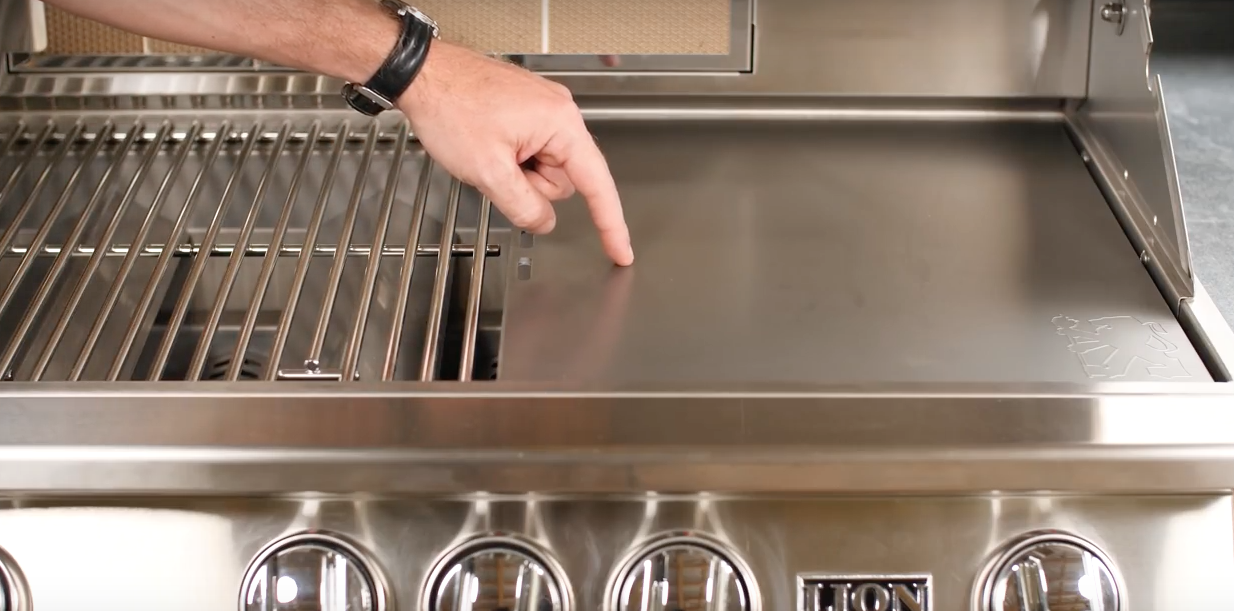 The interior of the grill has dual lighting which makes grilling during the evening a breeze by allowing the user to maintain the proper amount of illumination during anytime. The inside of the grill also comes equipped with a warming rack which is fully adjustable and perfect for keeping any variety of food warmed by way of the infrared back burner that also comes standard with our Lion grills. The back burner is crafted from ceramic and outputs 15,000 total BTUs making it the perfect tool for slow roasting or cooking. Parallel to the back burner is our rotisserie kit and mounted rotisserie motor. The rotisserie motor is stainless steel geared and has the ability to hold and rotate up to 40 lbs. Rotisserie chicken, prime rib, etc. are perfect for this! The five cast stainless steel burners output a total of 15,000 BTUs each, which puts the grill at a total of 90,000 BTUs (including the rotisserie back burner).
Our stainless steel smoker box is sitting on the grill grates; this handy device allows you to infuse your food with a multitude of new options and flavors. Basically, you can fill the smoker box with wood chips, etc. and add that wood smoked flavor to whatever you happen to be grilling, the options are almost endless. The griddle plate is also set on the grill itself; this item also expands your grilling possibilities by allowing you to cook eggs, bacon, and a huge variety of other items directly on your grill. This two accessories can prove to be essential to anyone's cooking arsenal and best of all, they come included with our grills!
The control panel features a stainless steel light switch, full sized XL knobs, and a full size drip tray. Push and turn knobs work beautifully to actually ignite your grill burners; they're also designed with user functionality in mind. The full size drip tray is also very easy to pull out of the grill and also set back into place. As has been mentioned before, our grill is constructed from 16 gauge 304 grade stainless steel which makes our grills the heaviest in their class, bar none.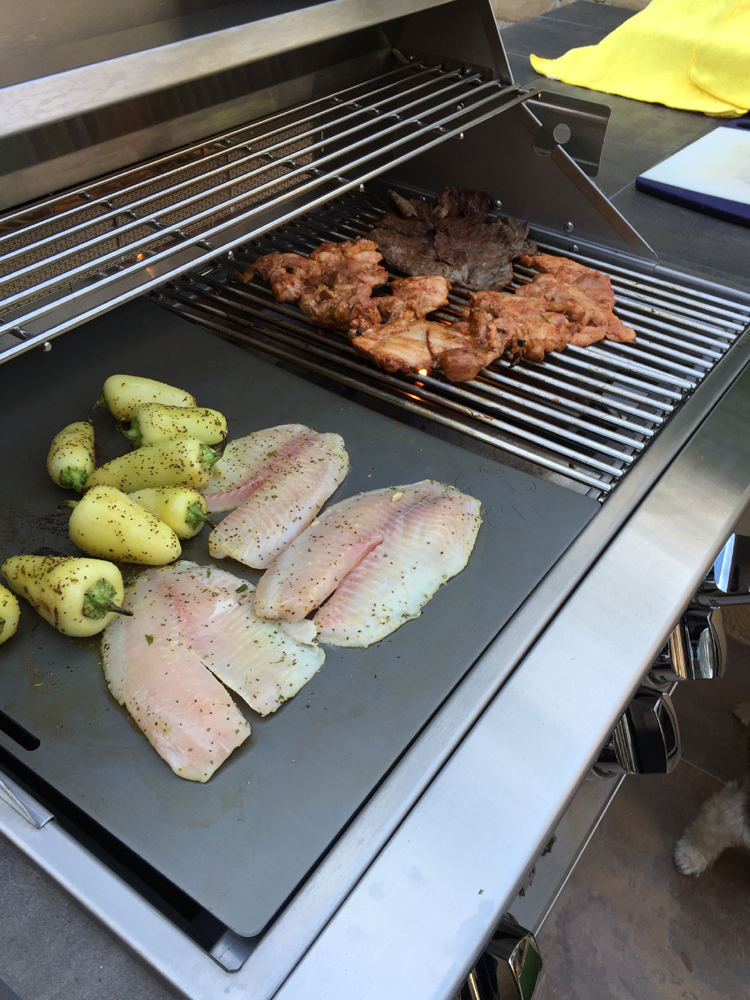 Lion Premium Grills – "5 Reasons You'll Love a Lion Grill" Article

The Outdoor Appliance Store has recently created an article that outlines 5 reasons you'll love one of our premium Lion grills. We'd like to thank the kind people over at The Outdoor Appliance Store for this fantastic write-up! If you're interested in checking it out, click this link to read the article!

"When you see many premium grill brands on the market, they can start to run together. One BBQ grill brand that always stands out in our minds is Lion Premium Grills. This brand of BBQ grills and outdoor kitchen products has exceptional quality and performance, plus a large variety of options that can fit into your budget. Let's get specific, though, and dive into the reasons why you'll love a Lion Grill!"
---
Lion Premium Grills Featured Recipe: Grilled Halibut
---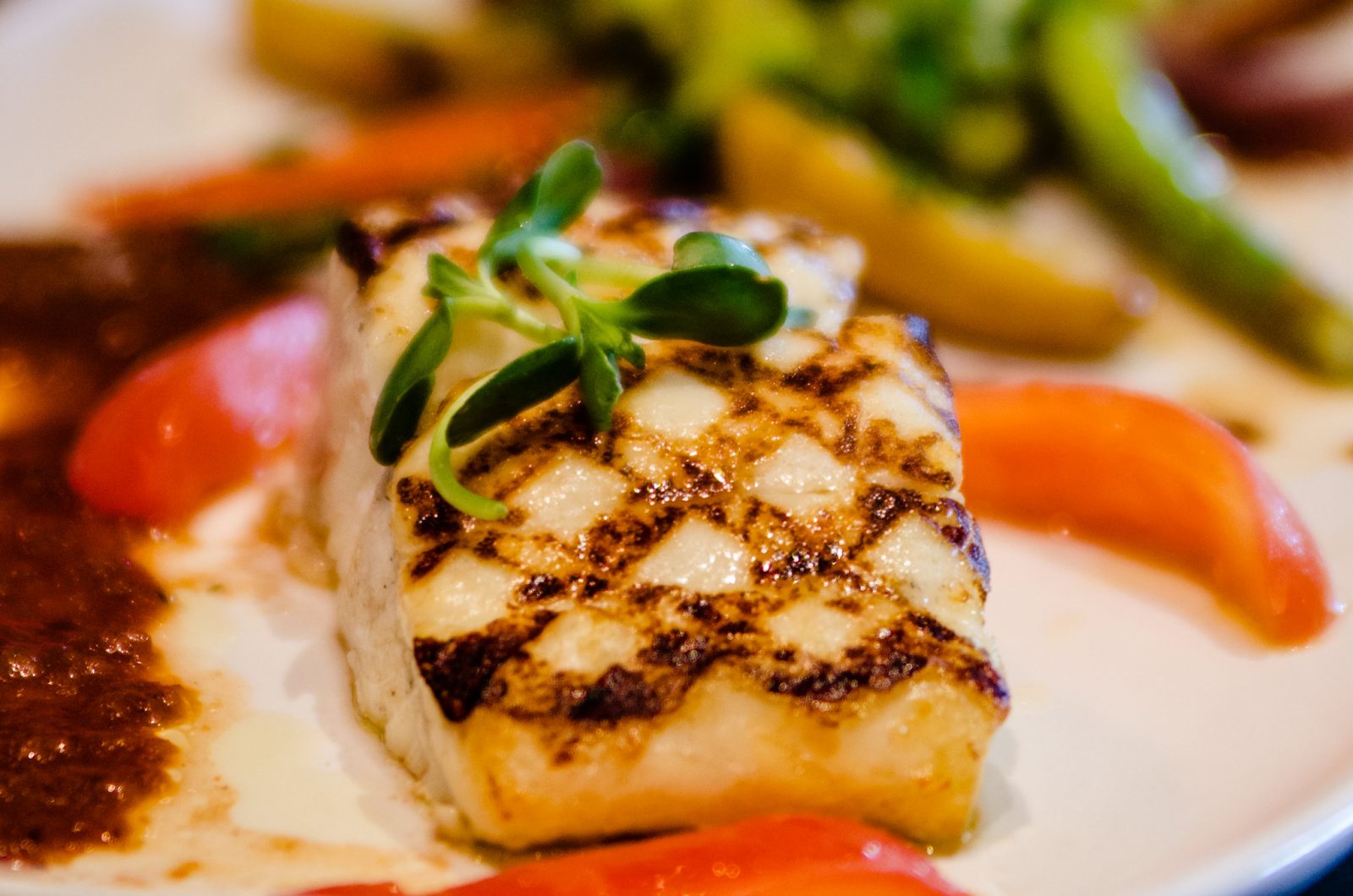 For this month's edition we're bringing you this absolutely mouthwatering grilled halibut and chimichurri dish. Grilled halibut is consistently amazing and the addition of the chimichurri takes the dish to new and unexpected places. If you happen to enjoy seafood or fish at all, you will love this recipe. One of the best things about it as well is that it is really simple to make. We think you'll really like this one. Enjoy!
Preparation Time – 15 minutes

Cooking Time – 16-18 minutes (includes preheating time)

INGREDIENTS
4 eight ounce halibut steaks (roughly 3/4 to 1 inch thickness)

1/3 cup extra virgin olive oil

1/4 cup fresh lemon juice

3/4 cup chopped parsley

1 tablespoon vegetable oil

1 tablespoon minced garlic

1 tablespoon minced shallot

3/4 teaspoon red chili pepper flakes
---
DIRECTIONS
Making the Chimichurri
To create your chimichurri you first need to add the full amounts of the following ingredients to a bowl: lemon juice, garlic, olive oil, chili flakes, shallots, 1/2 of a teaspoon of salt, 1/2 of a teaspoon of pepper, and 1 tablespoon of water. Whisk this together until the salt has fully dissolved in the bowl. At this point you may add in the 3/4 cup of chopped parsley. Let the chimichurri sit for approximately 15-25 minutes; you can let it go longer if you wish.
Grilling the Halibut
Prepare your Lion Premium Grill (32″ L75000 or 40″ L90000) by preheating the grill at a high temperature (not too hot, more of a "medium-high" heat). Take your halibut steaks and use a paper towel or something of that nature to first pat the fish dry and absorb any excess unwanted moisture. After doing this go ahead and brush your halibut filets with vegetable oil on both sides. Season the halibut with some salt and pepper to your preference.
At this point your grill should be ready; brush your grill rack with some oil to prevent sticking. Place your halibut on the oiled grill rack and close the hood or leave it open to cook (personal preference). Cook for a total of 8 to 10 minutes and make sure to turn the halibut over only once during the midpoint of the grilling process. Once the fish is cooked, plate it and add your freshly prepared chimichurri on top. Serve with any other preferred side dishes and vegetables. That's it!
---