---
---
---
Lion Premium Grills – No. 9, June 2014
---
---
---
Hello from Lion Premium Grills! Summer is officially here which means it's prime grilling season. There really is nothing like grilling with one's family on a warm summer evening or entertaining friends with an afternoon backyard BBQ. We do not hesitate to state that our variety of grills and accessories will greatly enhance any of these activities. A custom built BBQ island will take this to the next level, and in this issue we are proud to feature Pro Tech BBQ Islands, a company that builds beautiful high-end custom BBQ islands. We hope that you enjoy the content we're providing this month, so please relax and enjoy our June issue!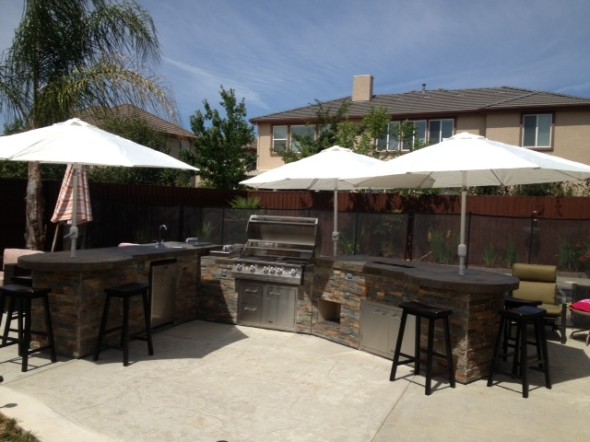 PHONE
(909) 988-3400
E-MAIL
ADDRESS
541 E. Main St. Ontario, CA 91761
ARCHIVE
---
---
---
---
Lion Premium Grills – Featured Customer Testimonials



---
---
---

---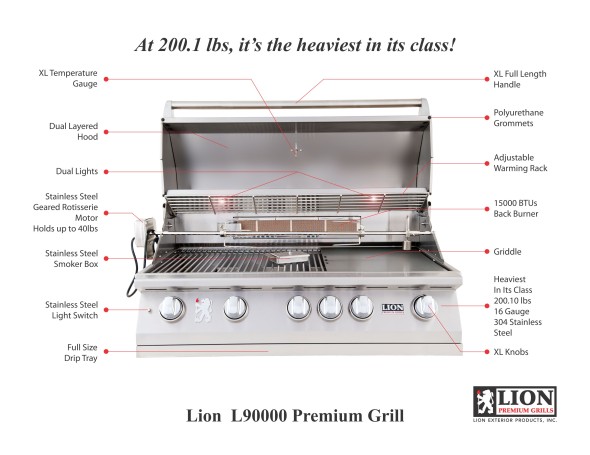 So Many Uses!



"Picked up the 32″ Lion grill and man, it is really great. Super sturdy and the best part is the actual grilling. Everything from steaks to chicken cooks evenly and can be done with a nice sear in the case of the steaks. So many uses for this grill especially with the additions like the smoker box."

-Review by Jason, Santa Fe, New Mexico – L75000 Stainless Steel BBQ Grill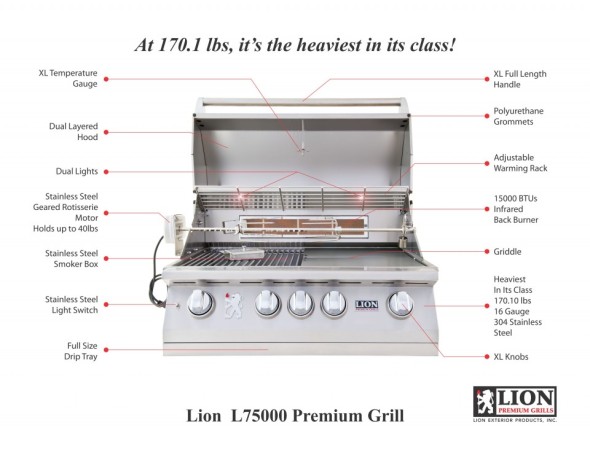 Great Grill
Love this grill maintains set temperatures and plenty of room for cooking for lots of people or a few. This grill was easy to set in place and I like the night lights for evening grilling.
-Review by Thad W.  – Amazon – 32″ L75000 Stainless Steel BBQ Grill
---
---
---
Lion Premium Grills – Pro Tech BBQ Islands: Superior Quality

---
---
---
This month we have decided to showcase Pro Tech BBQ Islands, a company that builds some incredible custom BBQ islands to any specification. Their craftsmanship and ability to create innovative islands is the very definition of functionality and luxury combined. They are extremely flexible and can take an individual's vision and translate that into reality (and most importantly at a very high level of quality). Looking to have a firepit built directly into your island countertop? Pro Tech can do this as seen below. The materials used to construct these islands are nearly of an infinite variety; they utilize anything from granite to slate to brick and so on (totally customizable of course).
Pro Tech BBQ Islands are located in San Ramon, California which is roughly 40 minutes outside of San Francisco, California. If you're looking to have a custom luxury BBQ island constructed they can be reached at the following:
Located @ 3211 Fostoria Way Suite D San Ramon, CA 94583
Telephone @ (888) 988-1BBQ
Website @ protechbbqislands.com
 If so, please do not hesitate to contact them!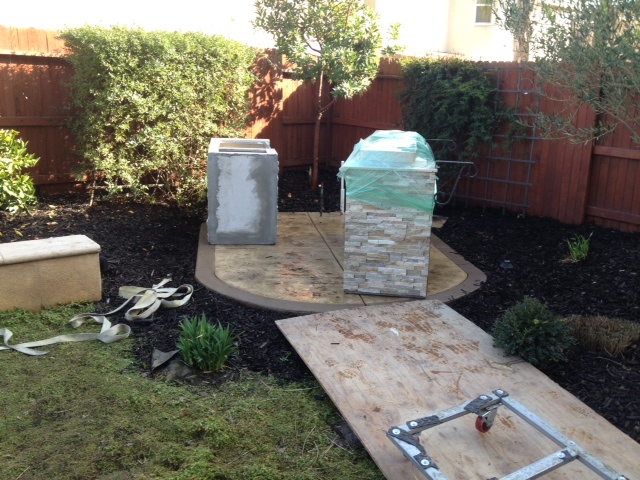 Here we see the initial process of fully assembling and setting up the custom built BBQ island pieces; the counter tops are removed from the bases and then re-set once the island is positioned properly. Notice the beautiful slate rock that comprises portions of the base. The texture, look, and feel of the rock are completely unmatched — it accents the rest of the island perfectly not to mention the quality of the actual construction.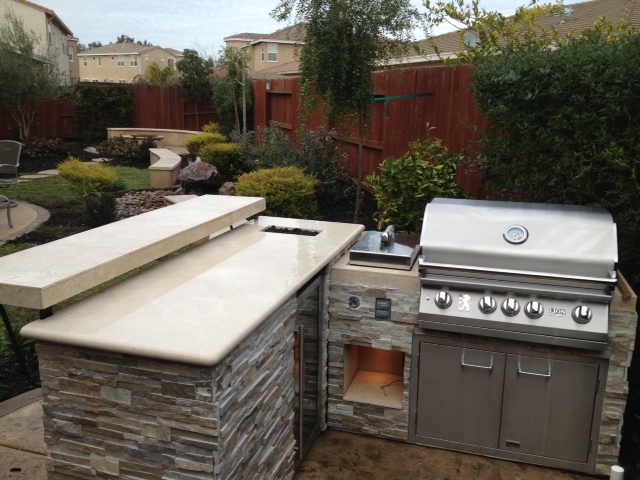 Here's another view of the same island, just up close and in its fully assembled state (our Lion stainless steel 32″ BBQ grill, side-burner, and double access doors are on full display). It's quite easy to see the quality of Pro Tech's craftmanship; the slate rock base is built to perfection as well as providing a sense of visual depth and texture — it's a treat for the eyes that's to be sure. The materials used are clearly of a higher quality as well. The countertop is tiered, with an additional step assembled over the main counter area. The built in fire pit adds an exquisite touch. The small details really shine here, and Pro Tech's work is definitely unparalleled.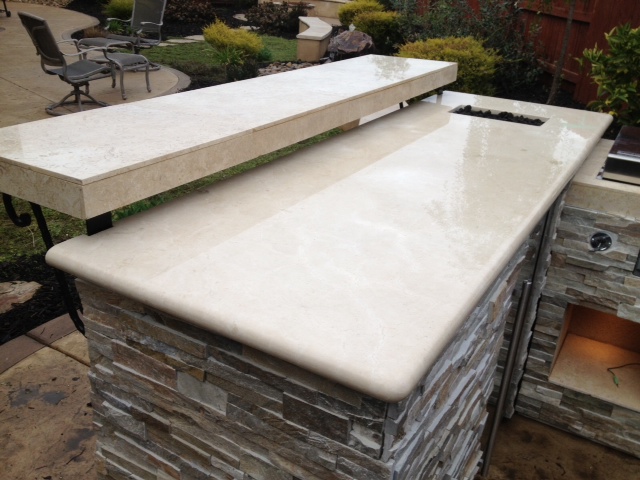 Let's zoom in further to inspect this particular BBQ island by Pro Tech, especially on the countertop construction. The primary, rounded edge countertop is composed of premium granite and it shows; the shimmer and sheen is eye popping. The tiered back counter which extends above the primary top adds even more visual appeal as well as functionality, providing a substantial amount of additional space in a compact area. The small fire pit is a beautiful touch; the dimensions it adds to the unit, aesthetically — especially at night when it can be lit and fully on display — is a huge bonus.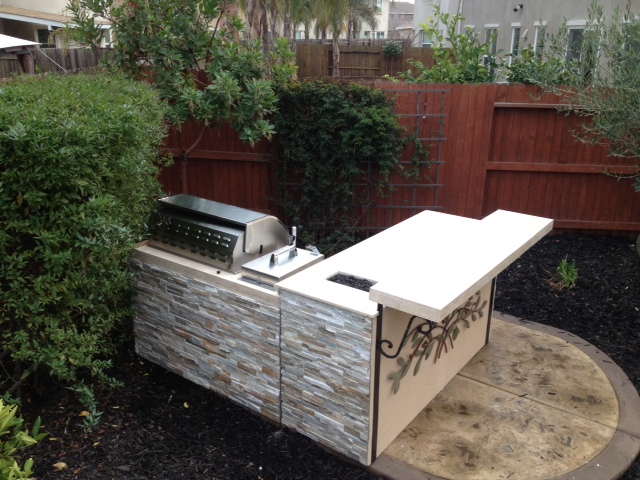 Finally, we can pan away to the side and zoom out a bit to fully take in Pro Tech's work on this particular island. What's immediately noticeable are the raised design accents on the front of the island itself. The front panel is stucco, which along with the custom design, provides a gorgeous contrast to the slate rock sides of the island unit. As previously mentioned, it's the small details which really showcase the kind of painstaking work that has gone into building this island. The customized design flourish, the tiered, extended countertop, and the custom fire pit really take this island by Pro Tech to the next level.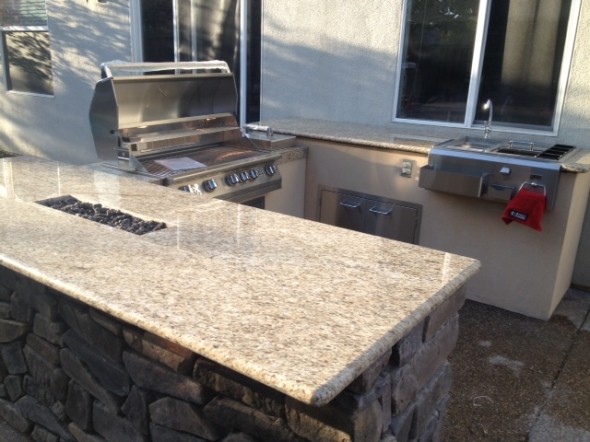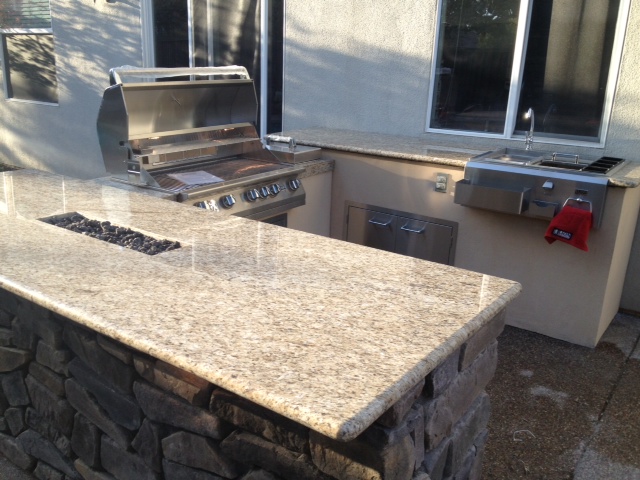 Let's have a look at another one of Pro Tech's custom BBQ islands featuring Lion Premium Grills products.  This beautiful island features a built in counter top firepit and is shown equipped with our premium full bar center, 40″ L90000 grill, a side burner and more. The counter is rounded and comprised of granite, while the base is made with a rock and stucco finish. There is also an additional step built at the base of the island itself. Truly jaw dropping work by Pro Tech.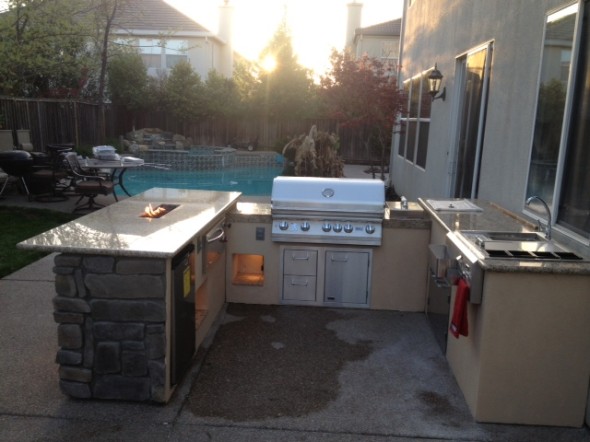 Here's another view of the same island. In  addition to the Lion Premium 5-Burner grill and accessories, you can see some of the additional details crafted into this particular island. Especially of note is the countertop fire pit which can be seen in full operation in the above photo. The Lion items such as the full bar and sink, door and double drawers and more are integrated perfectly into the island itself. The cobbled stone finish adds even more visual appeal. You can tell this is crafted at an unquestionably high level. The ridges accenting the countertop provides an additional textural touch.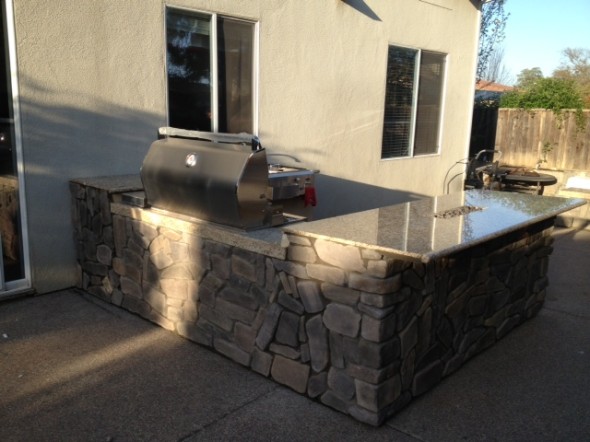 Here's a rear view of the island. The stone finish is especially eye catching, as is the raised granite countertop and fully loaded amenities.  Simply put, it's a beautiful addition, complimenting this particular backyard perfectly. It adds an entirely new dimension to this outdoor set-up, even just on a visual level. The eye can't help but be drawn to the island itself. The quality of the build and construction is plain to see as is the perfect integration into the backyard.
Pro Tech BBQ Islands can be found at:
---
---
---