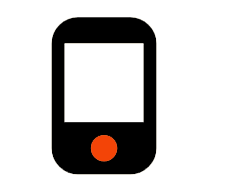 PHONE
(909) 988-3400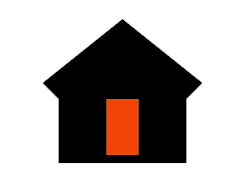 ADDRESS
541 E. Main St.
Ontario, CA 91761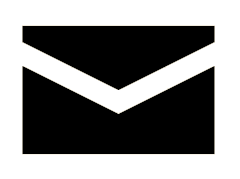 E-MAIL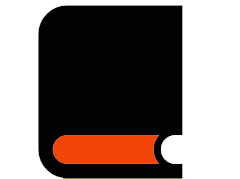 PREVIOUS ISSUE
---
---
Lion Premium Grills Newsletter – No. 30, March 2016

---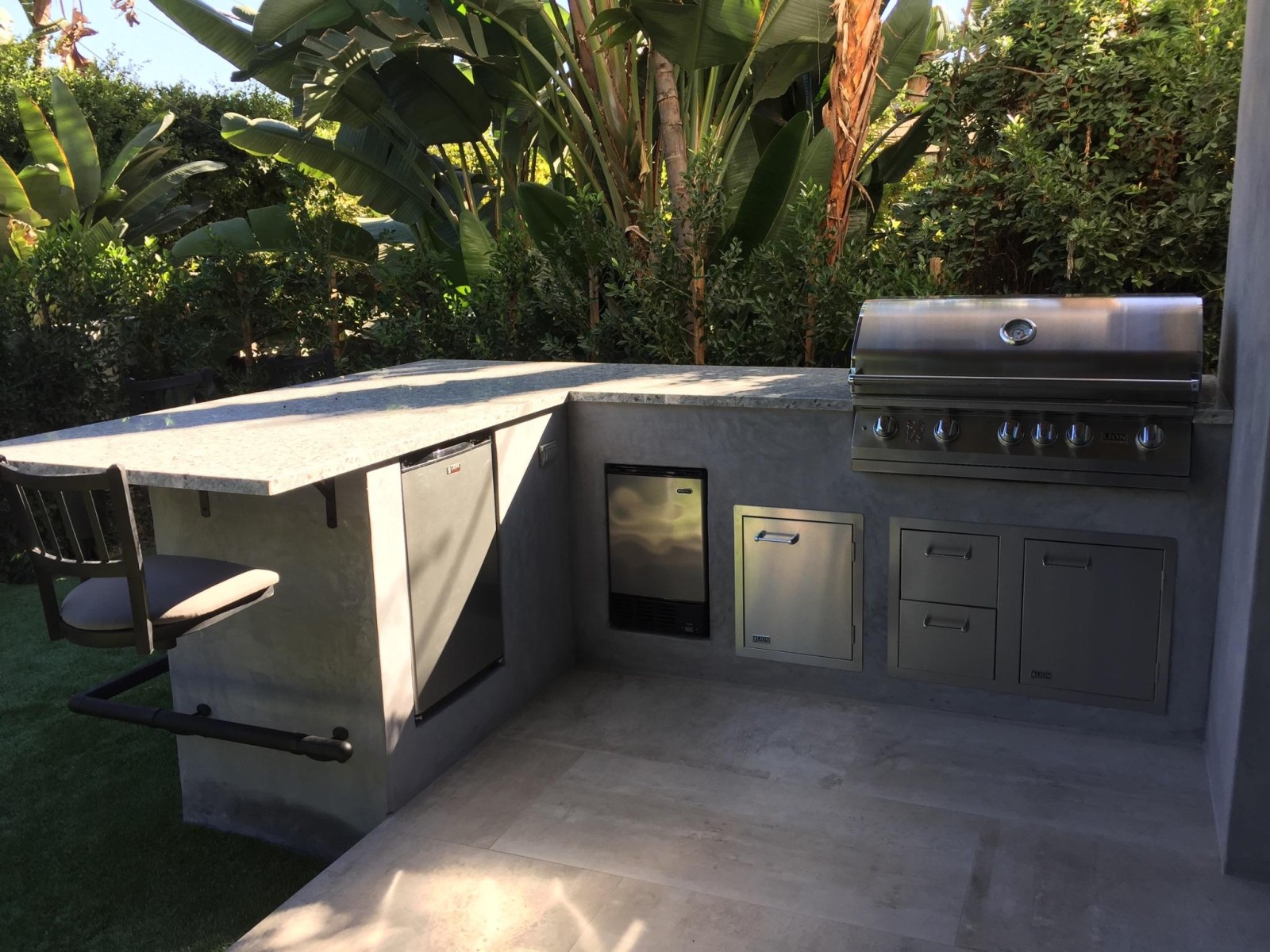 ---
 Welcome to the March issue of our monthly newsletter! We've hit our 30th edition and we hope you'll continue to visit us if you're a returning visitor or that you'll enjoy your stay if this is your first time checking in with us. The traditional grilling season is already almost upon us and those who are prepping for summer are already getting everything in order when it comes to BBQ grills, BBQ islands, and outdoor kitchens. 2016 is progressing rapidly and planning and preparing that new backyard upgrade is essential if one wants to be ready for those prime summer months.

This month's issue features a delicious variation on the classic shrimp cocktail (a simple brine and grill adds incredible flavor to this dish). We also showcase an absolutely beautiful outdoor kitchen being built — the end result is jaw dropping. We also look at our Sear Zone Burner in detail as well as an item that some people may overlook but that we consider essential — our griddle plate. We hope you enjoy this month's issue! Thank you for the support!

---
---
---
---
Surpassed My Expectations




"I needed a gas grill that could also be portable. I decided to order a Lion Premium Grills 32 inch grill with the portable grill cart that attaches to the grill. I was surprised to finally see just how large the grill was in person and how sturdy it was. It had an excellent weight to it and it looked really nice as well. My wife was very happy by how much eye candy it provided. Man, it grills beautifully as well and with an easy set up I was quickly searing up some shrimp skewers I had prepped up. Cooks evenly and has the ability to put out a tremendous amount of heat. If you know how to grill, this thing is amazing. If you don't know how to grill this thing is so easy to use you'll be a pro in no time. To top it off, clean up is so easy. If a product meets my standards I will let others know and this is one such instance. Lion Premium Grills comes with my highest of recommendations."


Peter Sorvino




Georgia




32″ L75000 Grill & Grill Cart, Amazon.com
---
Lion Premium Grills: A Luxurious Backyard Upgrade Featuring Lion Grills!
---
Upgrading your backyard is always an exciting prospect; actually watching your outdoor kitchen, custom seating area, and bbq island being built like the photos below is one such example. It's great to see the process of it being built and then the final results! It's amazing what the addition of one of our luxurious BBQ islands can make, not only visually but also functionally, to any backyard in the sense of increasing that "wow" factor. Even better is that this is a place where guests and family can gather around and converse, relax, and enjoy life together. Enjoy!
---
Part One – Let's Build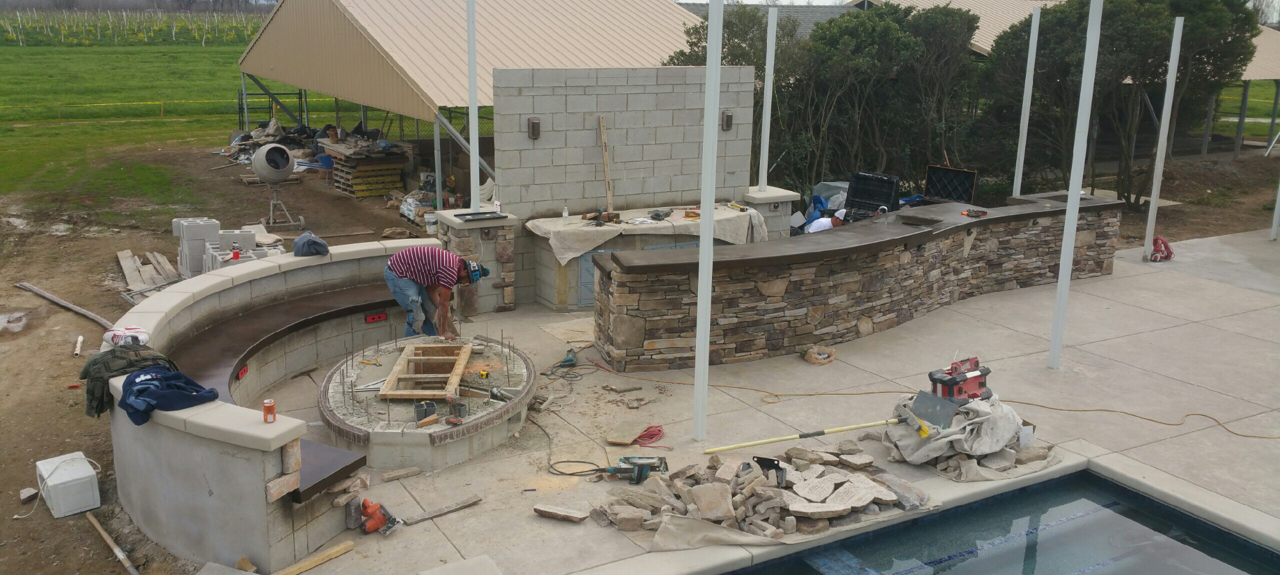 Here's the first image for this backyard; you can see clearly that this is all a work in progress. This is quite an outdoor set-up though — a huge seating round with a fire pit is in the process of being built, the extra large island with a beautiful custom rock finish base is almost finished and there's also a separate kitchen island piece parallel to the island. This is certainly some high end work being done here.  You can see that the cut-outs in the island for our Lion Premium L9000 40″ Grill and other accessories are ready to go as well. Even in this early stage you can see how eye-popping this is going to be when it's all finished up.
About Our Rock Base
Visually, the intricacy of the cobbled rock finish adds that stunning, aged stone look that is so sought after. There is a sense of depth  as well due to the complexity and look of the construction. The nooks and crannies are stunning add that aesthetic detail that is always extremely eye-catching. The stones are slim fit which adds a sleek, measured look to the unit.Our rock finish comes in two color schemes with the Aspen California Fit tending more towards a tan, beige appearance. The Smokie California consists of darker grays, charcoals, and similar colors.

---
Part Two: The End Product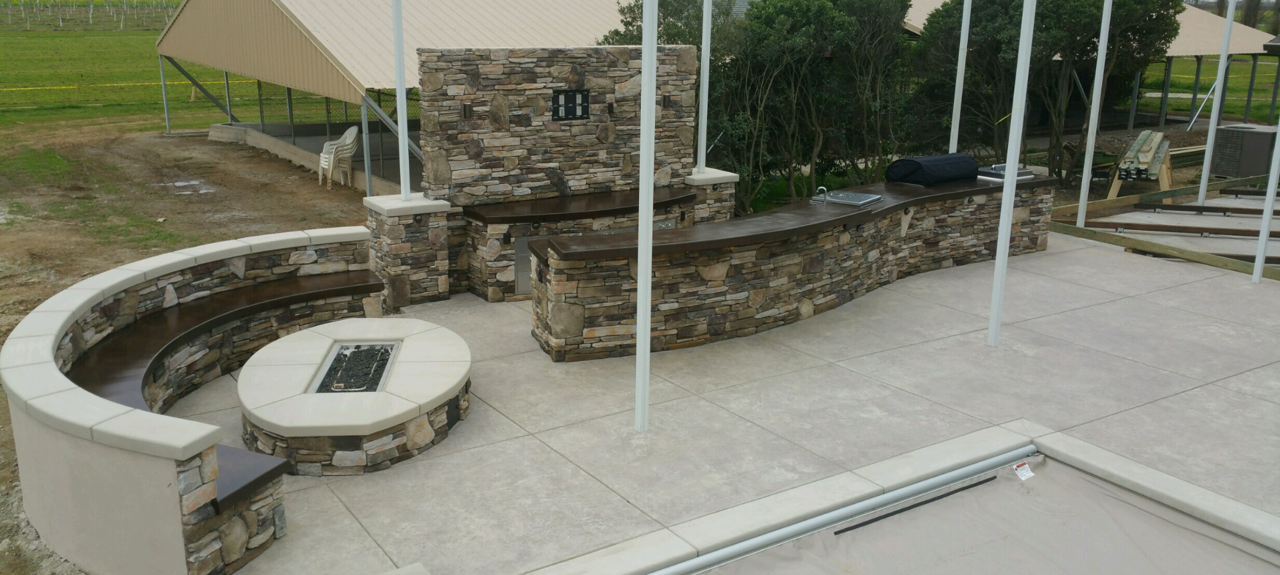 Here's the finished product and all we can say is Wow!  You could definitely see it coming together in the previous image but the end result is even better than imagined. The polished chocolate brown seating and countertop areas are a perfect compliment to the cobbled stone bases. The firepit area is perfect for relaxing on spring and summer nights. The island looks incredible as well. You can see a Lion Premium Grills sink and sideburner dropped in now. The centerpiece island now has our luxury L9000 gas built-in BBQ installed, complete with the noir Lion bbq cover. The L9000 has 1,030 square feet of grilling space (which is a massive amount of space), outputs a formidable 90,000 BTUs, and is constructed from high grade 16 gauge 304 stainless steel. The expert craftsmanship and high quality materials used in the grill's construction results in a grill that is also highly weather and rust resistant. This also applies to our side burner, ice box and sink which are are also constructed from the same high end stainless steel.
About 304 Grade Stainless Steel
304 grade stainless steel is a top of the line commercial grade of stainless steel known for its ability to resist rust and the elements. Heat retention is top notch and this high end stainless steel is also known for being durable and demonstrating longevity and resistance to heat warping, bending, and more. 304 grade typically contains 10% nickel and 18% chromium.
---
Part Three: A Closer Look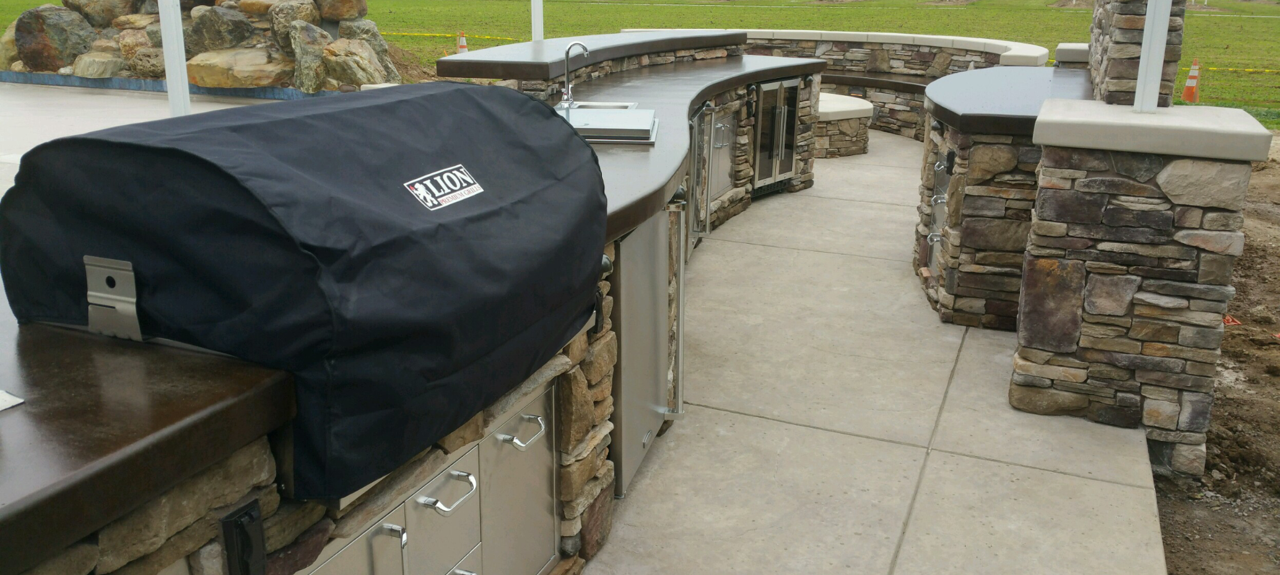 This is a close up of this jaw dropping outdoor kitchen; this is truly an example of going all out and sparing no expense when constructing your grilling set-up! The rock work and polished chocolate countertops look incredible when viewed up close, as does the backsplash that is visible in the background. This unit contains a bevy of our accessories — you can see our Eco-Friendly Lion Refrigerator, our ice box, sink, double access doors with combination drawers, and more.  The quality of the work is undeniable and the shimmering, polished high end look of our Lion products just pushes this kitchen right over the top. This is a perfect example of the kind of difference an upgrade to your backyard can make. Very impressive!
Why is the Lion Refrigerator Eco-Friendly?
Our fridge can be considered environmentally friendly because it uses R-600a as a coolant / refrigerant. R-600a causes no ozone depletion. R-600a also causes significantly less potential warming than other refrigerants that are currently being used on the market. Do you want to know another plus? This causes our refrigerators to use much less electricity!
---
---
---
Lion Premium Grills: A Closer Look
At Our
Sear Zone Burner
This month we're going to extend that same in-depth look to our Sear Zone Burner!  If you love steaks with that amazing seared crust while retaining that juicy center, then you'll most definitely need the Sear Zone Burner. Recreate that high end steakhouse experience in your very own backyard. Enjoy!
---
The Lion Premium Sear Zone Burner (Searing Burner) is one of our must have additions for both the seasoned grill connoisseur and for the new grilling enthusiast. This stainless steel searing burner will seriously enhance your total grilling experience by adding new dimensions to what can be accomplished on the grill. The Sear Zone Burner is compatible with both the  32″ L75000 and 40″L90000 BBQ grills.
Add New Cooking Possibilities To Your BBQ Grilling




Starting things off, we'll give an overview of the specifications and measurements of the Lion Premium Sear Zone Burner. The Sear Zone Burner is 11.5 inches in depth, 2.5 inches in height, and 6 inches in width while weighing in at a solid 4 pounds.  The Searing Burner is constructed from 16-gauge 304 brushed stainless steel and its sleek and streamlined appearance openly displays the craftsmanship at hand. Even better is the functionality and depth that the Sear Zone Burner brings to the table in culinary terms.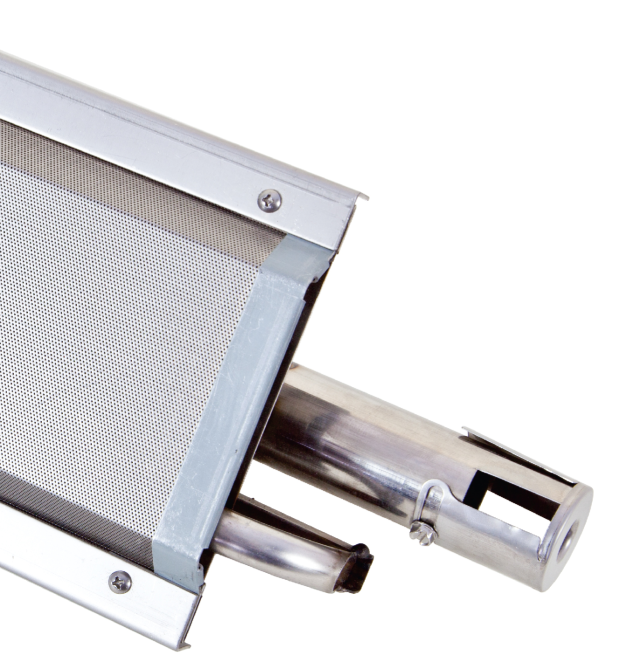 Adding the Finishing Touch




So what exactly does the Sear Zone Burner do and how does it add to the grilling experience? Well, it is finely tuned to bring not only heat precision but also more intensive direct heat to what's being grilled. For example, grilling an absolutely perfect steak is now easier than ever. One can grill it to it's desired state and then apply the finishing touch by placing the steak on the searing burner. The result is the outer layer being seared, allowing the steak to develop an amazing crust on the outside while retaining the juices and level of wellness (for example, medium-rare on the inside while having that seared outside). The searing burner can also be used in a variety of other ways, even incorporated into slow rotisserie style cooking on the grill by setting a burner on low and then finishing the item using the Sear Zone Burner. The versatility of this grilling accessory is unmatched and we consider it a must to really achieve the highest quality of grilling; once the final results are seen and then tasted it's difficult to imagine otherwise.
---
---