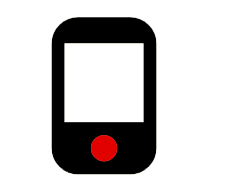 PHONE
(909) 988-3400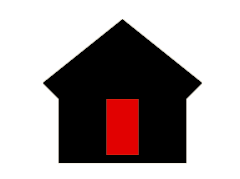 ADDRESS
541 E. Main St.
Ontario, CA 91761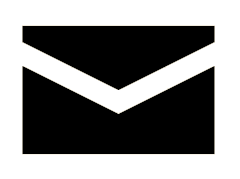 E-MAIL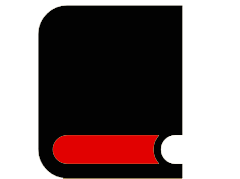 PREVIOUS ISSUE
---
---
Lion Premium Grills Newsletter – No. 44, May 2017

---
---
____
Welcome to the May 2017 issue and 44th edition of the Lion Premium Grills Newsletter! First off, we are proud to announce a brand new addition to our line of products — the Warming Drawer! We have a full feature about this new item just below. We hope you enjoy it. It's already the month of May and summer is right around the corner. We've hit the prime season for being outdoors and enjoying the beautiful weather; for us, this is one of the best times to be outside and grilling. Summer is quickly approaching and that's the pinnacle of the grilling season: family gatherings, parties, summer vacations, and warm nights are the best times to enjoy grilling outdoors. If you haven't already, now is the best time to upgrade your grilling set-up with Lion.
---
We have quite a bit of content for this month's issue of the newsletter. As mentioned above, we  have a  full in-depth look at our new Warming Drawer; this product really does open up a ton of new possibilities in terms of outdoor grilling as you'll be able to see when you read our feature for this month. We also have a  featured recipe that is easy to prepare but easily qualifies as one of the best tasting recipes we've showcased thus far. The method of preparation is not to be missed if you enjoy steak. We also take a look at some grill safety tips when it comes to checking your gas connections as well as an in-depth look at our granite island countertop selections. Thank you for your support and we hope you enjoy this month's issue!
____
---
---
---
Lion Premium Grills Featured Recipe: Bone-In Ribeye Steak



---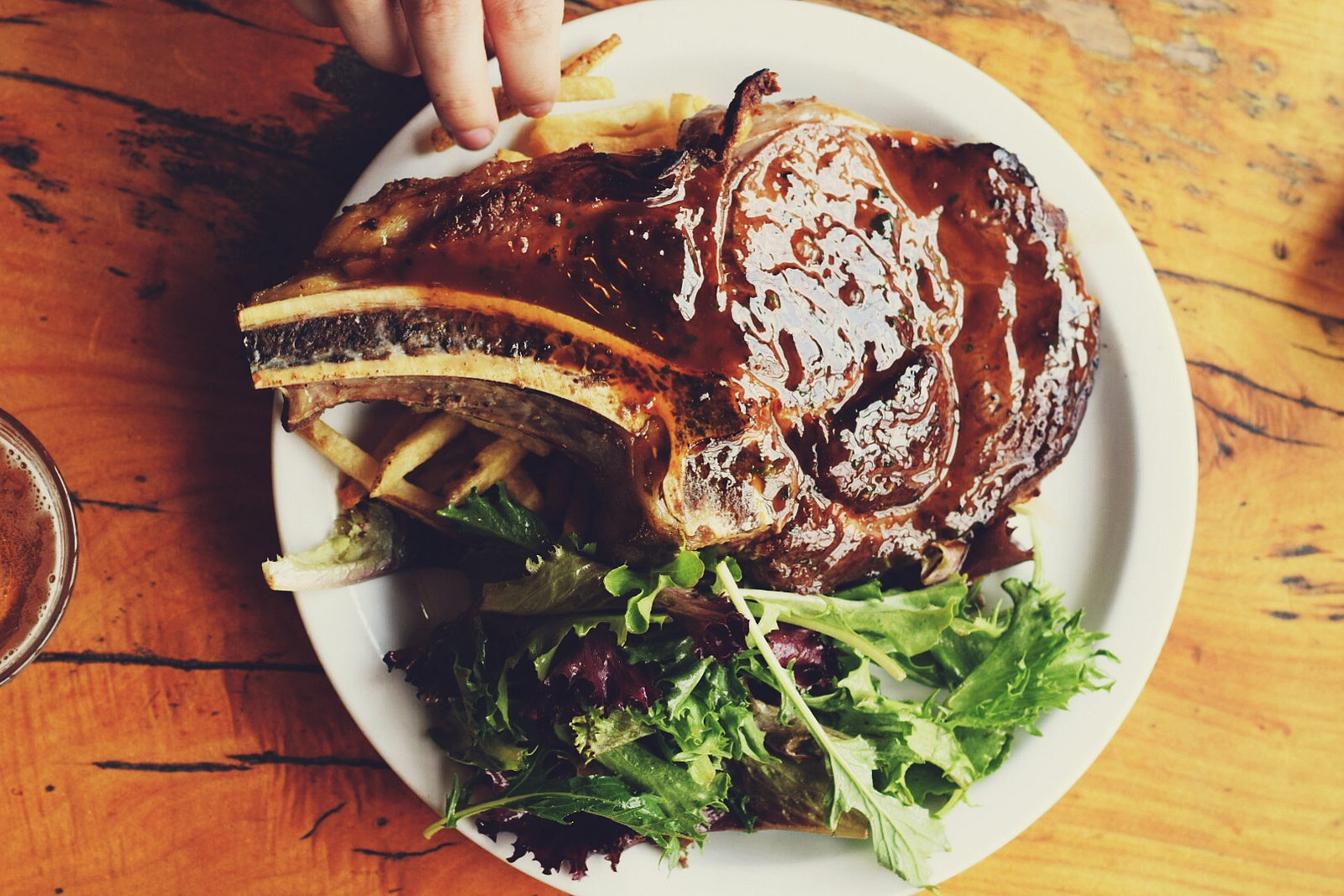 While grilling a steak may seem self-explanatory, it's all about the subtle techniques that makes a truly excellent steak. This month we have a delicious preparation of one of our favorites amongst all of us at Lion Premium Grills – the bone-in ribeye steak. With that said, this month's recipe comes from renowned chef, Emeril Lagasse. It's a very easy prep, but the end result is completely unbelievable as far as taste and flavor are concerned. This is one to remember, savor, and enjoy. Here's the recipe:
INGREDIENTS
Four bone-in rib steaks

2 tbsp. vegetable oil

Emeril's Original Essence or Creole Seasoning

Kosher salt

Freshly ground black pepper
INGREDIENTS FOR STEAK RUB

2 1/2 tablespoons paprika




2 tablespoons salt




2 tablespoons garlic powder




1 tablespoon black pepper




1 tablespoon onion powder




1 tablespoon cayenne pepper




1 tablespoon dried oregano




1 tablespoon dried thyme
DIRECTIONS
Allow the steaks to come to room temperature for up to 1 hour.

Rub the steaks on both sides with the vegetable oil, and season them liberally with Original Essence, kosher salt, and pepper.

Preheat the oven to 450 degrees, and preheat a grill, grill pan, or cast-iron skillet to medium-high.

Grill the steaks until they are seared on both sides, about 4 minutes per side. Then transfer the steaks to a baking sheet, place it in the oven, and cook until the meat reaches the desired temperature, 140 degrees for medium-rare.

Remove the steaks from the oven and let them sit for 5 minutes before slicing and serving.
---
Excellent Experience




"We recently renovated our entire backyard and that included adding an outdoor kitchen. My choice for the bbq grill was the Lion Premium Grills 32″ and it is absolutely fantastic. It is a workhorse of a grill and can stand up to beach weather no problem as I live in Newport Beach. I have yet to see any damage from the salt air or any rust or anything like that. That is a very impressive feat. Most importantly this grill cooks really well. The heat distribution is even, it can get very hot, and it is just a really great grill. I am very impressed with the quality."


G. Auckerman




Newport Beach, CA




32″ L75000 Grill, amazon.com
---
Lion Premium Grills – NEW FOR 2017! The Lion Warming Drawer!

All of us at Lion Premium Grills are extremely proud to introduce a brand new item for 2017 — the Warming Drawer! This product will add entirely new dimensions to your grilling and cooking arsenal. Our warming drawer houses a multitude of individual warming tray compartments that allow you to heat a variety of different items simultaneously. We rarely add new products to our line, but when we do it needs to actually stand out in terms of functional ability, visual appeal, and build quality. We feel the warming drawer checks all of those boxes and more. Read below to learn more!

---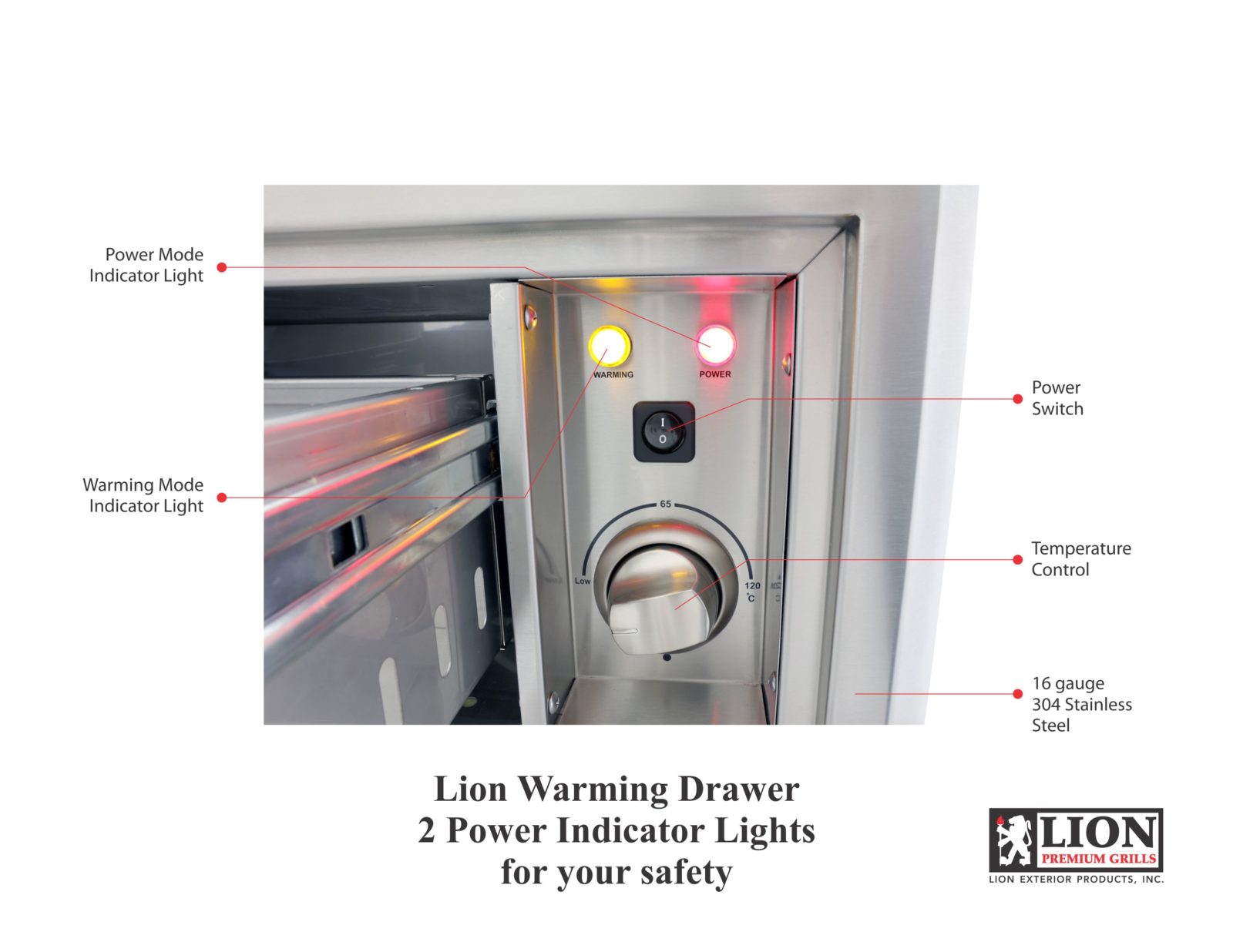 Warming Drawer Construction

We use only high grade stainless steel for our products and our warming drawer is no different; it is constructed from 16 gauge 304 grade stainless steel. This grade and gauge of stainless steel is know for the heaviness and weight it possesses as well as being rust resistant and able to withstand environmental elements better than other grades of stainless steel. Other lighter grades of stainless are prone to bending, denting, rusting, and corroding. We do not compromise on the construction of our products and we will only use high grade, 16 gauge 304 grade. You will be able to immediately tell by the heavy duty feel that our warming drawer has.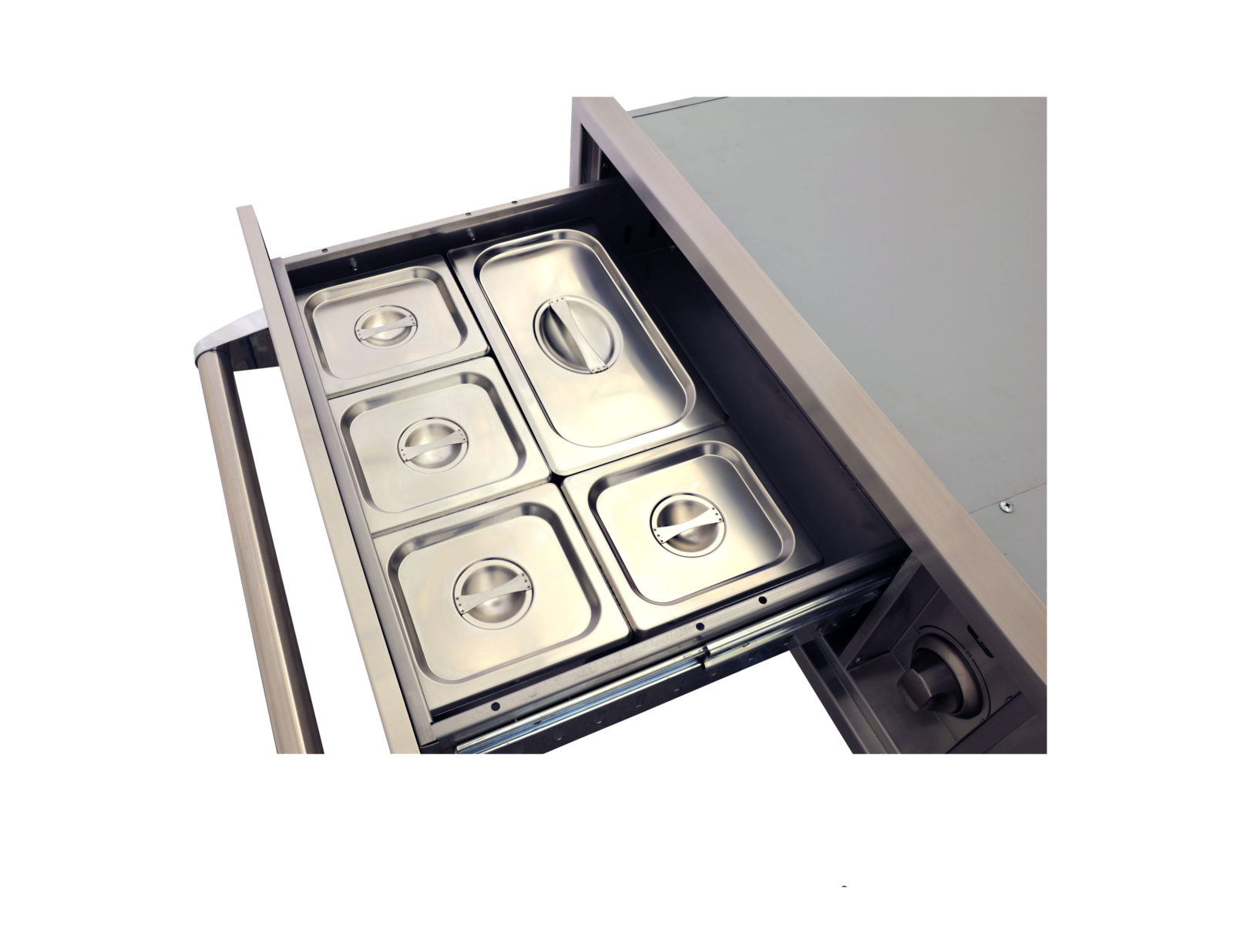 Warming Drawer Features
Our warming drawer is loaded with details and various features which we'll make note of. As you can see in the pictures above, our drawer has both a Power indicator (this indicator glows red to notify the user that the unit is indeed on) and a Heating indicator (this button glows yellow) that allows the user to quickly and easily see that the unit is actually warming/heating. Below the lights on the front panel you'll be able to easily locate the power switch and variable temperature control knob that allows you to adjust the temperature of the unit to the desired level of heat. The front panel has small vents for moisture control as well.
The unit also features a polished stainless steel handle and as with all of our line of products, an embossed Lion logo on the face of the warming drawer. It adds to the sleek visual design of the unit itself. Opening the drawer reveals five removable stainless steel food warmer buffet pans, complete with lids. As you can see in the image, there are four smaller pans and one large buffet tray. This is one feature that we can not stress enough — the ability to heat and/or warm a variety of different food items, sauces, etc. simultaneously. If you intend to host events, parties, family gatherings, etc. on a consistent basis, our warming drawer will dramatically increase the ability to multi task all from your outdoor grilling hub.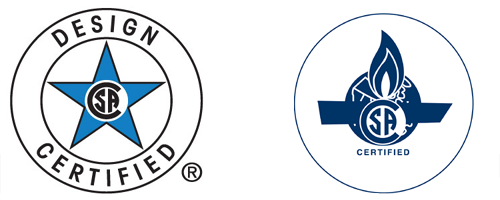 CSA Certified

Our Lion Premium Grills Warming Drawer is CSA certified by the CSA Group. What does this mean exactly? CSA certification marks are used to indicate that a product has been rigorously tested to meet the high safety standards established by the CSA Group. In the United States the CSA Group is accredited by OSHA (Occupational Safety and Health Administration) and in Canada the CSA Group is accredited by the SCC (Standards Council of Canada).
Certification marks are useful to consumers because they mean that the products tested meet the  standards maintained by CSA, providing an assurance to the purchaser that the products meet these increased demands for quality control and safety. In this instance, safety is of the utmost importance for everyone involved. CSA marks are intended to provide peace of mind to retailers, consumers,  and end users that the products in question — in this case our premium warming drawer — have been independently tested to meet the required safety standards demanded. The CSA Certified marks indicate quality and safety and we are proud to maintain these high standards set.
---
---
Lion Premium Grills – Getting Prepped for Grill Season : Checking Your Gas Connections

---
---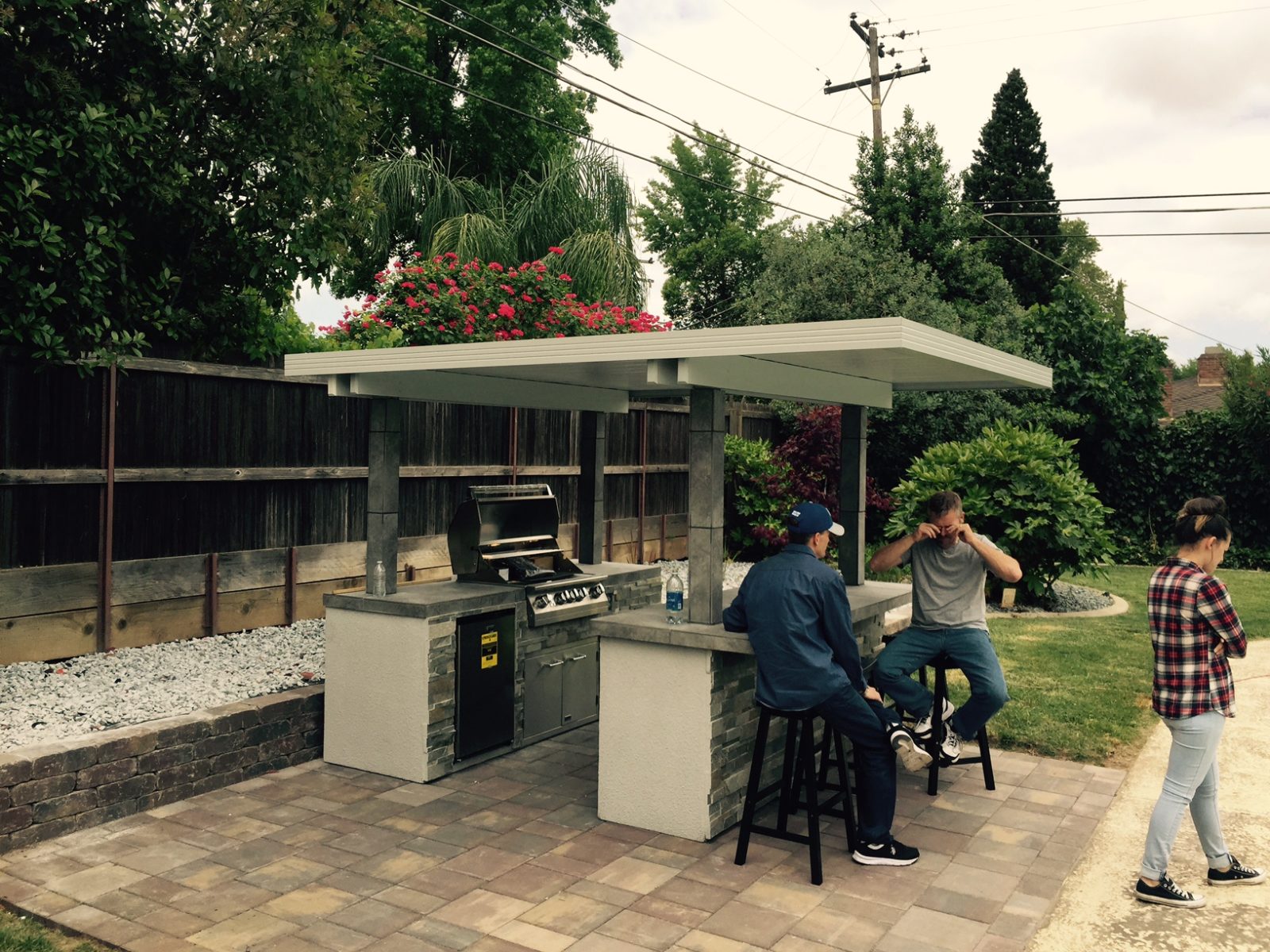 ---
---
Safety is paramount when utilizing anything that uses combustibles. As such, it is ESSENTIAL that you follow the proper protocol when using your Lion Premium Grill (or any other gas powered grill for that matter). There are a few tips that you can follow that will help you in safely checking, maintaining, and operating your gas grill. Checking for gas leaks and checking the gas supply connection before usage is very important. Here's what you need to do.
Checking for Gas Leaks

A few essential tips:
NEVER test for gas

leak

s with a lighted match or any open flame.
NEVER light grill with the  BBQ grill lid closed or before checking to ensure that the burner tubes are fully seated over the gas valve orifices.
If you smell gas or any other similar odor, IMMEDIATELY extinguish the flame to the grill; if no flame is lit, DO NOT light a flame or ignite anything. Shut off the gas to the unit, open the hood to the grill, and if the odor persists call your gas supplier.
---
NEVER TEST FOR GAS LEAKS WITH A FLAME
Before using your new grill be sure that you take the time to first test or check for any gas leaks. Safety should always take precedent over rushing into anything. These steps should also be used anytime you change any parts on the grill (or the propane cylinder if using propane) or if you have not used the grill for an extended period of time. Checking every so often even with regular use is still recommended. Follow these steps to test:
STEP ONE
First, you'll need to create a soap solution. This is really easy and requires one basic household item. Take some liquid detergent and mix one part of that with one part water. You now have the soap solution that you'll be needing.
Now take your soap solution and head to the grill. Now you'll need to turn off the heat control valves. After you do this, turn the gas on at the source.
Take your soap solution and gingerly apply some of this solution to every one of the gas connections. This is where you'll need to pay a bit of attention. Take close notice of the gas connections; if you see any bubbles begin to appear in the soap solution, there's a problem and the connection needs to be tightened. Go ahead and tighten it to properly seal the connection. If this does not fix the issue, proceed to the next step.
STEP FOUR
If the solution bubbles over any particular gas connection, you have a leak. If you cannot fix this leak, please turn off the gas at the primary source. Proceed to disconnect the fuel line from the gas grill. Do not use the grill until this issue is fixed. Please call your grill dealer or gas supplier for professional assistance.
---
Checking Gas Supply Connections
A very important rule is do not smoke while checking gas supply connections or while lighting the grill. Doing so is EXTREMELY DANGEROUS.

If you are using propane, make sure that your cylinder is properly filled.

Make certain that each burner tube is properly set in place over the proper valve orifice.

Make sure all gas connections are securely tightened; check using the soap solution test described above.

Make certain to open the hood of the grill before lighting.




---
Lion – A Look at Our Granite Island Countertops



---
Granite is an exceptional choice for a Lion Premium Grills island countertop. Why you may ask? Well, the answer is quite simple. In terms of stones, granite reigns at the top as one of the most durable natural stones on the planet. This is not an exaggeration, not in the least. Not only is it incredibly hard and able to withstand significant force, granite is also incredibly beautiful to look at. It immediately adds aesthetic value, and this is truly the case when it comes to our BBQ island countertops which utilize granite slabs for an incredibly polished and sleek look. Granite is also stain resistant and a cinch to clean further solidifying it as a top tier choice for counter construction.
New Caldeonia Granite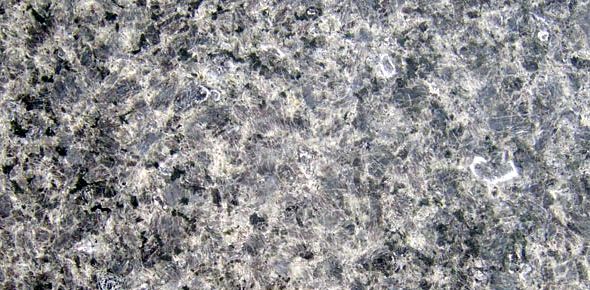 New Caledonia granite is extracted from a state in Brazil called Espirito Santo (which translates to the "Holy Spirit" or "Holy Ghost" in English). We love to utilize this for our countertops because New Caledonia has a beautiful appearance, texture, and a very consistent, even grain structure (in addition to the other positive qualities of granite such as strength and durability)  which makes it extremely suitable for use outdoors.
New Caledonia — as mentioned previously — is quite spectacular to look at. You'll be immediately drawn in by the intricate and complex color patterns; shades of light gray, white, off-white, and charcoal all intermingle to create this beautiful stone slab. The BBQ island featured in the picture above has a countertop constructed from New Caledonia. You can see the image below for a close-up of the countertop.
---
Baltic Brown Granite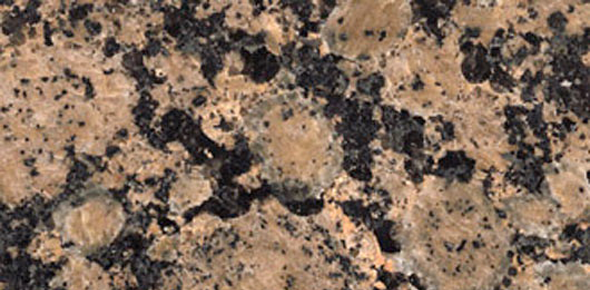 Baltic Brown originates  in Kymi, Finland, a rural municipality roughly 60 miles from Helsinki. Immediately apparent is just how dazzling to the eye Baltic Brown is. You'll be entranced by the beautiful blend of swirling blacks and browns, highlighted by smaller flecks of contrasting tans and grays. It also maintains a very consistent appearance across each slab. As with all of the granite that we use for our countertops at Lion, it is extremely durable (we construct outdoor BBQ islands so this type of quality is a must).
The sturdiness and beauty of Baltic Brown is easily seen in the image below of a BBQ island featuring a countertop constructed from this particular type of granite. Check out the beautiful shape and contours of the counter on one of our signature Lion BBQ islands/outdoor kitchens.
---
Giallo Veneziano Granite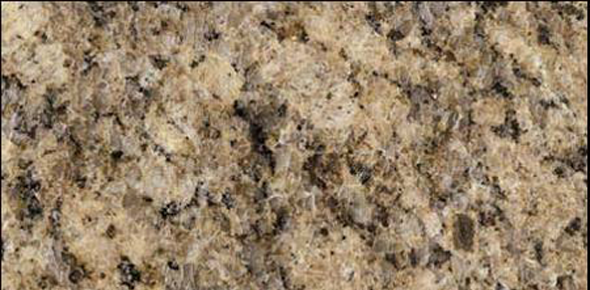 Giallo Veneziano, like New Caldeonia, also originates in Espirito Santo, Brazil. This particular granite is extracted from a massive quarry that is said to contain at least five hundred years worth of granite if extraction rates are stabilized at their current rates. The grain and texture is of a medium variation. The durability is very high for Giallo Veneziano which makes it suitable for use in constructing our various signature BBQ islands.
Originally a gold granite, the color has changed over the past 40 years as the extraction has whittled away the original mountain layers from which it was quarried. It is visually stunning, as the predominant golden texture is interspersed with vibrant veins of black and gray. As with the other two types of granite we offer, the Giallo Veneziano is top notch when it comes to form, functionality and aesthetics. Check out the close-up image below of one of our island units with the Giallo Veneziano.
---
---