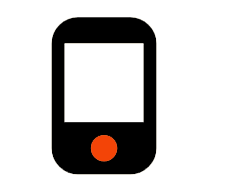 PHONE
(909) 988-3400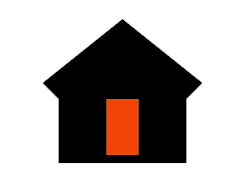 ADDRESS
541 E. Main St.
Ontario, CA 91761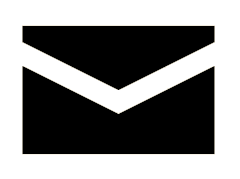 E-MAIL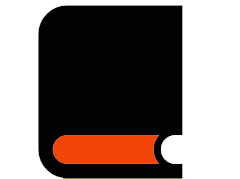 PREVIOUS ISSUE
---
---
Lion Premium Grills Newsletter – No. 45, June 2017

---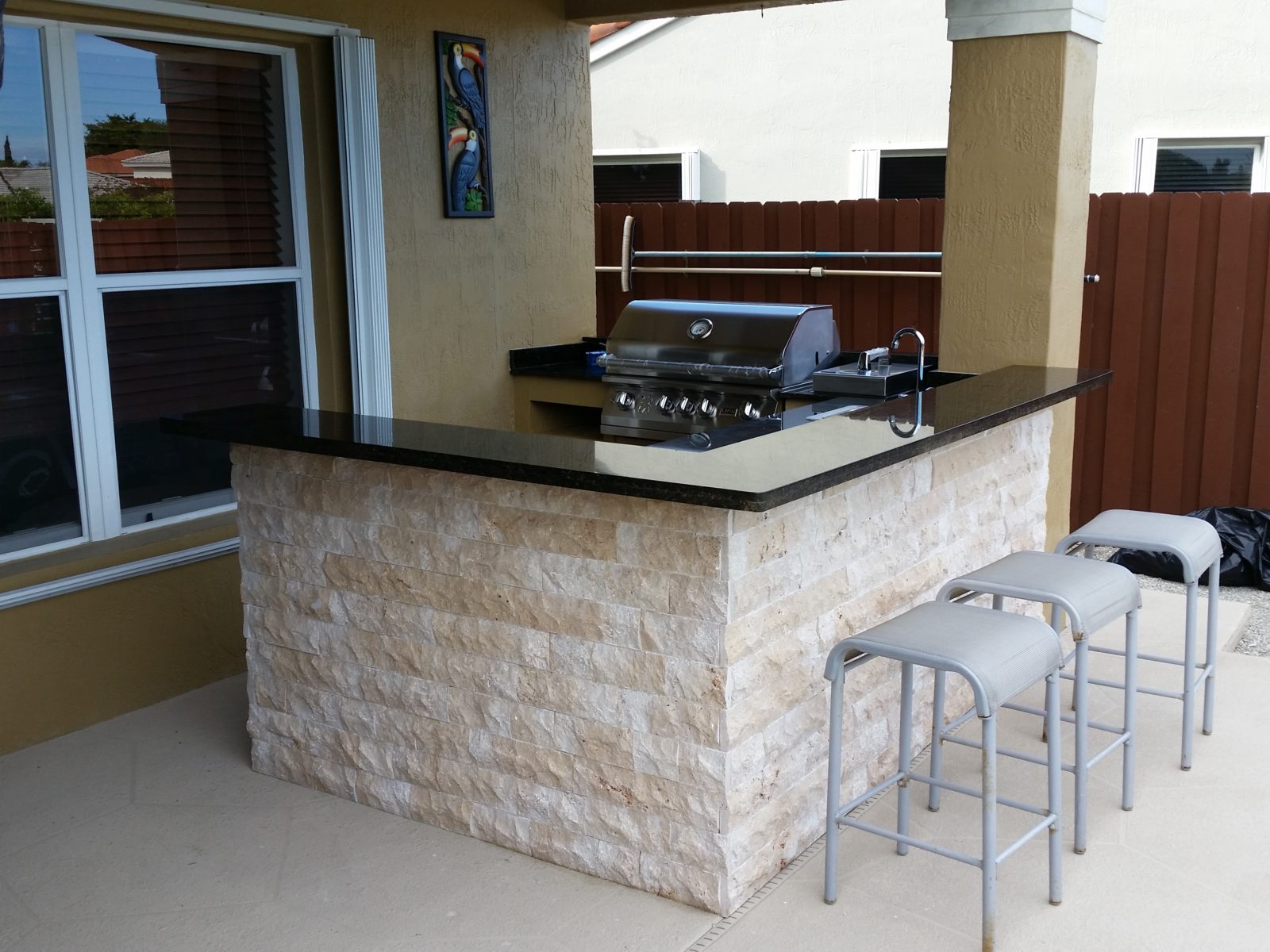 ---
____
Hello and welcome to the 45th edition and June 2017 issue of the Lion Premium Grills Newsletter! We have quite a variety of features lined up for this issue as we officially kick off the summer season. The past few months have flown by rapidly and now we've hit the prime grilling season — long days, warm nights, vacations, summer break, and encroaching holidays such as the Fourth of July are all great reasons to spend more time outside with friends and family. Of course, having an outdoor grill and/or kitchen island is perfect for taking advantage of just these reasons. You can throw backyard parties or even just relax on a beautiful evening outside grilling with your immediate family; the possibilities are endless. We hope all of you will enjoy this latest edition and thank you for visiting Lion Premium Grills!
---
We have quite a bit of content included in this month's issue of the newsletter. First off, we have an amazing (and simple!) recipe that is perfect for summer and is also undeniably delicious if you enjoy seafood in the slightest – grilled halibut fish tacos with a mango salsa and cabbage slaw. We also take an extensive and in-depth look at our single and double side burners. Either of these products will greatly enhance your outdoor grilling capabilities by opening new avenues of what you can do while simultaneously utilizing the grill itself. We also take a look at what makes our grill burners superior to others on the market; it's what we pride ourselves on, quality and attention to detail. We always appreciate any support and we thank you for checking us out. Please enjoy this month's issue!
____
---
---
---
Lion Premium Grills Featured Recipe: Grilled Halibut Tacos



---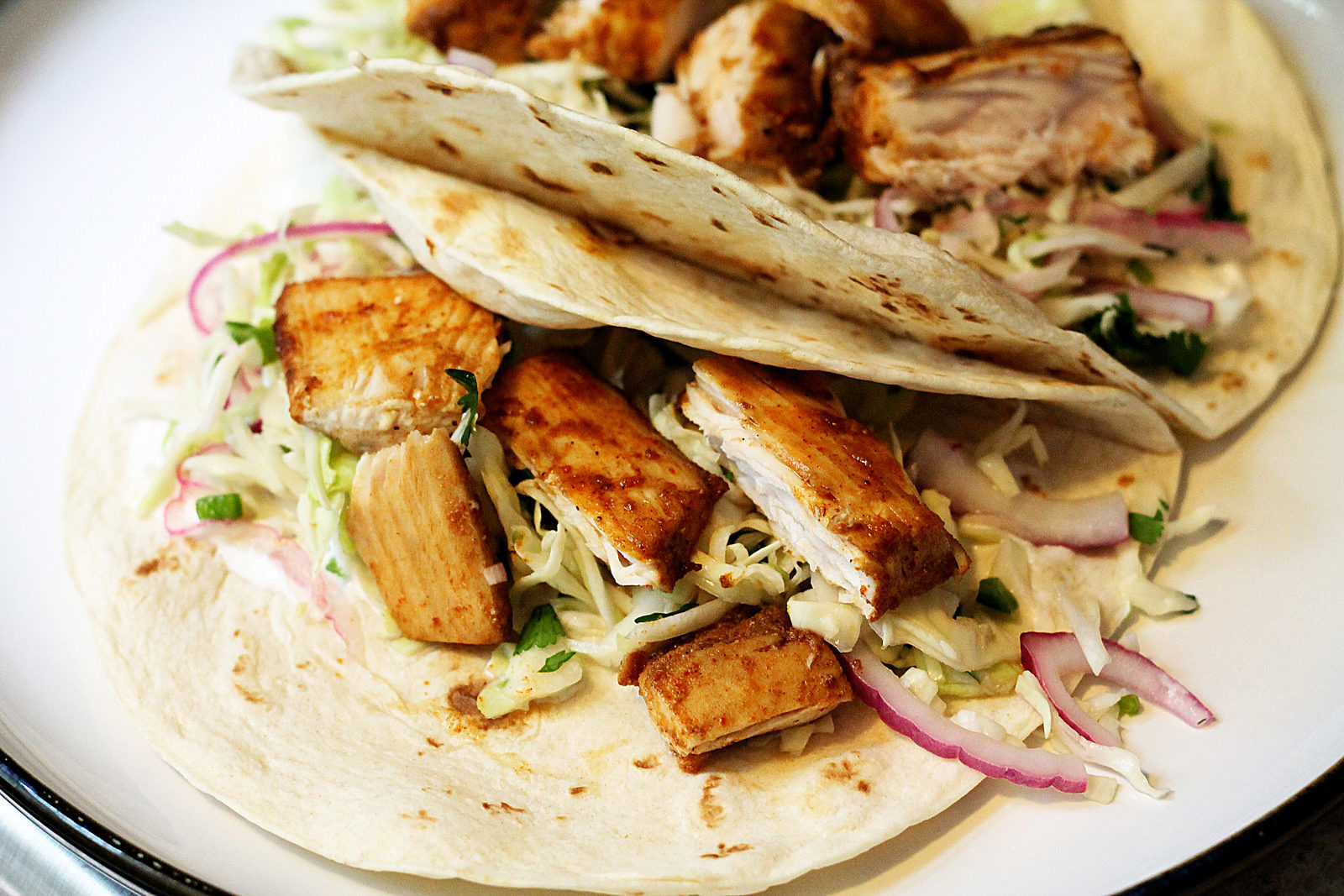 We always feature recipes which we fully endorse and this month is no different; we have grilled halibut tacos on deck which are an office favorite at Lion — absolutely delicious while being quick and easy to prepare. Honestly, these fish tacos never get old and you can customize them in a myriad of different ways. This month we're featuring a mouthwatering mango salsa and cabbage slaw which compliments the flavor and the texture of the halibut perfectly. We hope you enjoy this recipe and as always, we thank you for taking the time to visit our newsletter!
Preparation Time – 25 minutes

Cooking Time – 10 minutes
INGREDIENTS
   10 ea. halibut fillets
    Flour tortillas
    8 oz. shredded jack cheese
    Halibut Marinade:
    1 cup extra virgin olive oil
    1/4 cup fresh lime juice
    1 T. fresh lemon juice
    3 garlic cloves, pasted
    1/4 tsp cayenne pepper
    1/4 cup southwest seasoning
    2 ea. serrano peppers or jalapenos, finely chopped
    1/2 cup water
    1 bunch cilantro, roughly chopped
    Mango Salsa:
    7 ea. avocado, diced
    4 ea. mango, diced
    2 tsp lemon juice
    5 ea. serrano peppers, finely diced
    1 bunch cilantro, roughly chopped
    1/4 ea. red onion, finely diced
    1 tsp black pepper
    2 T. lime juice
    Coarse salt, to taste
    Cabbage Slaw:
    1 ea. cabbage, shredded
    2 T. lemon juice
    1/4 cup lime juice
    1/2 cane syrup (or honey)
    1 tsp cayenne pepper
    1 tsp black pepper
    Coarse salt, to taste
DIRECTIONS
Blend all marinade ingredients well and allow tilapia to marinate while preparing the salsa and slaw. (Pre-Heat for high direct heat)

Blend all salsa ingredients well, cover and allow to macerate until ready for use. Or refrigerate for up to two days for later use.

Combine cabbage with other ingredients to create your slaw.

Grill halibut for a two and a half to three minutes per side, depending on your desired doneness.

Remove halibut, squeeze lemon on top, rest for a minute or two and thinly slice against the grain.

Place several strips of halibut in each tortilla and dress with slaw, cheese, and salsa.

Serve and enjoy!
---
Highly Recommended




I've had my Lion 32-Inch grill in service for nine months now, and I am VERY pleased with it. I have this grill installed in a sunken kitchen, which is surrounded by a salt water pool, so it was critical that my appliances be constructed of a high quality stainless steel. After nine months, the grill is spotless and still looks like new with no corrosion at all. Many lesser grills that proclaim to be stainless only have a stainless hood, so corrosion is a problem with other parts. This Lion grill is corrosion-free inside and out. I would definitely buy this grill again and highly recommend it to anyone in the market for a high-quality, well-optioned grill at a great price.




Dan Hoolwerf




Dallas, TX




32″ L75000 Grill, amazon.com

 
---
Lion Premium Grills Side Burners: Examining Our Single & Double Side Burners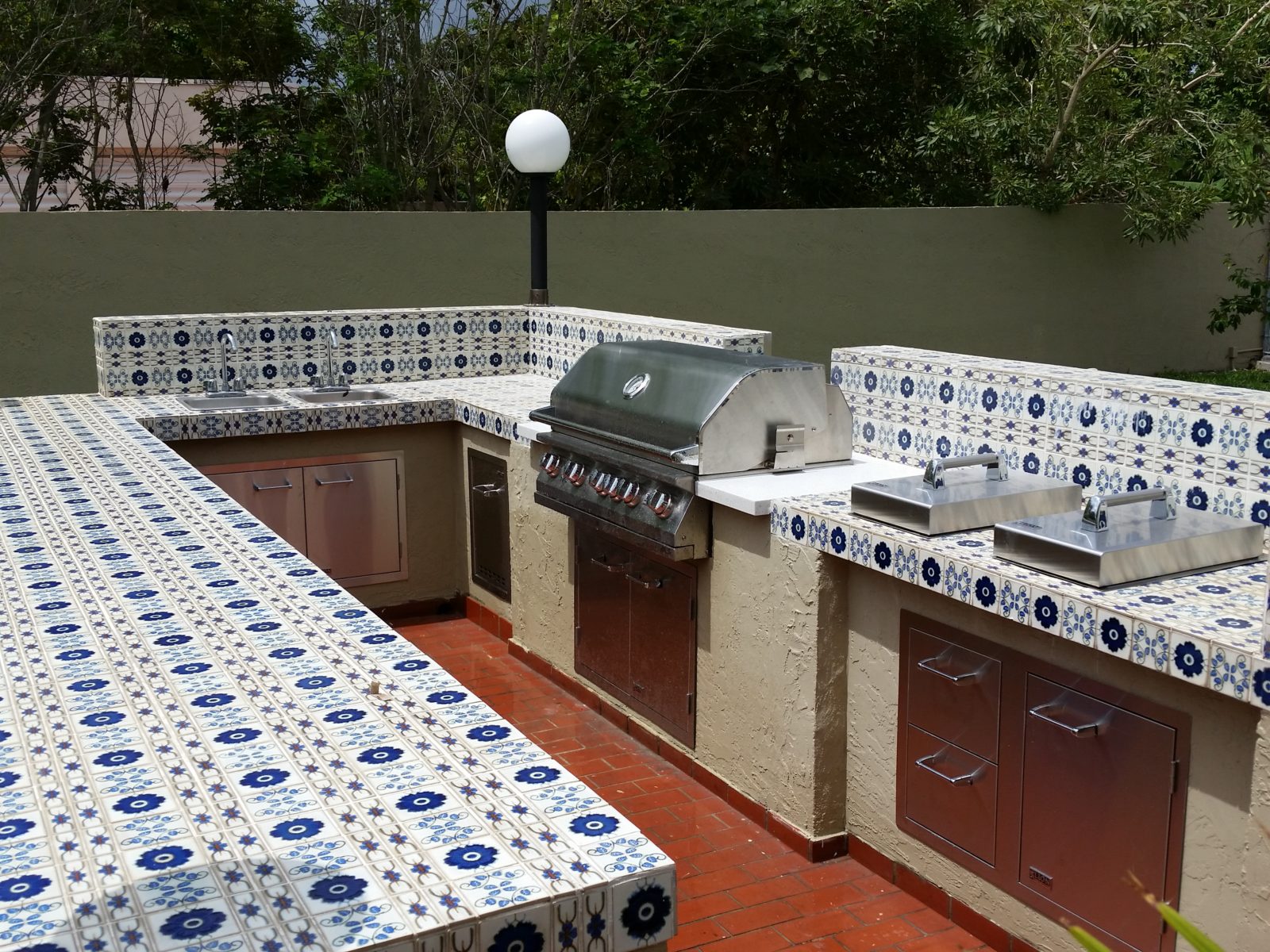 We regularly feature one of our accessories or grill components and provide a closer, in-depth look at the item in question. This month we're taking a look at two related items that add totally new dimensions to your cooking — our premium single and double side burners. A side burner can amp up your grilling possibilities as well as streamline your cooking experience and cleanup. With a double side burner you can even use a Wok outside while simultaneously grilling. We hope you enjoy this breakdown and analysis!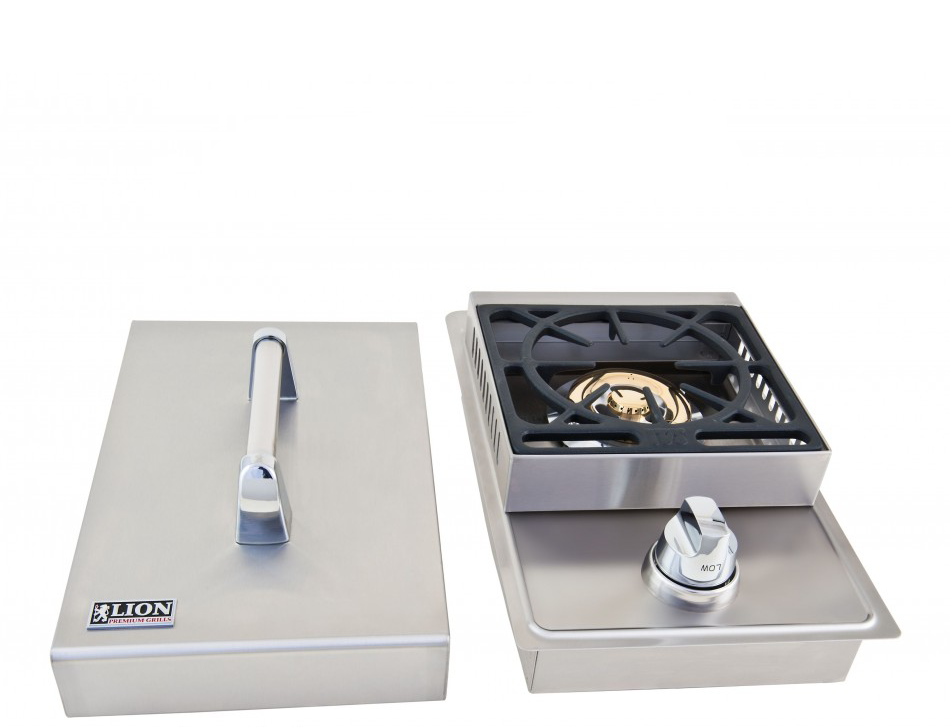 We take exceptional pride in crafting only top of the line, high-end and most importantly — impeccably constructed — products. Of course, this quality and care carries over to what we consider one of the most, if not the most, essential accessory for any outdoor grilling set-up: the side burner. The most common and practical choice is our single side burner which is what we are focusing on right now. So, why do we consider the side burner to be an essential component? There's a myriad of reasons, including the fact that it really opens up your options as far as what you can prepare for a meal essentially by being much more practical than running back and forth from the outdoor grill island to the kitchen and back (and for some food this would be nearly impossible to do simultaneously). Now you can easily cook up side dishes while grilling up delicate scallops or what have you. Let's break it down a bit further.
Construction Quality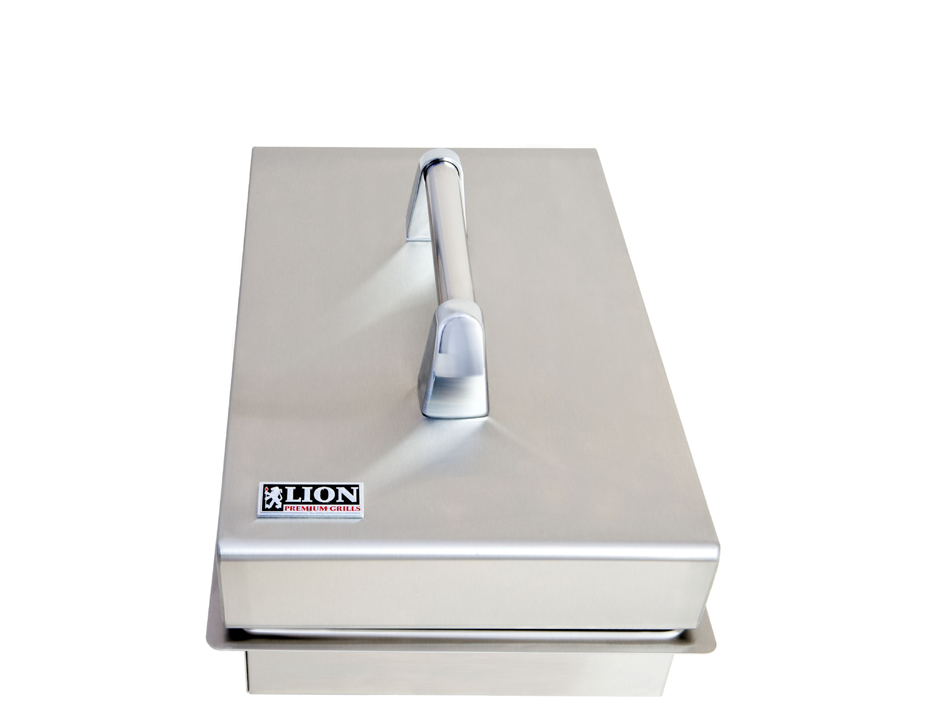 Quality is obviously of the utmost importance; if a product has a wonderful degree of usage but breaks easily, it invalidates the whole purpose of the item in the first place. This is vital to us so we use only high grade, 16 gauge 304 grade stainless steel for our side burners. This makes our burners extremely resistant to rust as well as making them resistant to bending, bowing, warping or any damage of that sort. These are heavy duty and built to last. The side burners have a definite heft and weight to them and are top of the line bar none.
Power

When we designed our single side burner we wanted to make certain that we were going to create a beautiful companion piece to our grill that not only matched the sleekness of it's visual design, but also carried over that raw grilling or cooking power. We believe we accomplished that as our single side burner is capable to outputting 15,000 total BTUs. That's quite a bit of power! You can actually use these to COOK, not merely as something to keep dishes or sauces warm.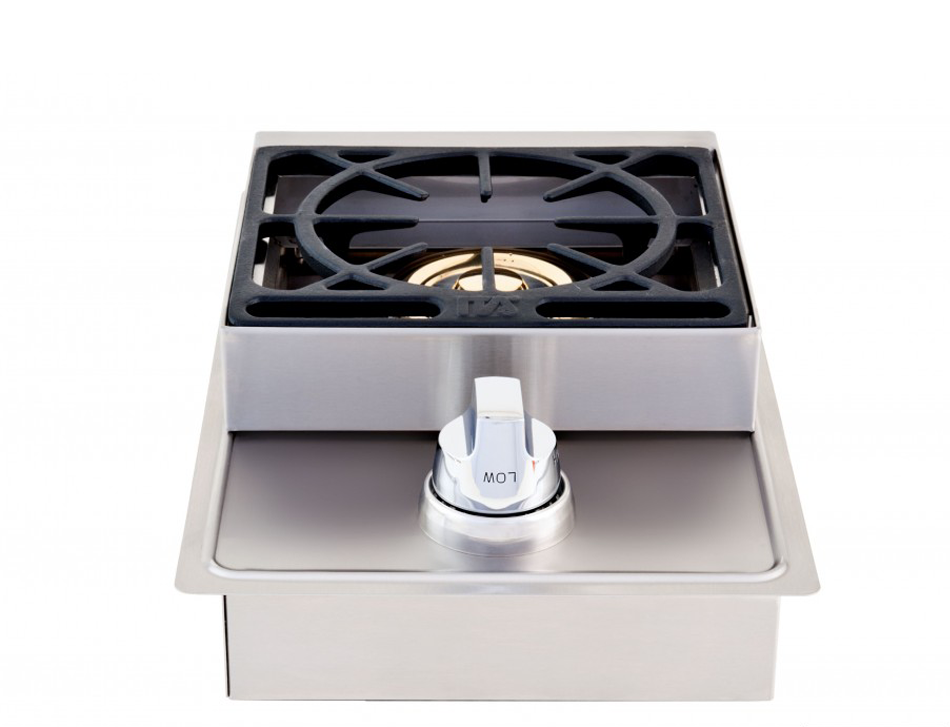 Functionality & Versatility



We've ensured that our side burner is of the highest quality and that it packs a punch in terms of heat output. That's not quite enough for us because we wanted to make sure that our side burner was easy to use, maintain, as well as being versatile enough to handle multiple cooking functions. Simply press and turn the knob to ignite! We love details and as we stated, versatility so we added that by making a reversible cooking grate. You can use it in a standard, flat fashion to cook with standardized pots and pans or you can flip it over so that the grate is in a convex position turning into a wok grate. To protect the grate there is a 304 grade stainless steel hanger style side burner cover / hood. It features a beautiful handle for easy removal.
We are very discerning when it comes to making sure all of our products fulfill what we feel are the most important criteria: make sure they are constructed with only the best materials, make sure they look sleek and well designed, and make they function at top of the line capabilities. Our double side burner is a prime example of our quality control process – it not only hits all of those goals but exceeds them. This is an amazing addition to any outdoor kitchen or BBQ island. Multitasking is made that much easier, convenience is increased one-hundredfold, and the ability to do all of this opens up new grilling and cooking possibilities.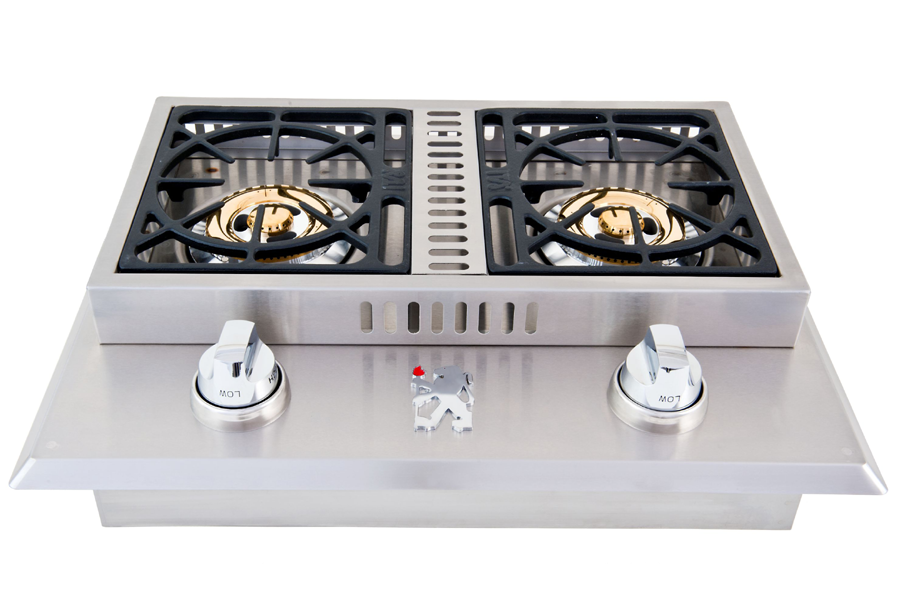 Add New Dimensions To Your Grilling Experience

The convenience factor should be immediately apparent when taking a look at our double side burner. Having two individual burners at your fingertips, literally right next to your grill, is unbelievably handy. They pack quite a wallop in terms of heat generation which allows for actual cooking, and not just keeping sauces warm and such (although it can do that perfectly as well!). The beautifully sturdy cast grates are reversible, with a standard pot holder on one side and a wok grate on the other. Now you can simmer sauces, soups, etc. in a pot or pan while simultaneously sauteing in a wok, another pan, etc. The double side burner really does open up a tremendous amount of grilling possibilities and is an essential piece in any outdoor kitchen.
Visual Appeal Factor
Our double side burner was designed with maintaining ultimate functionality while providing a ton of visual appeal. The way our 16 gauge 304 grade stainless steel shimmers and sparkles in the sunlight is a sight to see. It's heavy duty, and just attempting to lift this side burner will demonstrate just how sturdy and well constructed it is. Polished front face temperature control knobs, our subtle and tasteful Lion logo, and cast grates add even more visual punch. The golden color burner plates add the finishing visual touch; we're quite proud of how great our double side burner looks.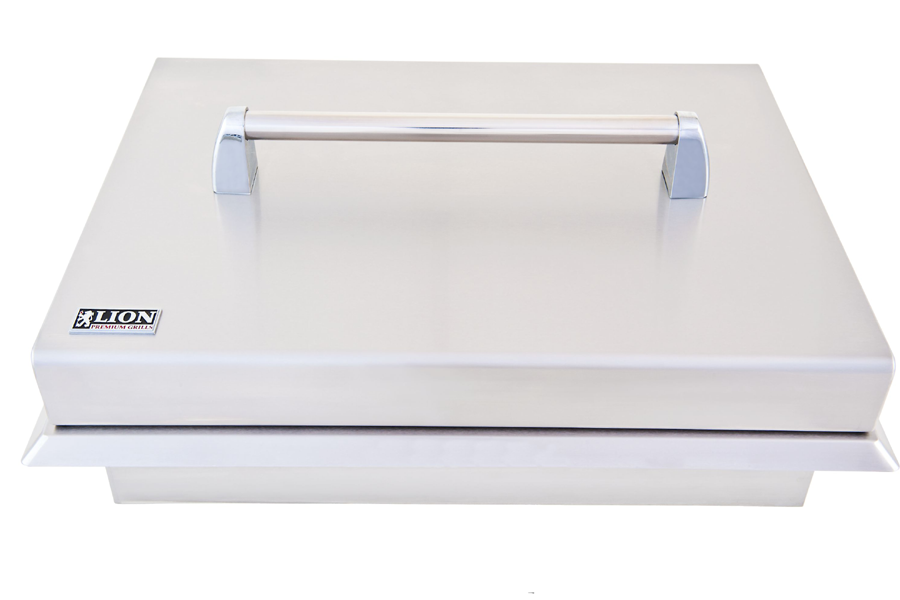 Power & Build

Our double side burner packs a powerful punch, there is absolutely no questioning that. It features two separate burners that are capable of outputting roughly 15,000 BTUs a piece. This allows our side burner to actually be used for cooking, flash heating, using them with a sautee pan, and more. They are full fledged cooking units. Again, as with all of our items the double side burner is crafted from top of the line, 16 gauge stainless steel. It's the real deal and the quality will shine through as it demonstrates its ability to endure the elements, resist rust, and handle an enormous workload if need be without a hitch. Our cast stainless burners are powerhouses as previously stated. Our easy to turn knobs and ignition system make starting and using our side burners a cinch. It is the complete package with regards to all other side burners on the market.
---
---
Lion -Why You Should Think About Adding an Outdoor Kitchen



---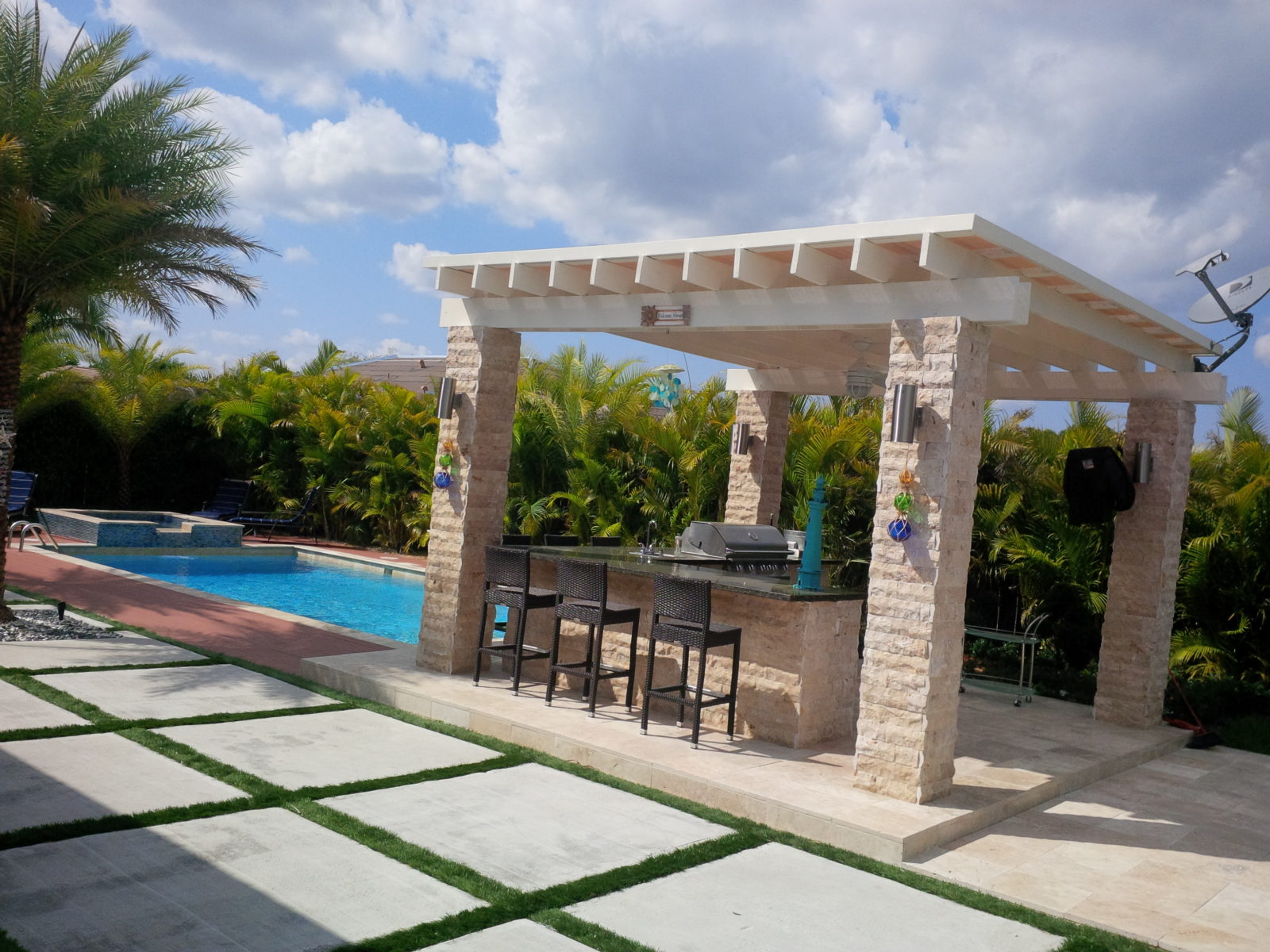 If you enjoy grilling on a regular basis, entertaining friends and family, or hosting parties then it may be time to think about adding a complete outdoor kitchen to your outdoor set-up. Our BBQ islands fulfill that need perfectly. Outdoor kitchens add versatility, enhance grilling functionality, and are eye catching as well. Below you'll find some of the reasons we think that an outdoor kitchen / BBQ island may benefit you.

---
Entertainment & Hosting
One of the primary benefits of adding an outdoor kitchen / BBQ island to your backyard is simple; the island attracts attention and many times functions as one of the central social areas at any party. For instance, the island to the left showcases this facet perfectly. With the host of bar stools, the step-up countertop, and more, it just makes a great spot to hang out and chat, have a drink with friends, and of course, eat! They are fantastic hubs to build the remainder of your outdoor set-up around. Outdoor kitchens are an impressive addition to any backyard.
---
Eye Catching

Being visually impressive as well as pleasing to the eye is a factor that most individuals will always take into consideration. Nothing stands out more than a beautiful outdoor kitchen / island that's stacked with extra features such as an outdoor fridge, double side burner, bar sink, drawers & doors, and more (let your imagination run wild). They add that extra depth, that extra pop and wow factor to any backyard. Not only are they extremely functional, they impress with their tremendous ability to catch anyone's attention. There's a sense of satisfaction to be had when you take a look at your outdoor set-up and see an object that functions wonderfully while also looking eye popping.

---
---
Lion Premium Grills – Superior Quality: Types of Burners and Why Lion is the Best

---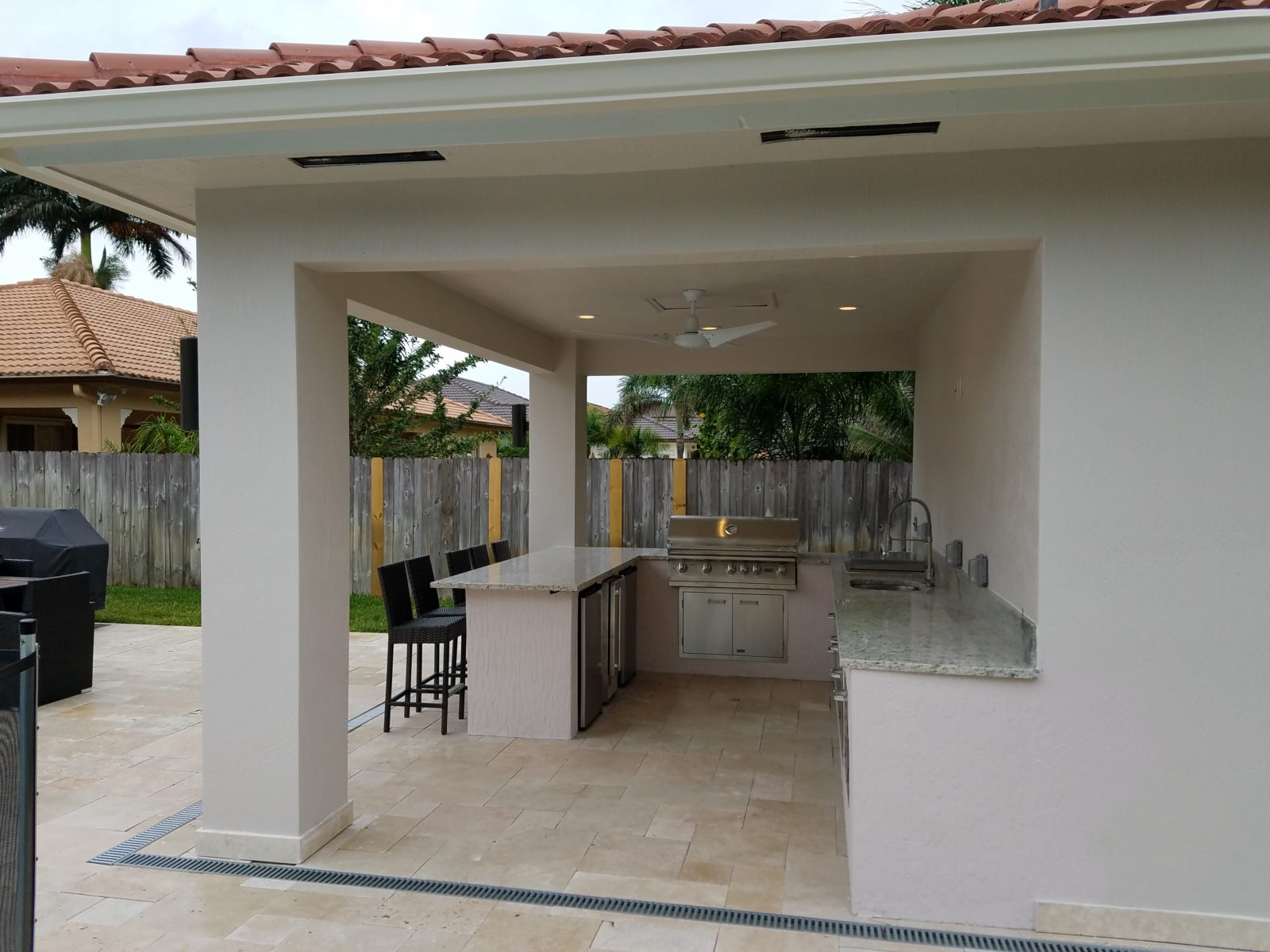 ---
Burners: Types of Burners and Why Lion Beats the Competition

There is no doubt that the burners of a grill are one of the most essential components of any BBQ grill. As such, the quality of the materials that went into creating the burner are vital and when you want to maximize your grilling potential you'll want the best. The materials used to craft grill burners run the gamut from cast brass to cast stainless steel to cast iron. The power of the burner itself is measured in BTUs; BTUs can be used as a barometer for the overall grilling power of the grill and heat generation for cooking. Again, the quality of the burners need to be factored in as well when it comes to overall longevity and performance. At Lion we utilize 304 grade cast stainless steel burners which are by far the superior model of burner created from heavy gauge stainless steel.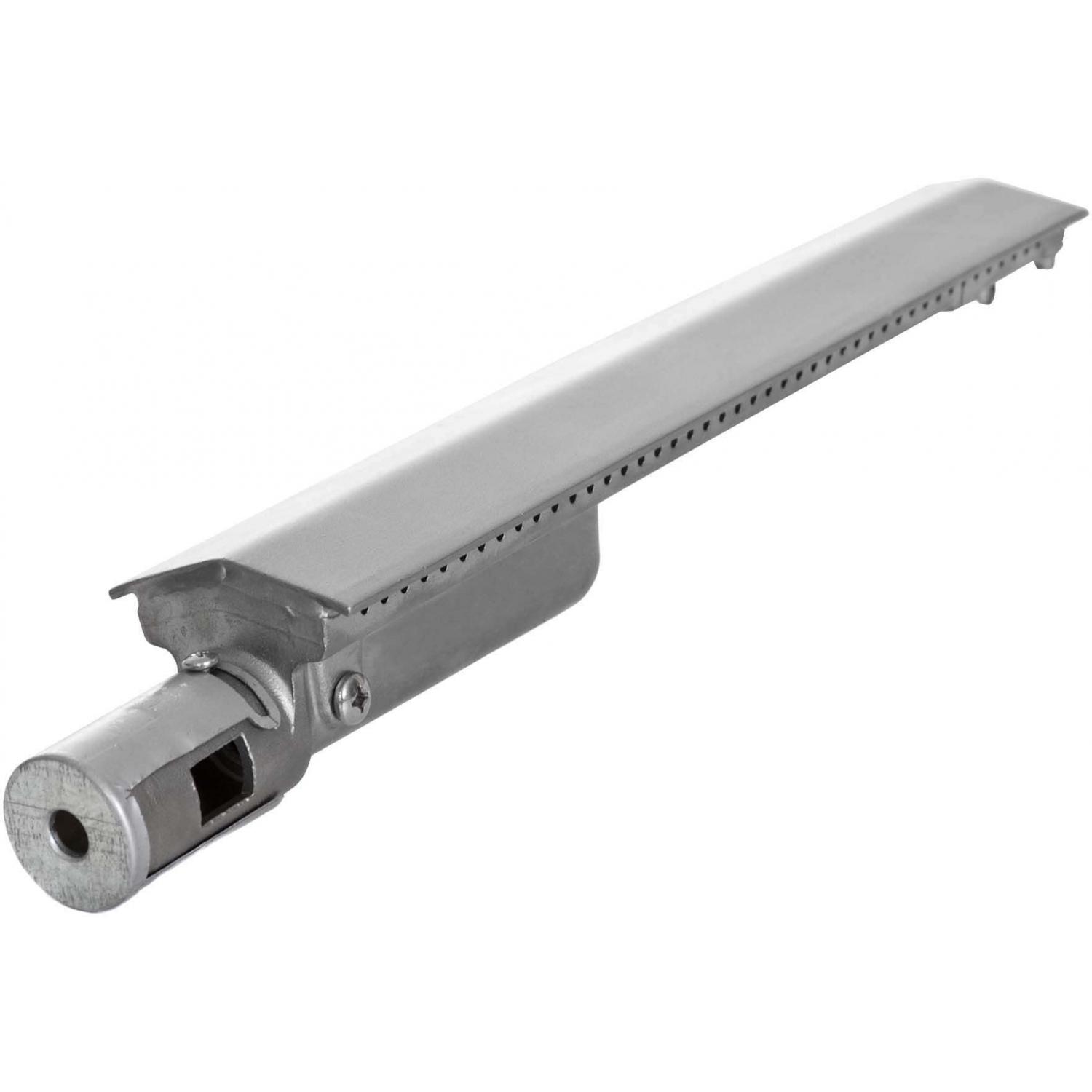 Lion Uses 304 Grade Cast Stainless Steel
304 Grade Cast Stainless Steel Burners are by far the superior burner type. Cast stainless steel burners are solid pieces of metal and are not welded together which means that these burners are extremely durable and heavy duty. The 304 grade solidifies this as 304 grade is top of the line commercial grade steel. 304 grade typically consists of 10% Nickel and 18% Chromium. Cast stainless burners are also extremely resistant to rust due to the composition of the burner itself. Heat generation and longevity of these burners is also top notch. Our cast stainless burners output 15,000 BTUs apiece! Where as other materials used to create burners may be prone to warping, rusting, etc. cast stainless is not prone to those same issues at all.
It's clear cut that cast stainless (304) is by far the best.
Other Burner Types:
Cast Iron

Cast Iron Burners are extremely heavy duty and durable. They do tend to suffer from excessive rusting, which can happen quite quickly, and as such they need to be maintained on a regular basis by using a wire brush to remove rust flakes and other assorted debris. While heavy duty, the fact that they rust easily and fare poorly in any type of outdoor element that may produce rust (living by the ocean for example) makes them unsuitable for Lion Premium Grills.
Cast Brass

Cast Brass Burners are also heavy duty but unlike their cast iron counterparts, cast brass burners are extremely resistant to rust. The issue with cast brass is that the heat generation may cause them to warp, bend, or sag. Cast brass burners are generally high quality but we feel that cast stainless just outperforms it in every aspect and as such we use cast stainless steel.
Stamped Stainless Steel

Stamped stainless steel are usually very low quality and make for extremely flimsy burners. They are usually made from low grade, light gauge stainless steel and are not one solid piece of metal; instead it's two pieces "stamped" together. These burners tend to be short lived. They are not made of 304 grade stainless steel, instead they are crafted from the lowest grades of steel. Avoid these at all costs.
---
---