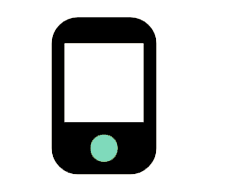 PHONE
(909) 988-3400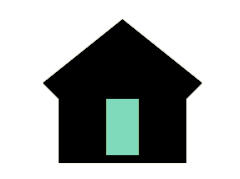 ADDRESS
541 E. Main St.
Ontario, CA 91761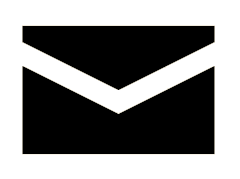 E-MAIL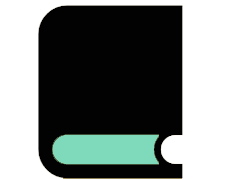 PREVIOUS ISSUE
---
---
Lion Premium Grills Newsletter – No. 59, August 2018

---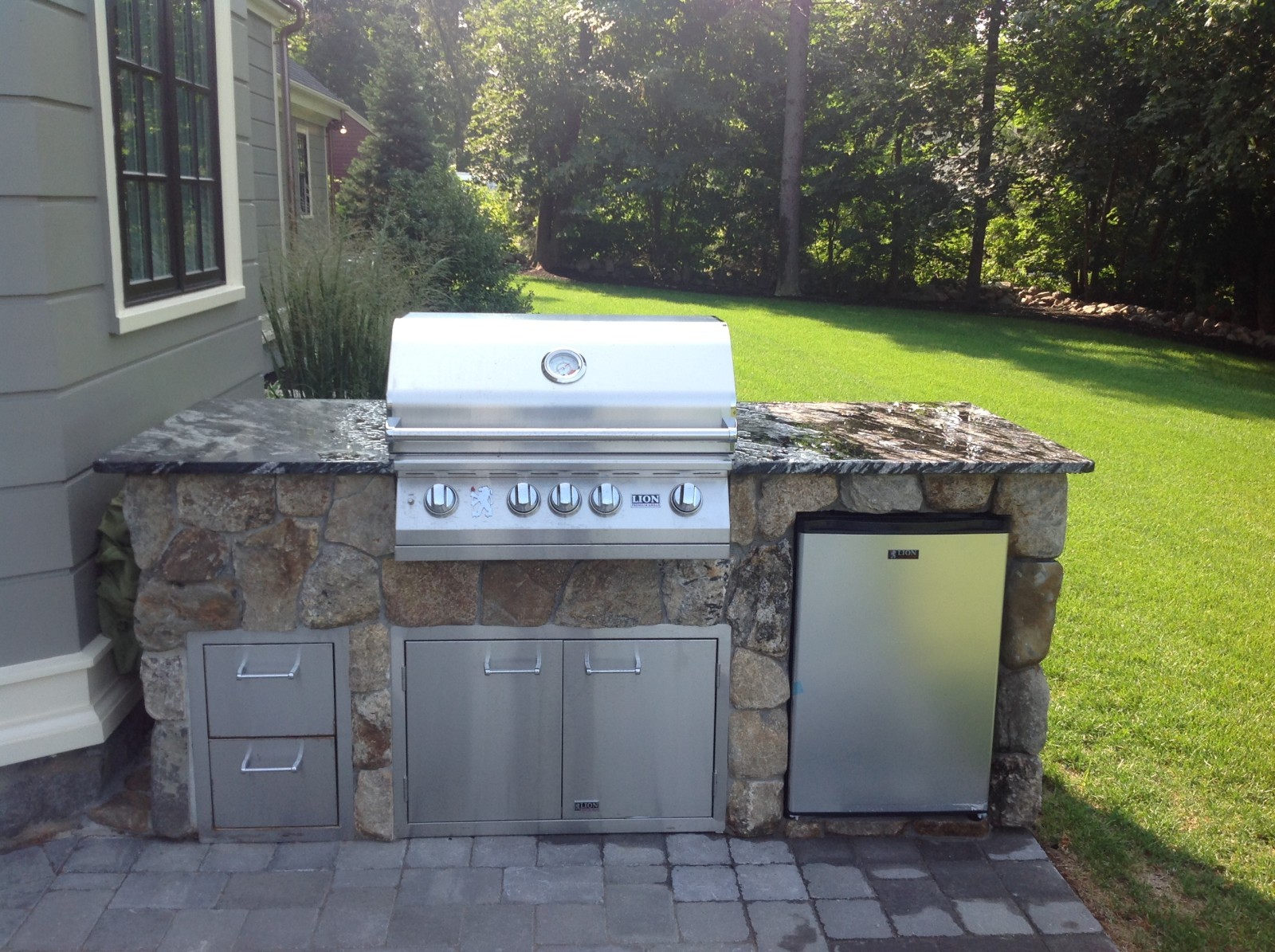 ---
____
Welcome to the August 2018 issue and 59th edition of the Lion Premium Grills Newsletter! Summer is in full swing which means we have hit the prime season for warm summer nights which are absolutely perfect for relaxing outdoors with friends and family, grilling, and just conversing. Barbecuing during these months is an American pastime and one we hope you can enjoy with our line of grills and outdoor products. This month our newsletter is packed with content which we'll detail below.
---
What do we have in store for this month's issue? First off, we have an in-depth feature on our biggest grill – the 5 burner L90000 which outputs an impressive 90,000 BTUs.  We have an in-depth featured look at a beautiful custom outdoor kitchen / bbq island which is fully loaded with all of our equipment and grill. We also have a feature showcasing another yearly award from Shoppers Choice — this time we were chosen as one of the best mid level grills on the market (other years we received the award for most versatile grill on the market).  We hope you enjoy this month's issue and thank you for visiting us at Lion; we greatly appreciate everyone for taking the time out to view our products. Thank you again!
____
---
---
---
 Lion Premium Grills – A Closer Look at Our L90000 BBQ Grill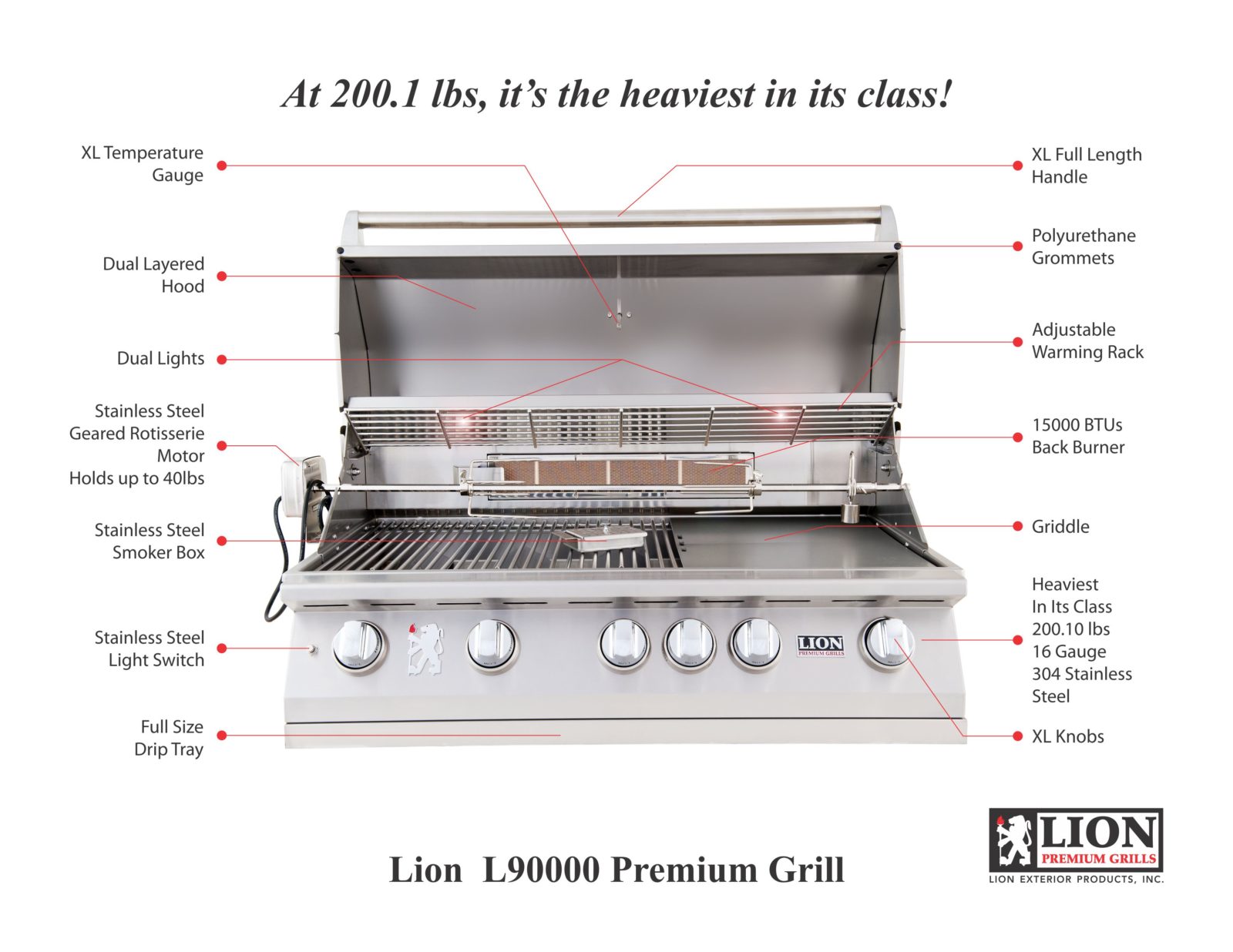 ---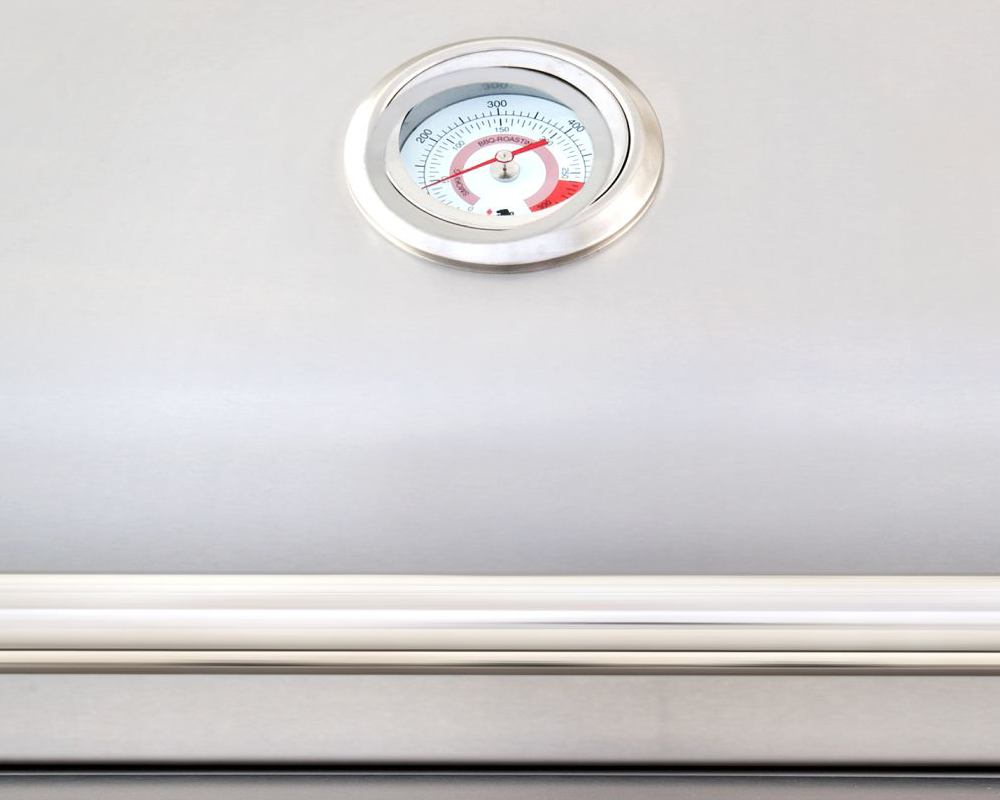 Our grills feature an XL temperature gauge which is mounted on the front lid; as the name states, it's extra large for ease of use and readability. It's lined with polished stainless steel and it registers temperatures in both Fahrenheit and Celsius. The front lid of the grill also comes equipped with our polished stainless steel XL full length handle.  Opening your grill hood is a breeze and our eye catching handle not only looks beautiful but it's also constructed from high quality stainless steel.
The grill hood is dual layered and like the rest of the grill is comprised of 16 gauge 304 grade stainless steel which is rust proof and highly durable in addition to being one of the highest grades of stainless steel available commercially. You can feel the hardiness and density and the high quality of construction upon examination. The inside of the hood comes equipped with polyurethane grommets which provide protection against the hood scraping the inside of the grill lip; these grommets are comprised of highly resilient polyurethane which adds additional impact and abrasion resistance.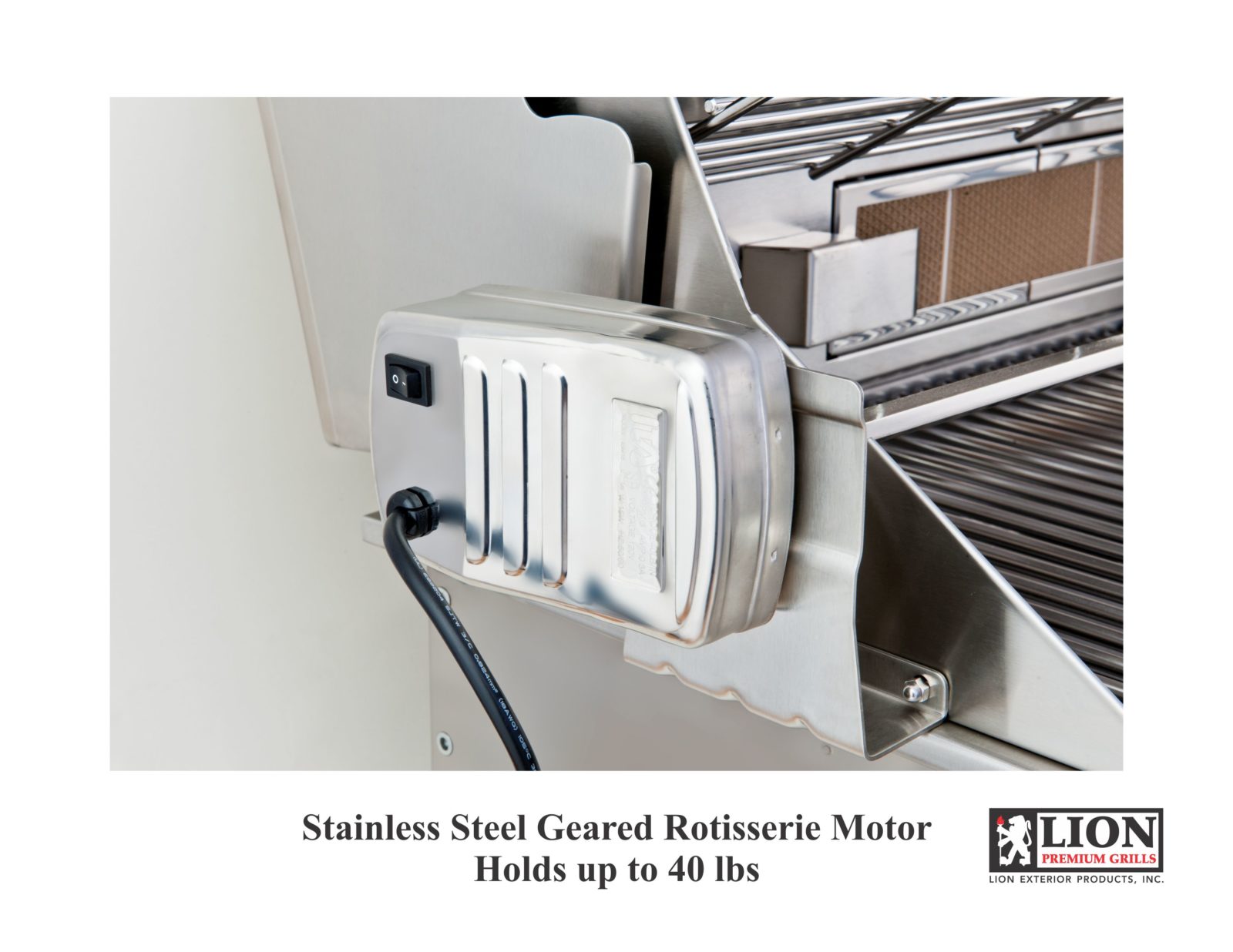 The interior of the grill has dual lighting which makes grilling during the evening a breeze by allowing the user to maintain the proper amount of illumination during anytime. The inside of the grill also comes equipped with a warming rack which is fully adjustable and perfect for keeping any variety of food warmed by way of the infrared back burner that also comes standard with our Lion grills. The back burner is crafted from ceramic and outputs 15,000 total BTUs making it the perfect tool for slow roasting or cooking. Parallel to the back burner is our rotisserie kit and mounted rotisserie motor. The rotisserie motor is stainless steel geared and has the ability to hold and rotate up to 40 lbs. Rotisserie chicken, prime rib, etc. are perfect for this! The five cast stainless steel burners output a total of 15,000 BTUs each, which puts the grill at a total of 90,000 BTUs (including the rotisserie back burner).
Our stainless steel smoker box is sitting on the grill grates; this handy device allows you to infuse your food with a multitude of new options and flavors. Basically, you can fill the smoker box with wood chips, etc. and add that wood smoked flavor to whatever you happen to be grilling, the options are almost endless. The griddle plate is also set on the grill itself; this item also expands your grilling possibilities by allowing you to cook eggs, bacon, and a huge variety of other items directly on your grill. This two accessories can prove to be essential to anyone's cooking arsenal and best of all, they come included with our grills!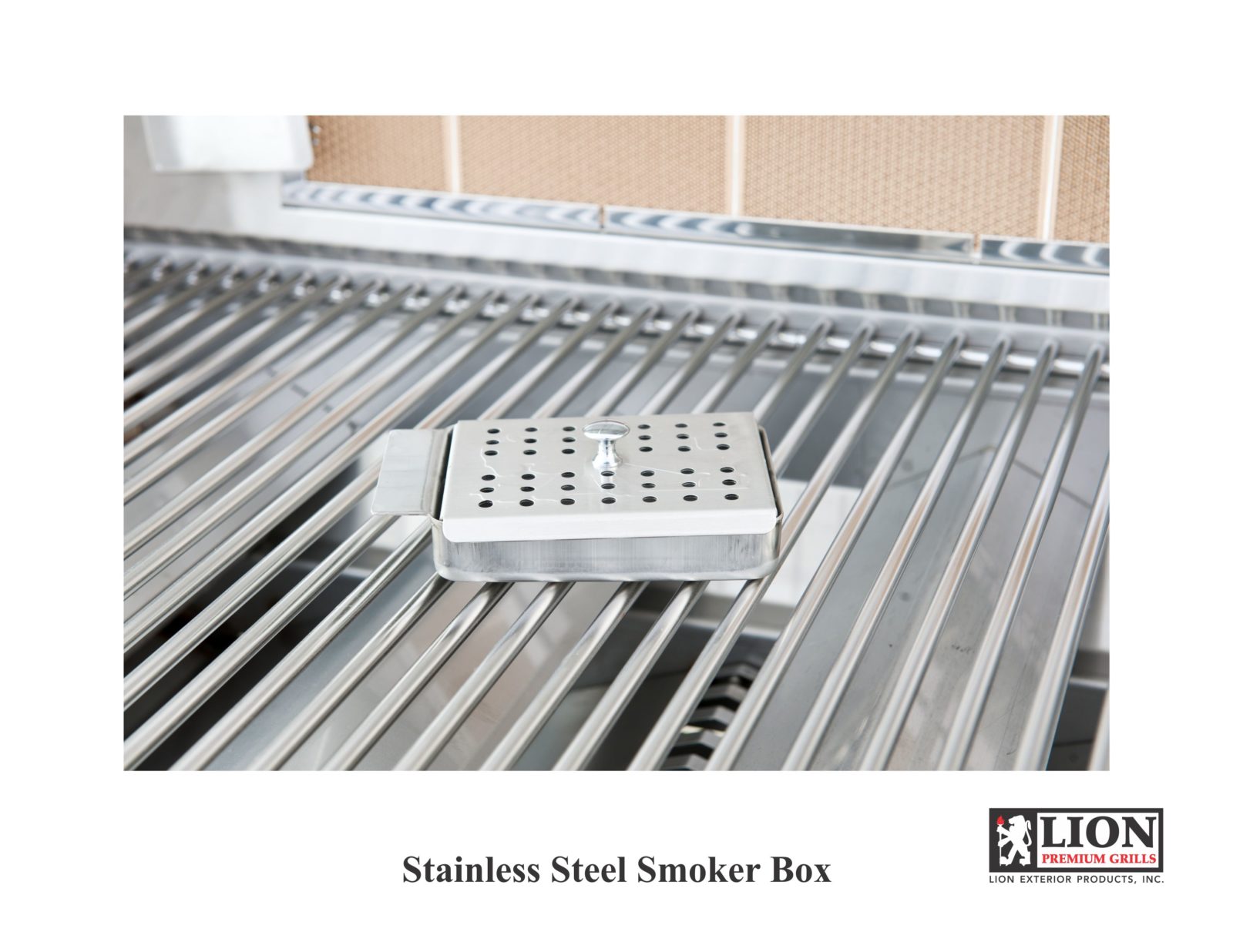 The control panel features a stainless steel light switch, full sized XL knobs, and a full size drip tray. Push and turn knobs work beautifully to actually ignite your grill burners; they're also designed with user functionality in mind. The full size drip tray is also very easy to pull out of the grill and also set back into place. As has been mentioned before, our grill is constructed from 16 gauge 304 grade stainless steel which makes our grills the heaviest in their class, bar none.
---
---
---
---
Lion Premium Grills – A Close Look at Our BBQ Grill & Accessories with a Custom Island / Outdoor Kitchen!

---
Below you'll find a video clip along with some still images of a beautiful slate gray customized island crafted by Lion Premium Grills complete with some of our luxury grilling products; you'll see our 5 burner 90,000 BTU L90000 gas BBQ grill, our stainless steel single side burner, sink, and even our vertical access door built into a customized fire pit seating/counter piece! Seeing all of this in motion really showcases just the kind of quality and painstaking craftsmanship that goes into the production of our goods, as well as how they really add that extra pop to any backyard.
---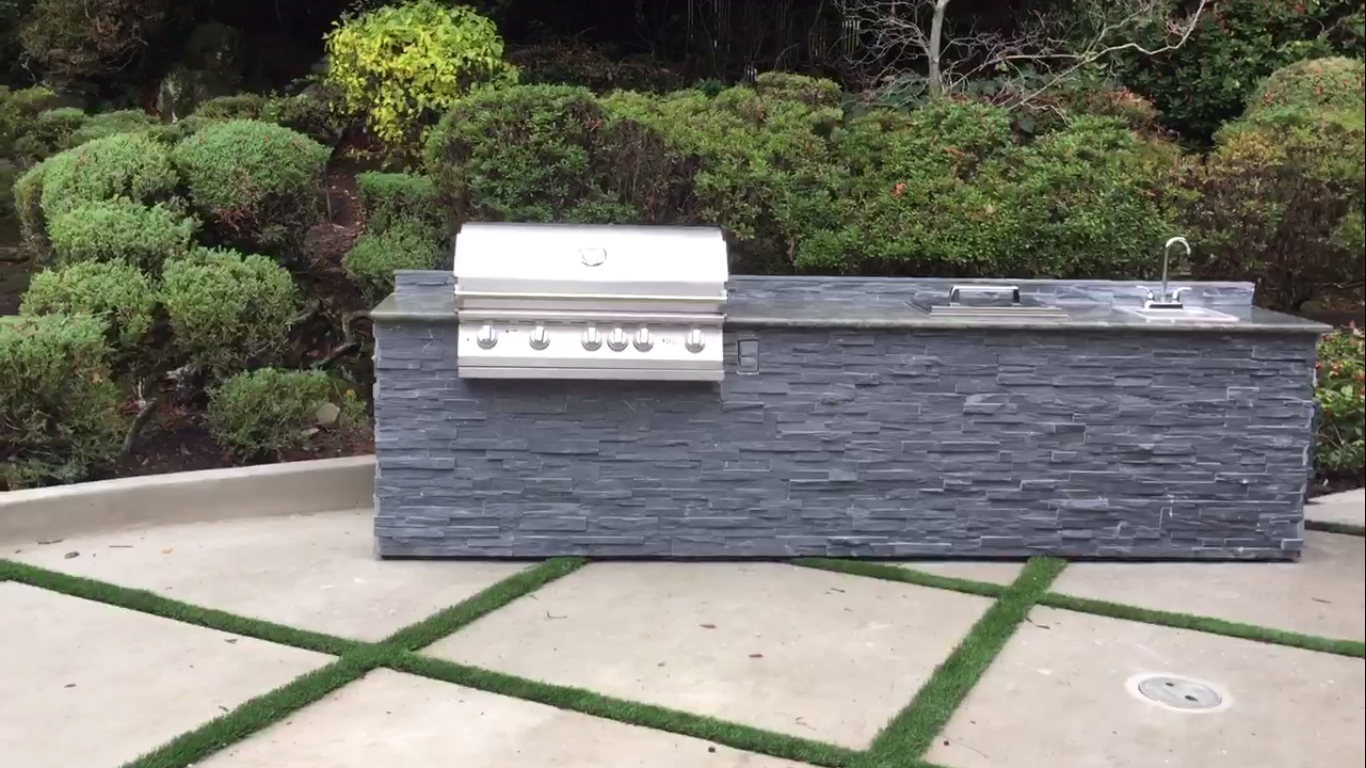 In this initial shot you can get a great look at how impressive a custom outdoor kitchen / BBQ island complete with grill and accessories really is when showcased in an actual backyard setting. The BBQ island comes complete with a beautiful backsplash and a rock base crafted with a Smokie California charcoal / slate gray finish. It's a great shot that is really effective at reflecting the proportionality of our products relative to the size of someone's backyard. The stainless steel shimmer of our grill, sink, and side burner contrast beautifully with the dark gray colors that comprise the base and luxurious granite countertop of the island.
---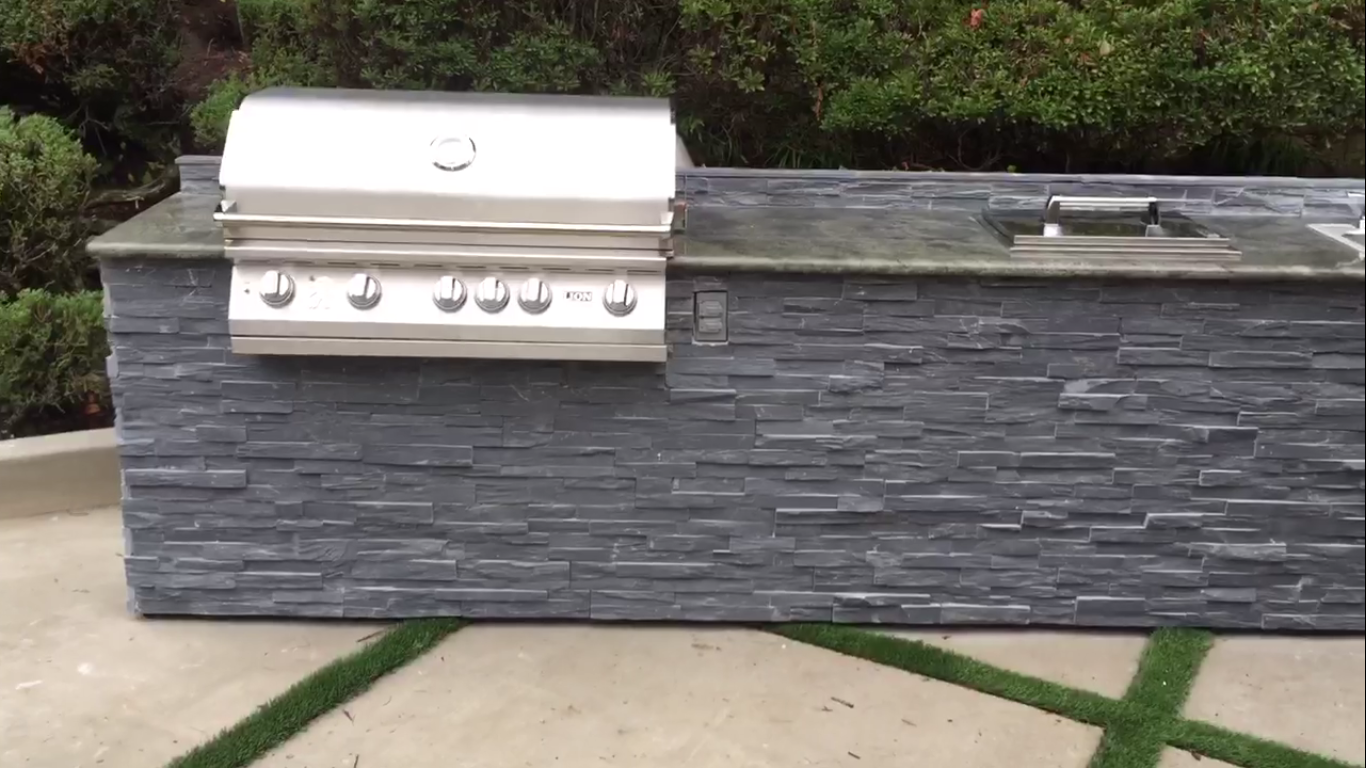 The grill is our signature 40″ 5 burner L90000: a formidable grill that outputs 90,000 total BTUs from cast stainless steel burners. Not only is the cooking power unmatched, the grill itself shows it self to be sleek in design and extremely appealing visually. The 304 16 gauge stainless steel material that the grill is crafted from is top of the line quality. Sporting 1,030 sq in. of cooking space means that this grill is extremely large and can handle grilling large amounts of food simultaneously.
---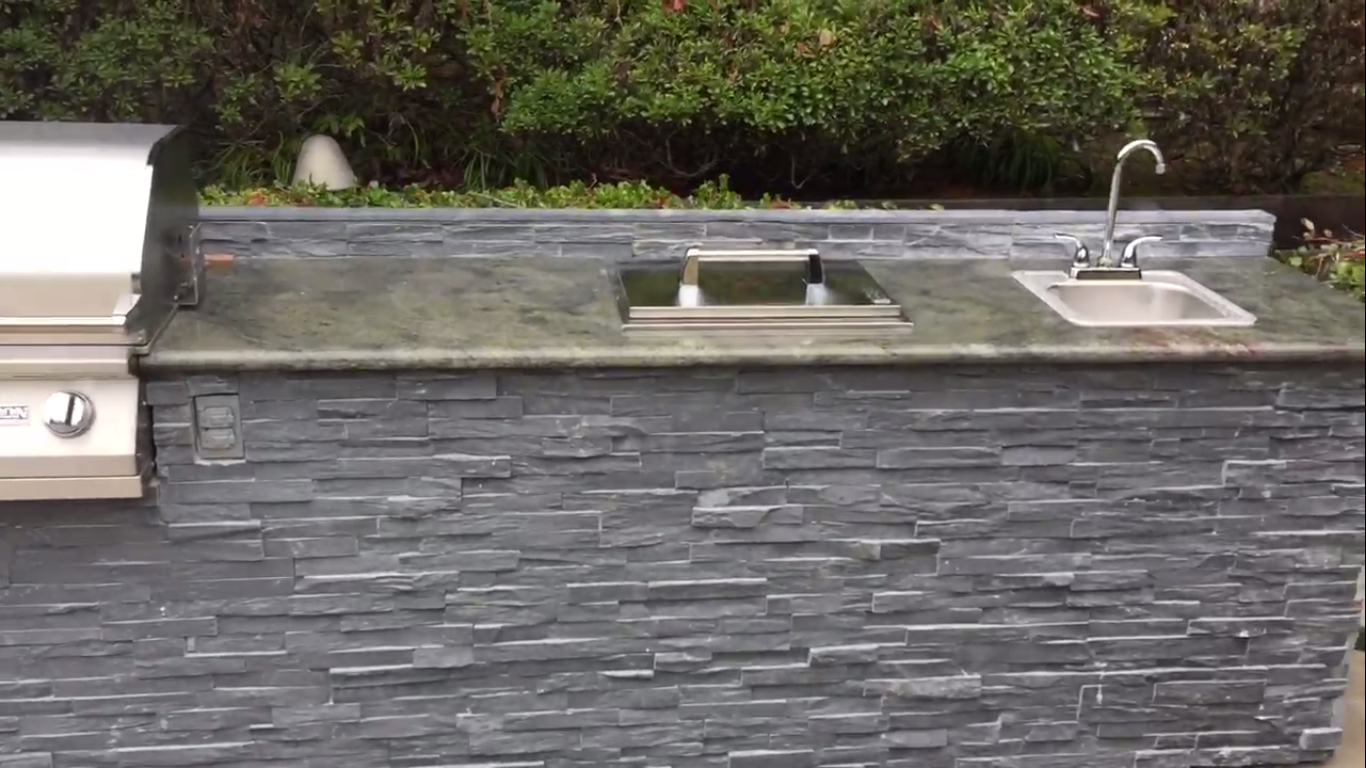 This image shows off two more of our Lion Premium Grills items: the single side burner — which is covered by our sleek, handled stainless steel burner cover — and the bar sink, which is also made from high grade stainless steel. The side burner generates an impressive 15,000 BTUs and comes with a convertible grate that reverses into a wok grate. You can also see the granite counter and rock base up close and in detail in this particular image as well.
---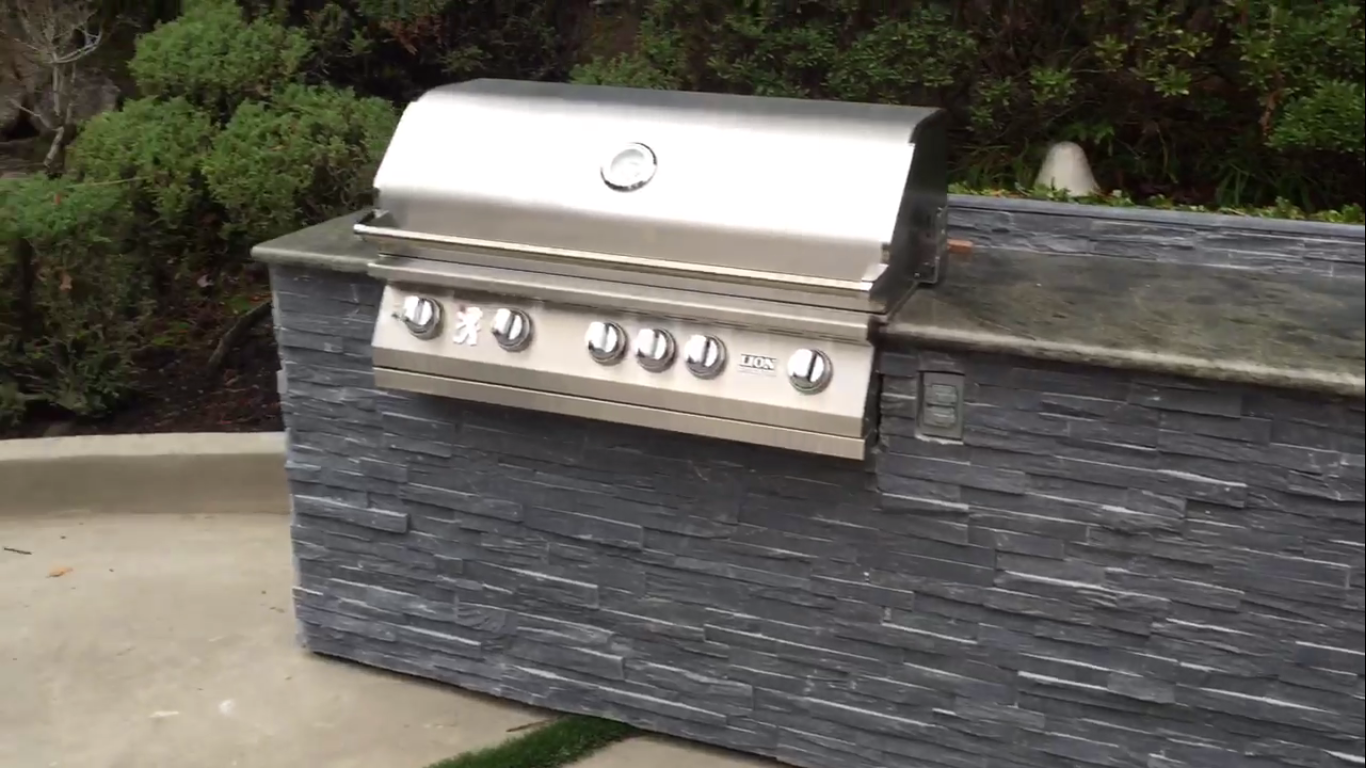 Here's another angle of the custom island unit as well as the L90000 40″ gas grill. This shot provides a nice look at some of the details on our grill; not only of the polished look of the grill knobs, but of the size, placement, and functionality of the hood thermometer. The detailed touches such as our Lion logo and nameplate on the face of the grill add that extra visual dimension to our product.
---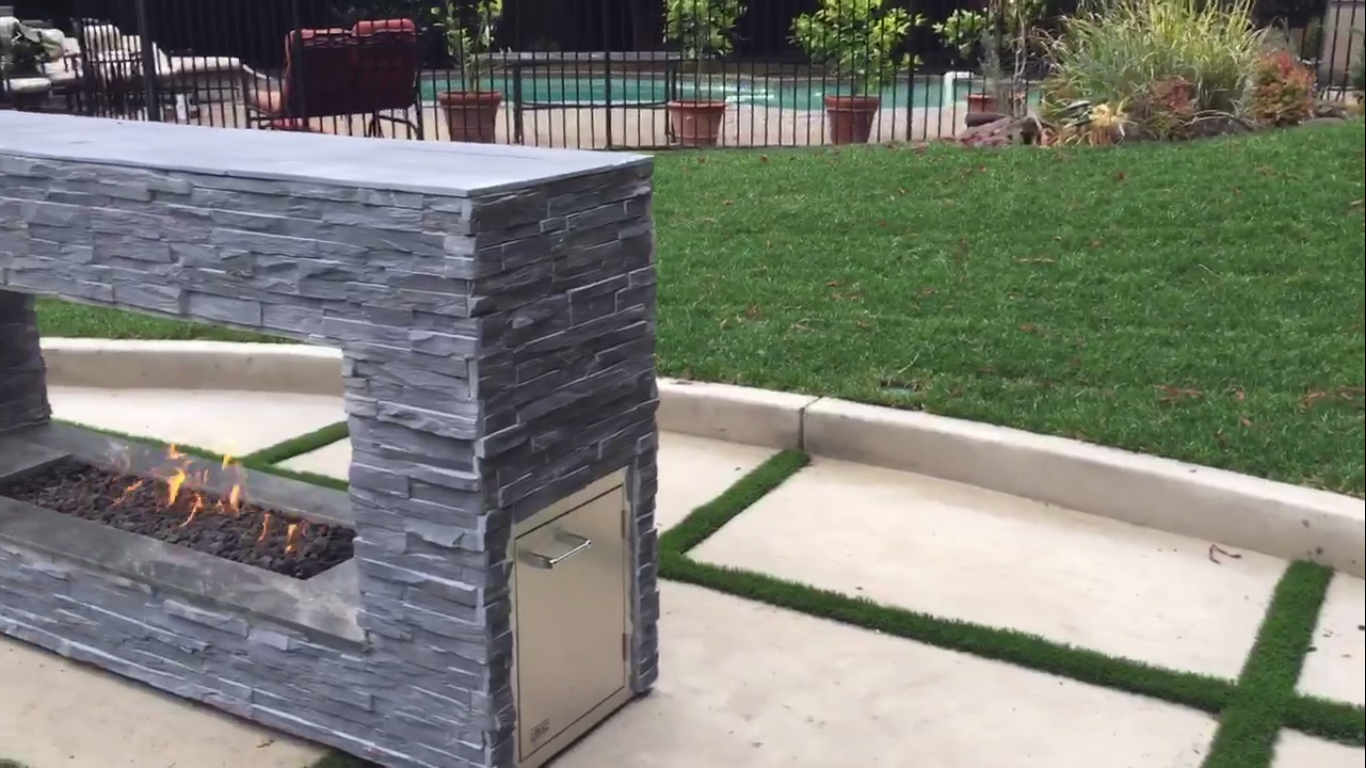 This image shows off an amazing centerpiece crafted from the same rock finish as the BBQ island in this set of images (and video). The gas firepit is beautiful no question about it. You can also catch a look at our vertical stainless steel access door, but in a slightly different setting. The door looks very much in place and fits the high end look of the piece; the handle is functional and well designed as far as placement and the small, subtle Lion logo adds a touch of detail.
---
Beautiful Grill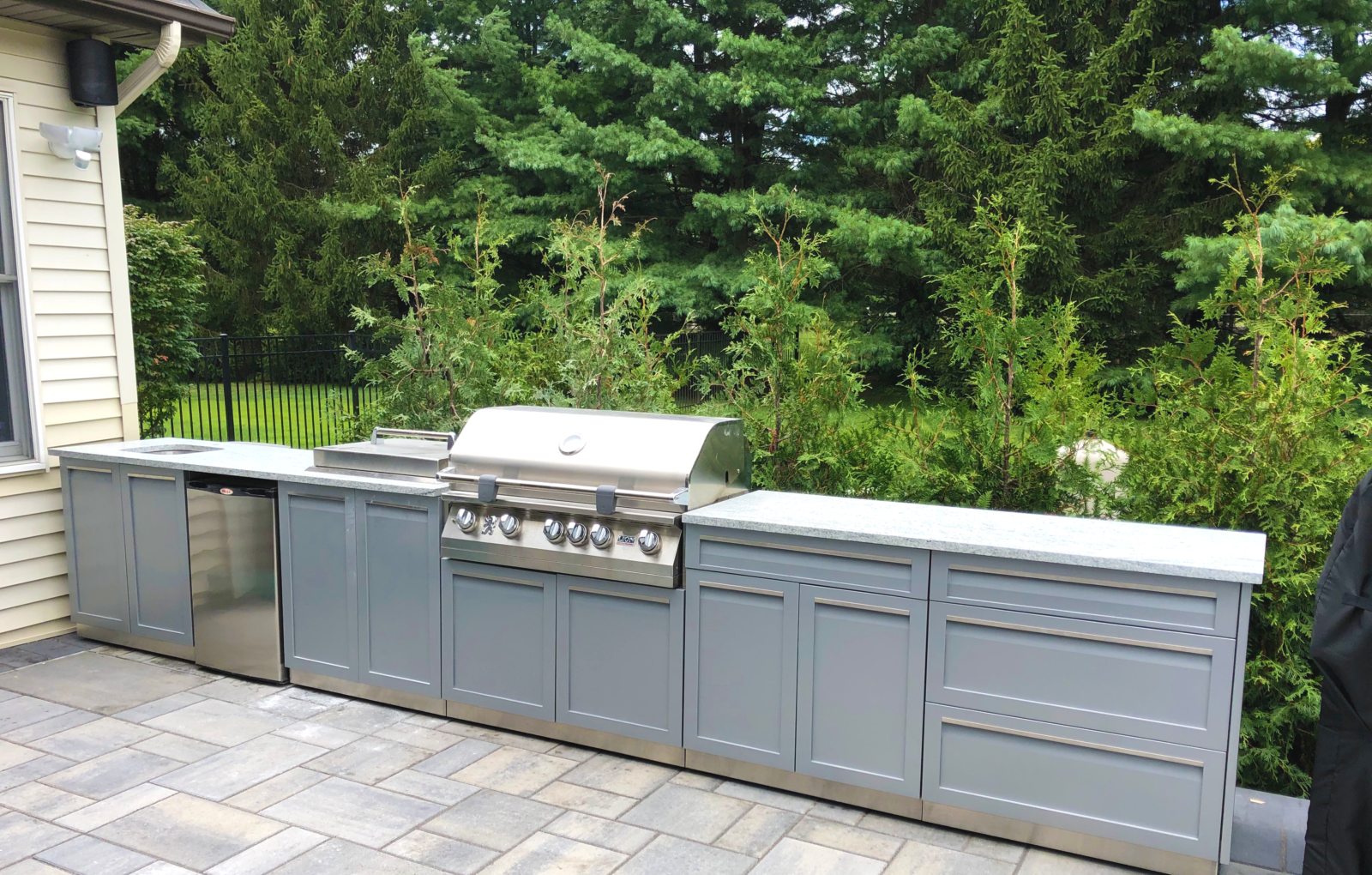 "After careful searching for grills within my budget and specs, I chose the Lion L90000. The construction is solid and it's well-crafted, with an eye for aesthetics. There's nothing quite like beholding a solid stainless steel grill. I installed the L90000 three days ago, and I'm putting it through its paces. I started with burgers and dogs, and immediately noticed how gentle this machine is. Flare-ups are minimal, even without high-end flame tamers. Clean-up the next day was simple. The grates are solid, and all of the lower components can take grill brush abuse pretty easily. Next was low and slow pork tenderloin over indirect heat. The meat was tender, juicy, and spot-on for safe cooking temps. The Lion holds lower temps nicely. Today i cooked salmon over the included charcoal box and veggies over gas. That might have been the best meal I have ever cooked. Long story shortened: the Lion is a great, affordable entry into luxury grilling in my honest opinion. I can't wait to rotisserie a standing rib roast… but it seems like i'll be pretty happy with day-to-day grilling as well. "

-Review by Marc– Seattle, WA – Amazon – 40″ L90000 Stainless Steel BBQ Grill
---
---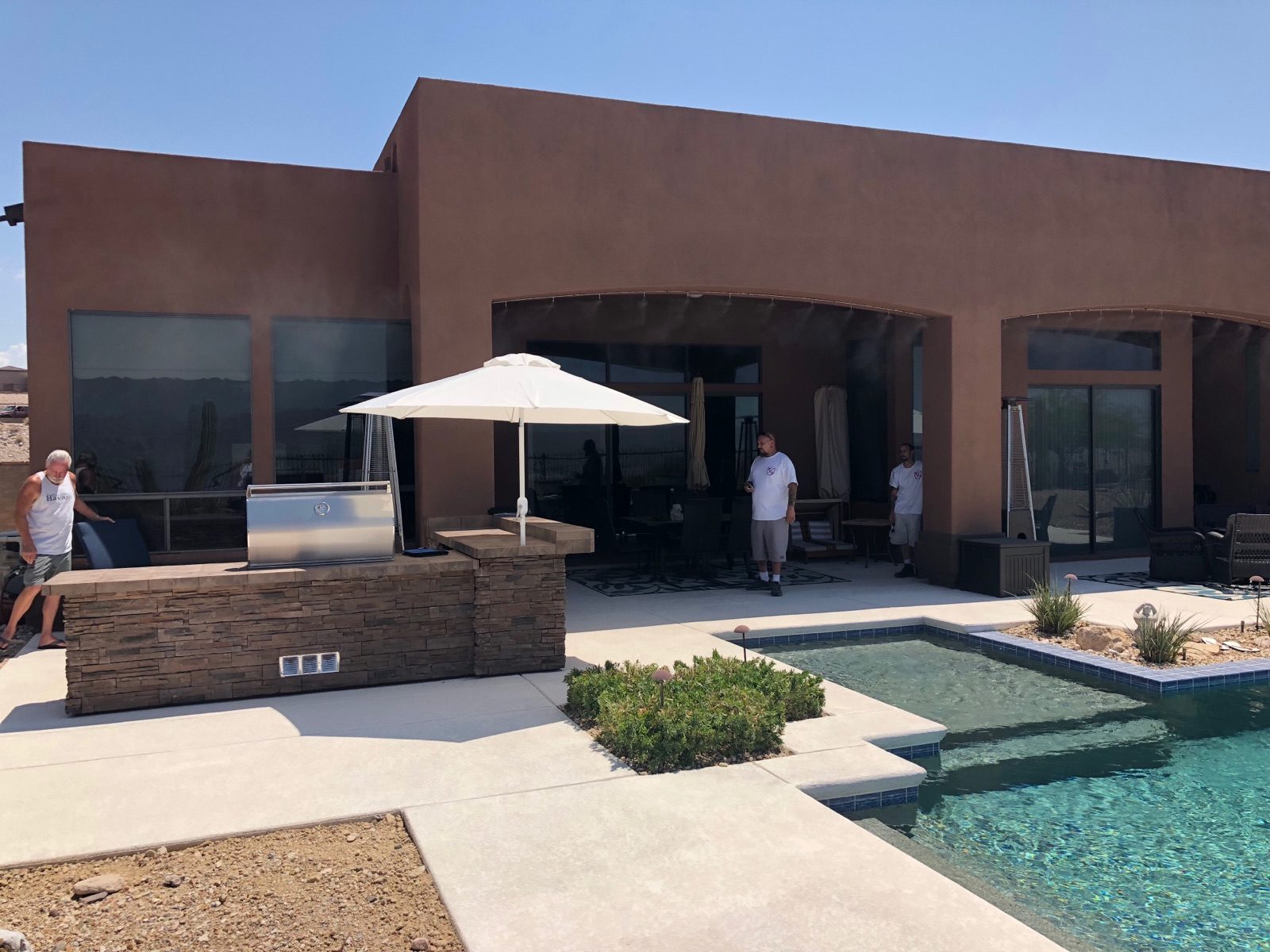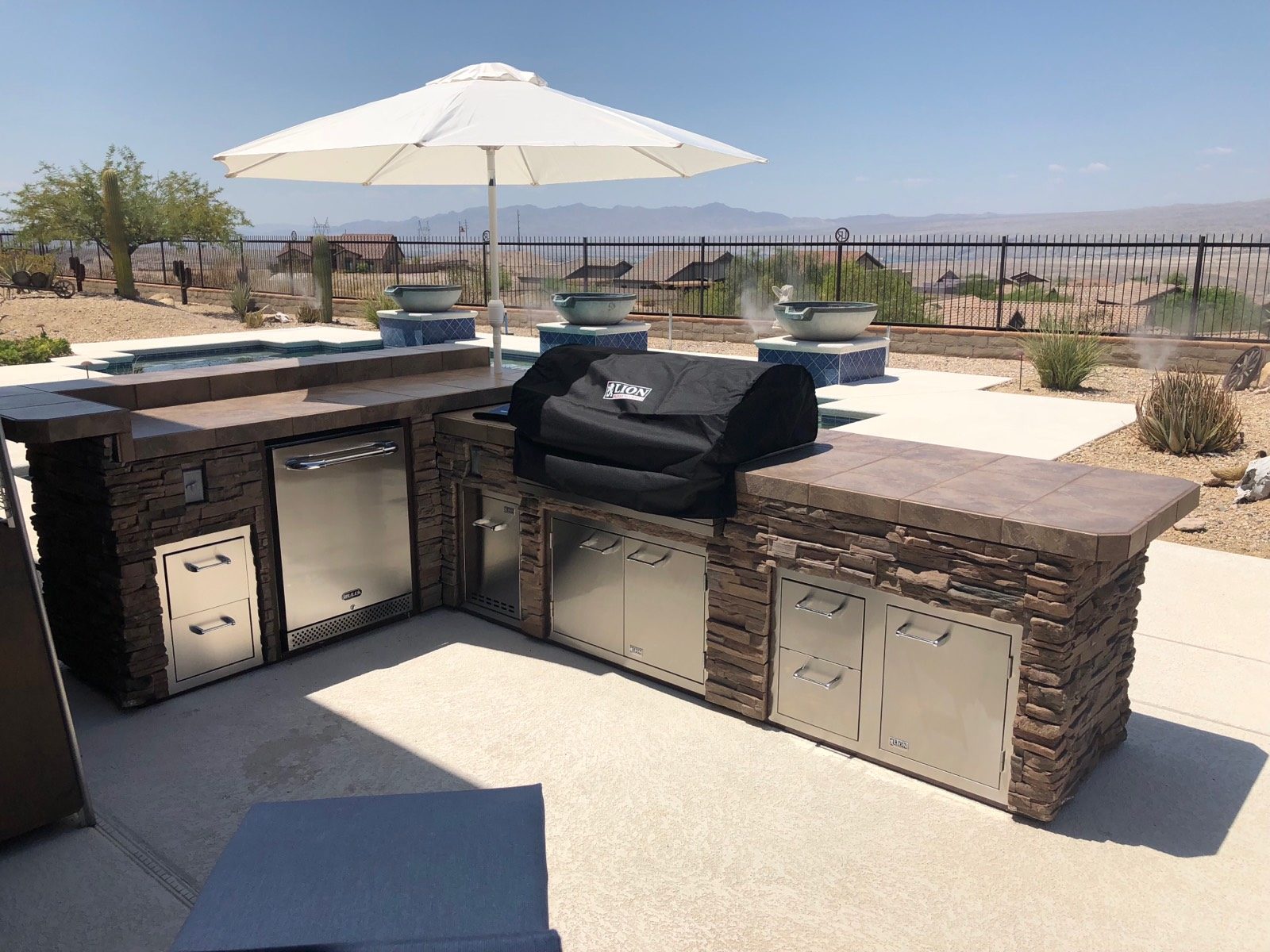 Shoppers Choice – Best Gas Grills of 2018




Shopper's Choice has just released their list for Best Grills for 2018! Our Lion 32″ L75000 was picked as one of the best mid level grills of the year! Here's what their criteria is for picking their award winners:

"Each year our panel of experts rank which grills are best in a group of categories. With many brands to choose from, this can be a difficult process, but our panel of experts is well suited to the task!"

Our L75000 grill has been picked as the expert choice for Most Versatile Grill for 4 years in a row and this year we received an award as one of the best mid level grills of the year! That is incredibly amazing and we are grateful to keep meeting the standards required to retain that standing. This is what Shopper's Choice and BBQ Guys has to say about how their award system works and also what they have to say about our L75000:

"If you're looking for a value-packed built-in gas grill, then Lion is the best bet for your money. Lion grills are solidly built using 304 stainless steel and the hood is double-lined for extra durability. The grill comes with cast stainless burners that radiate heat well and tend to last longer than other burners. Lion also stands behind their grills with a great lifetime warranty, which covers the burners, cooking grids, and stainless steel frame and housing. To top it off, Lion includes a grilling gourmet package with their grill. The package includes a rotisserie kit, grill cover, smoker box, griddle, and griddle plate remover with bottle opener."

Shoppers Choice – Favorite Features On This Grill:

Commercial grade 304 stainless steel construction means this grill will last

Four rugged cast stainless steel burners deliver excellent cooking control and incredible heat

Precise temperature gauge allows you to monitor temperatures while grilling

Interior cooking surface lighting allows you to grill at night

Includes rotisserie, cover, smoker box, griddle and griddle remover with bottle opener.
---
---
Lion Premium Grills Featured Recipe: Love's BBQ Ribs



---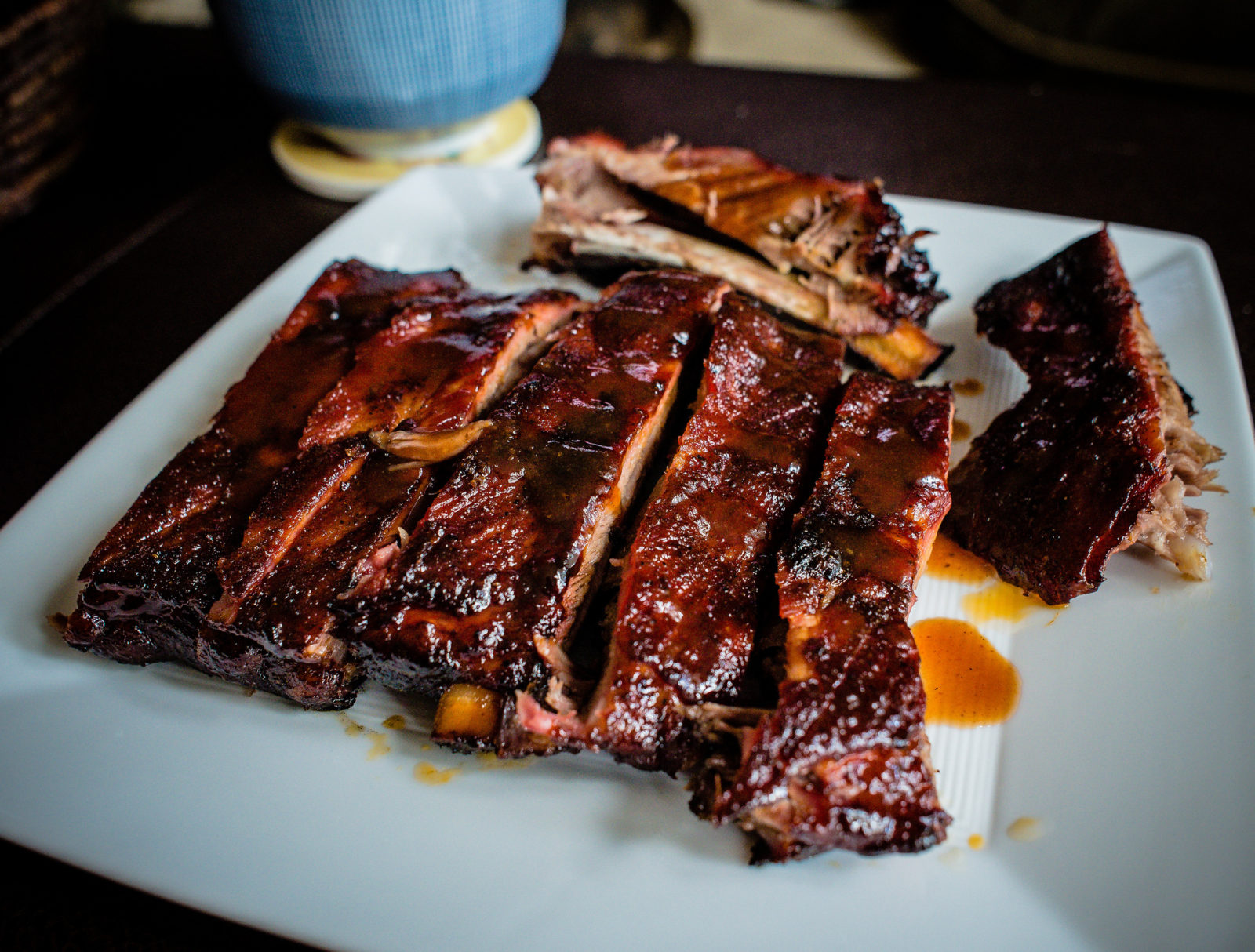 We have one of the finest takes on an all-time BBQ classic — BBQ pork ribs — for this month's featured recipe from Chef Tim Love (the owner of White Elephant Saloon, Lonesome Dove, and Queenie's Smokehouse in Texas) who is known for his unparalleled expertise when it comes to BBQ and grilling techniques. If you are looking to make the perfect smoked baby back ribs there is no better person than Chef Love to guide the way. Below you'll find the recipe for his mindblowingly tender smoked baby back ribs. We hope you enjoy this recipe as much as we do!
INGREDIENTS
1/2 rack baby back pork ribs
For the rub:
1 cup guajillo chile powder
1 cup kosher salt
3/4 cup black pepper, cracked
1/2 cup ground cumin
1/4 cup fresh rosemary, finely chopped
1/4 cup fresh thyme leaves, finely chopped
1/4 cup garlic powder
1 cup white sugar
Special equipment: Lion Smoker Box
---
DIRECTIONS
Prepare the grill for indirect heat: If you don't have a smoker box, you can build a fire on one side of your grill and then put a piece of foil on the opposite side of the grill. This will create indirect heat.
Prepare the ribs: Remove the thin, papery membrane skin from the back of each rack of ribs by pulling it off in a sheet with your fingers, using the corner of a kitchen towel to gain a secure grip, or with pliers.
Prepare the rub: In a bowl, whisk together chile powder, salt, pepper, cumin, rosemary, thyme, garlic powder, and sugar.
Generously season ribs with the mixture, rubbing onto both sides of the rack.
Place the ribs, bone-side down, on foil to cook with lid closed. Cover the grill and keep the temperature of the grill at a constant 225-degrees. Cook the ribs for about 3 to 4 hours or until tender.
---